eCommerce Strategy
eCommerce Automation: Benefits, Strategies & Tools To Utilize
Jul 29, 2021 • 10 Min Read
As your online store grows, you may find that processes become more demanding and systems that once worked become inefficient. As a result, businesses are turning to eCommerce automation to not only save time and money but also to improve customer relationships and streamline business operations. In this guide, we're sharing a few processes that are a solid starting point for beginning your eCommerce automation journey.
What Is eCommerce Automation?
eCommerce marketing automation is the process of executing certain tasks and processes to deliver personalized customer experiences - automatically. It involves using technology and software tools to streamline marketing efforts and increase sales and productivity, saving both marketing and sales teams time by eliminating manual and redundant tasks. Are you keeping up with the increasing demand from your customer base as your business scales and grows? Continue reading to see how automation may benefit you.
Benefits of eCommerce Automation
Increase Productivity
Produce more in less time. Whether your marketing team is focused on content distribution or your sales and management teams are focused on consolidating business processes, automation enables teams to shift their focus to where it's more important. For instance, post-purchase email automation makes it easy for marketing teams to follow up with customers after they've made a purchase. Automating the process of sending product recommendations, offering related products, asking for reviews and following up with customers in general after they've purchased from you is a great way to increase productivity. We'll dive more into how this process works later on in this guide.
Streamline Business Operations
On the sales side of eCommerce, merchants are able to automate various processes to ensure their website and back-end operations run efficiently. Inventory and order management, shipping, returns, refunds and customer service are a few things we recommend automating to increase customer satisfaction and build trust. For example, managing inventory automatically prevents businesses from overselling by keeping an accurate count of inventory levels for each product SKU. Inventory tracking also allows merchants to place messages on their product pages to alert visitors when an item is low in stock (this creates a sense of urgency for the buyer, too!) Displaying accurate product information and alerting website visitors when an item is out of stock not only improves the shopping experience in real time, but it also prevents issues down the road when a customer is waiting for their order to arrive.
Align Marketing and Sales Goals
Merge your sales and marketing automation initiatives by using the same eCommerce software; it'll help you better align your company's marketing and sales goals and make converting leads into customers that much easier. In fact, HubSpot cites that marketing automation can lead to a 14.5% increase in sales productivity and a 12.2% reduction in marketing overhead.
Enhance The Customer Experience
In the fast-paced world of digital marketing and eCommerce, more and more consumers expect a convenient and easy shopping experience. A June 2021 study found that 86% of consumers abandon their shopping carts because the checkout process is too time-consuming and complicated. However, using eCommerce automation to customize the checkout experience and tag customers based on a host of criteria helps brands better tailor the checkout experience for each customer. In addition to streamlining the checkout experience on your website, eCommerce automation improves a customer's experience with your brand by guaranteeing orders are delivered on time, letting customers track their orders, making returns easy (and possible) and much more.
Save Time & Money
By eliminating the need for manual data entry, automation frees up employees' time and allows them to focus on tasks that are more significant to the company. eCommerce automation also saves businesses from spending more money as they scale and grow. For instance, if you want to segment the contacts in your company's database to further target and personalize your marketing campaigns, you won't need to hire more staff when you have the right email automation software in place. The same goes with other marketing and sales initiatives; automation helps businesses spend less money on manual labor by automating tasks to reduce the amount of human interaction required. The money that has been saved can then be invested back into your company to further encourage growth.
How To Utilize eCommerce Automation
Using automation for eCommerce processes has clear benefits. However, knowing which processes to automate may be difficult to identify. We recommend analyzing your business to determine the activities that are repetitive, take up too much time and require an amount of manual labor that decreases efficiency within your organization. Then, identify the pain points within your company; this will assist you in selecting the right solution. Below, we outlined some common ways in which eCommerce automation is utilized for marketing, sales and business operations.
Email Marketing Automation
Email marketing is one of the most effective ways to attract, engage and delight customers throughout the buying process. From building and establishing customer relationships to sending the right messages at the right time, automating email efforts is critical to a successful eCommerce email marketing strategy.
Welcome Series
Welcome series emails are the first interaction that new leads and customers have with a brand, so it's critical to make a great first impression. These types of automated emails are great for new subscribers or new customers who create an account with your store.
Let's pretend someone new subscribes to your blog. Send them a welcome email to provide a quick introduction into what they can expect from your blog. Summarize your brand's unique value proposition, state the value they'll receive and let them know how often they can expect to hear from you.
Now, imagine if you had to manually send that email with each new subscriber. That'd be time consuming, repetitive and inefficient, right? Use your CRM's automation capabilities to set up a workflow that automatically sends this welcome message to subscribers. You'll save yourself time and have more availability for higher-priority tasks.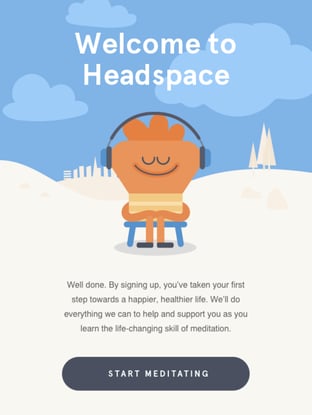 Abandoned Cart
Send abandonment emails to those who left products behind in their shopping cart without completing a transaction. Automated abandoned cart email reminders entice shoppers to come back and complete their purchase - one of the best strategies for nurturing potential buyers and encouraging conversions.
Shine the spotlight on the products that were left behind, and make it apparent that they forgot to complete their purchase in the subject line. Use a robust tool to showcase all of the items left behind (if there are multiple) in one email. This allows recipients to click once to navigate back to their previous cart.
When using automation for abandoned carts, there are two behaviors that merchants must track. The first is when a shopper begins the checkout process, and the second is when the same shopper does not complete their order. The abandoned cart email series should begin when the shopper does not complete their order; however, the merchant can, of course, set a delay so that the first email is sent at the time of their choice.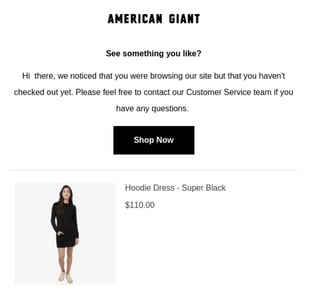 Product Recommendations
Keep customers engaged with your brand post-purchase by offering product recommendations based on their previous buying behavior. Take advantage of your CRM's segmentation and personalization features to encourage repeat purchases by adding product recommendations inside each email you send. For instance, target first-time customers days after they've ordered by showing them additional items they might like. Include at least one image of the product in your email along with the product name, and be sure to link to the product page to reduce friction in the checkout process.
Back In Stock Automation
Product reminder emails are notable since they help nurture shoppers on the path to purchase. For instance, if a popular product goes out of stock, some customers may be on the waiting list to receive a reminder that it's back in stock. It's important to remember that product reminder emails are less focused on persuading customers to purchase, since they already expressed interest in the first place. Rather, these emails are meant to remind customers that your product is back in stock and available for purchase on your website.
Also, providing shoppers with the option to sign up for restock notification provides a positive shopping experience because they're assured that they don't need to constantly navigate back to the product page and check for the product's availability. Automating this notification process makes both your customers happy and your brand more reputable.
Customer Winback
Most of the time, shoppers just forget to engage with your brand. Rather than taking it personally, send reminder emails 180 or 365 days after their last interaction to reignite customer engagement and essentially win them back.
Use email to track users who are active and those who are inactive. A customer is inactive if they haven't made a purchase, opened an email or visited your website in the specified time frame that your brand establishes. Reignite customer engagement using a winback campaign to bring inactive users back into the active users segment.
Offering incentives may be useful here, but only include them when needed. Rather than offering a discount or coupon code in the first email in the series, try reminding customers of a good experience they had with your company or convince them to give your brand another try. If that doesn't re-engage them, then consider offering a limited-time deal or incentive to encourage them to purchase.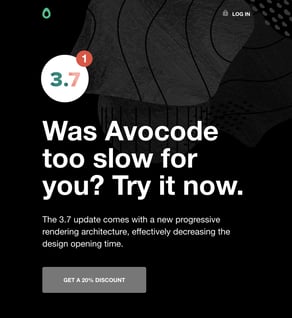 Manage Contact Records & Leads
According to HubSpot, salespeople spend only one-third of their day actually talking to prospects, with 17% of their day spent entering data. Leverage each contact's information in your CRM to assist in your company's sales efforts. For instance, segment prospects, leads and customers to promote specific campaigns to each segment.
Stay up-to-date on how engaged leads are with your brand by using lead scoring. Analyze leads and their behaviors to see how they're interacting with your brand. Are they filling out restock notification forms? Abandoning their shopping carts? Reading your blog posts?
Manage the leads in your sales pipeline by prioritizing the ones that matter most. Score leads based on a variety of factors, like the info they've supplied you with and their behavior. This helps sales teams respond efficiently and accelerate the time it takes for leads to become customers.
Order & Fulfillment Automation
Order Automation
There's a lot of work that goes on behind the scenes. Order management requires a lot of data entry - a process that can be easily automated by an order management system. To eliminate obstacles, we encourage merchants to automate the following:
Inventory levels across sales channels
Order processing between your eCommerce platform and your fulfillment system
Accounting updates
Creating systems to automate order and fulfillment operations allows businesses to process orders fasters by eliminating manual work. Clearly and promptly communicate order information with customers to boost their confidence in your company and your company's processes.
Automating repetitive tasks smooths out the order process and helps with running a business more efficiently. We highly recommend eCommerce stores to set up automated email workflows to prepare for persistent orders. Be sure to automate emails that contain the following:
Order receipt and confirmation of purchase
Shipping and delivery updates
Return information & documentation


Fulfillment Automation
Automation in the fulfillment process helps to prevent overselling by keeping inventory levels accurate and guaranteeing accurate shipping dates and times. Previously, we mentioned back in stock email automation, and fulfillment automation ties in with this.
During the order process, keep track of inventory for each SKU product to alert shoppers when an item is low in stock or sold out. Accurately tracking inventory in the back-end and displaying consistent and accurate product information on the front-end improves your visitors' shopping experience and creates a sense of urgency for them to purchase. Set up internal notifications to alert your staff when inventory levels fall below a certain threshold. This way, a purchase order is automatically generated for you to send to the supplier.
Also, allow customers to track the shipping process so that they see where their package is in real time. Automation helps guarantee that orders are shipped and delivered on time, and there are some great tools out there to reduce human error when it comes to verifying orders, creating shipping labels and printing labels.
Having a streamlined shipping process enables merchants to increase efficiency and customer satisfaction. Using automation may also help prevent merchants from becoming the victim of an eCommerce scam by flagging orders automatically for fraud when customer information doesn't match with order information.
eCommerce Automation Tools: Our Recommendations
From our experience, we can confidently say that we believe investing in an eCommerce marketing software will help streamline your marketing efforts and generate impressive results. Here at Groove Commerce, we appreciate Klaviyo and HubSpot for their automation features.
Klaviyo
We appreciate Klaviyo for its quick speed and ease of use. Create beautiful emails with its drag-and-drop builder, and design the customer journey all the way through to create a truly one-to-one experience with each contact in your database.
Utilize Klaviyo flow branching to send automated, triggered emails to the segment of customers that you want to reach. Also, use A/B testing to test certain variables within each email, such as the subject line or CTA button. This ensures that you're sending the highest-performing automated email to the rest of your contact list. Klaviyo's Smart Sending tool is a great asset to take advantage of, too, so that your company doesn't send subscribers too many emails at one time.
In addition, take advantage of Klaviyo's up-to-date data to further personalize each contact's experience with your brand. The software uses customer profiles to help marketing teams target their audience based on each person's behavioral and transactional data. One of our favorite parts is that Klaviyo updates each segmented list automatically, so marketing teams don't need to manually update each list.
Further, Klaviyo is a great tool to leverage if your business wants to implement SMS in its marketing strategy. This enables merchants to send subscribers (that opt-in and provide consent) text messages with specific promotions, notifications and more. When merchants combine Klaviyo's SMS functionality with flows, subscribers will automatically receive a welcome text. Marrying email marketing, SMS and automation is a great tactic for not only saving your marketing team time but also for getting your brand in front of your audience at the right time in each customer's journey.
We know there are a lot of tools out there to choose from, so we put together these quick reads so you can further educate yourself on the features of Klaviyo and some of its director competitors:
HubSpot
Did you know that a follow-up email to a prospective customer can be created in HubSpot within just 20 minutes? Even if you have no coding experience, HubSpot makes it easy to design emails. Like Klaviyo, HubSpot uses a drag-and-drop email editor to provide eCommerce merchants with an intuitive interface. Plus, every email that's created in the drag-and-drop editor renders a responsive design on any device.
Additionally, HubSpot's marketing automation features let merchants use workflows to send automated, triggered emails based on the criteria of their choice. Similar to Klaviyo's flow branching, HubSpot automates simple and complex customer journeys with multiple branches, allowing merchants to amp up their personalization efforts. For example, follow up with a customer who viewed a specific product on your website by setting that as the enrollment criteria. Then, create an email that encourages them to buy that item. Simple, right? Exclude those who bought the item by updating contact properties, and make internal decisions based on a contact's actions or properties.
On the sales side, HubSpot makes it easy for sales teams to start conversations with prospects, leads and customers - even from right inside their Gmail, Windows, Outlook or Office 365 inboxes. Similar to how marketing teams use HubSpot workflows to automate lead rotation, task creation and emails based on behavioral or transactional data, sales teams use HubSpot sequences to reach out to and follow up with contacts. Automate your prospecting efforts and nurture leads automatically by queueing up a series of automated sales emails (that can be chosen from a list of email templates.)
Conclusion
Automation is an integral part of eCommerce. When businesses use eCommerce automation, they are setting themselves up for success by improving the customer experience, streamlining business processes and driving online sales. If you're interested in exploring this topic further, we strongly recommend reaching out to our team using this contact form. We want to hear the challenges you're experiencing and share how Groove Commerce can help.
About Groove Commerce
Groove Commerce is a full-service eCommerce agency with 14 years of experience helping mid-market retailers design, build and grow their eCommerce websites. As an Elite BigCommerce Partner Agency and Diamond HubSpot Partner Agency, Groove Commerce follows an inbound methodology and delivers bespoke, white-glove service to convert visitors into repeat customers.
Related Content
You Also May Like
Blog
What Do I Need To Know About Etail West 2024? Are you in the eCommerce industry? If...