eCommerce Strategy
5 Stunning Examples of Mobile-First eCommerce Storefronts
Apr 06, 2020 • 2 Min Read
As technology becomes the keystone to our everyday lives, interacting with brands has never been easier. We're able to experience a brand through a traditional brick-and-mortar store, a seamless website experience and social media accounts.
With technological advancements, we've seen an explosion in mobile eCommerce sites. In fact, mobile eCommerce trends show that shoppers are using mobile devices in new ways to interact with brands and purchase their products.
Don't get us wrong - there are still many brands out there with mobile eCommerce sites that do not accurately reflect their brand. Ignoring mobile-specific UI/UX issues and designing clunky, unusable mobile versions of their desktop sites result in low conversion rates, less positive interactions and some frustrated consumers.
So, we're sharing some of the best mobile eCommerce examples to help spark your mobile design inspiration.
5 Mobile eCommerce Examples
Consumers form a first impression of a brand in mere seconds. And, when faced with a brand not living up to certain expectations, they usually abandon it. In fact, Malcolm Gladwell, in The Tipping Point, states that people will form an impression within the first two seconds of interacting with that person or brand.
Two seconds. Therefore every brand must treat an outlet - be it a mobile website or a social media account - as a "first impression" from the beginning by enticing the recipient to get to know their brand.
Check out these 5 mobile eCommerce examples that do just that.
1. Nixon Watches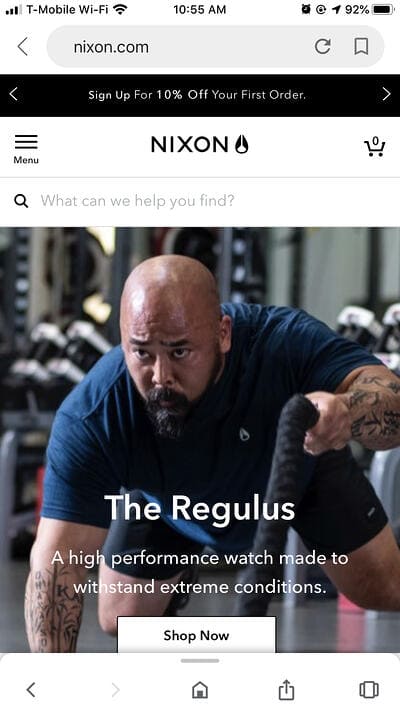 Not only did Nixon's desktop site win the Webby's eCommerce website of the year, it's also one of the best mobile sites. The mobile version is a beautiful piece of design, with a minimal color palette, crisp visuals and helpful icons that make the path to purchase quick and easy. The photography helps to enhance the brand and establish a lifestyle around Nixon.
2. Lush
With an Instagram-esque feed of products, Lush capitalizes on all things visual. In addition to its conspicuous unique value proposition, this mobile site is successful with its 'search' feature. When high-intent visitors search for a specific product, it could not be easier to categorize, view and buy a product − making it one of the best mobile eCommerce sites to shop on!
3. Cutter & Buck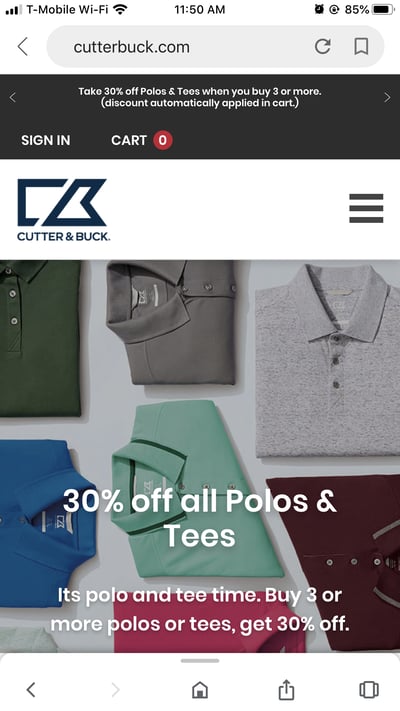 Cutter & Buck strategically placed their unique value proposition at the top of the page and in the center of the homepage to entice visitors to shop the sale on polos and tees. They do a great job of representing a lifestyle-oriented aesthetic through the use of high-quality product photography. Visitors are able to see - from the start - what this brand has to offer.
4. Panera Bread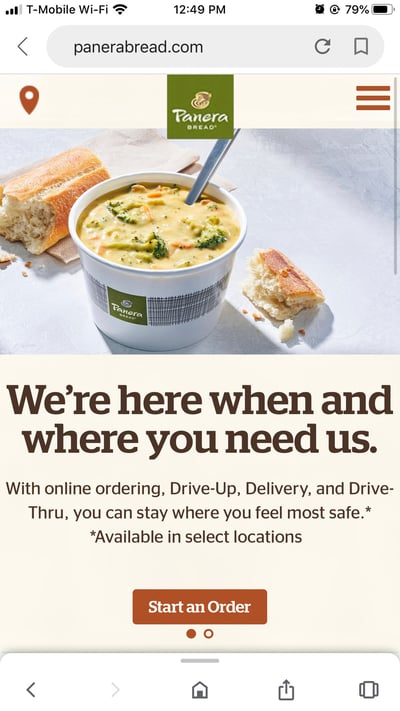 Ordering food online has never been easier. The simplicity of Panera's website easily guides customers to complete an order. The easy-to-use navigation and simple CTAs allow hungry visitors to convert promptly. Oh, and Panera acknowledges on the homepage that it is adjusting to social distancing recommendations - we're here for it.
5. Penny Skateboards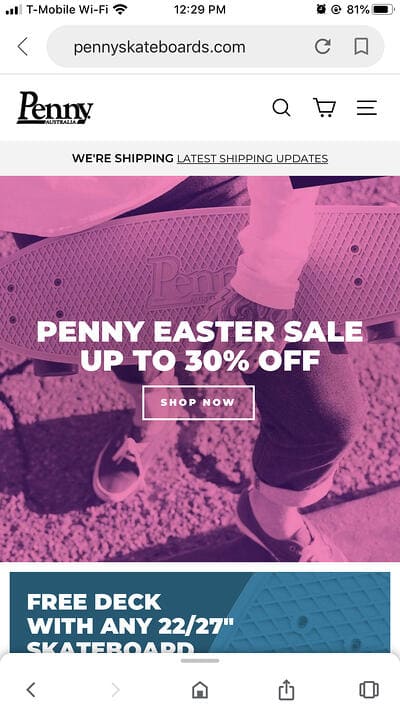 Though Penny Skateboards uses various colors on its homepage, the site is very organized. With minimal copy and clear CTAs, the brand quickly and easily gets its point across to visitors. Additionally, clearly placing updated shipping information in response to the current COVID-19 pandemic allows visitors to learn more about when they'll receive their delivery.
After exploring this site, I came across an optimized 3D customizing tool that lets consumers create their very own Penny Skateboard from the comfort of their own phone. Simple icons and a quick path to purchase round out this mobile site.
Conclusion
These mobile eCommerce examples are successful websites because they have identified and solved mobile-specific issues. No matter how you decide to design your eCommerce site, you must tap into the consumer's brain.
Like Malcolm Gladwell said, "there is a simple way to package information that, under the right circumstances, can make it irresistible. All you have to do it find it."
If you're looking to turn your online store into one of the best mobile sites, be sure to follow these 5 eCommerce design principles. Have questions or want to learn how we can help optimize your website for mobile and grow revenue? Contact us through the form below. We look forward to hearing from you!
Related Content
You Also May Like
Blog
What Do I Need To Know About Etail West 2024? Are you in the eCommerce industry? If...