eCommerce Marketing
What Is Inbound Marketing?
Mar 11, 2020 • 3 Min Read
There are essentially two types of marketing: inbound marketing and outbound marketing. Though both are techniques used to attract customers to your brand, the two techniques vary. So, how do you know which is right for your business? Distinguishing between the two is a great place to start.
Outbound marketing tends to be more focused on traditional forms of marketing, such as telemarketing, direct mail, television and radio advertisements, sales fliers, etc.
With the ability to fast-forward through commercials and opt out of paperless mail options, attracting customers with outbound marketing techniques is becoming more difficult.
What Is Inbound Marketing?
Inbound marketing, on the other hand, is more focused on bringing customers to your website through high-quality content, social media, SEO and branding.
It involves a combination of marketing strategies and techniques that are focused on attracting, converting, closing and delighting customers by sharing content relevant to a targeted audience.
Brian Halligan, co-founder and CEO of HubSpot and the creator of the term inbound marketing, advocates for this strategy to help yourself "get found" by people already learning about and shopping in your industry.
In the infographic below, you can see the many components that make up this methodology. These sources contribute to driving traffic to a website, which can result in increased conversions.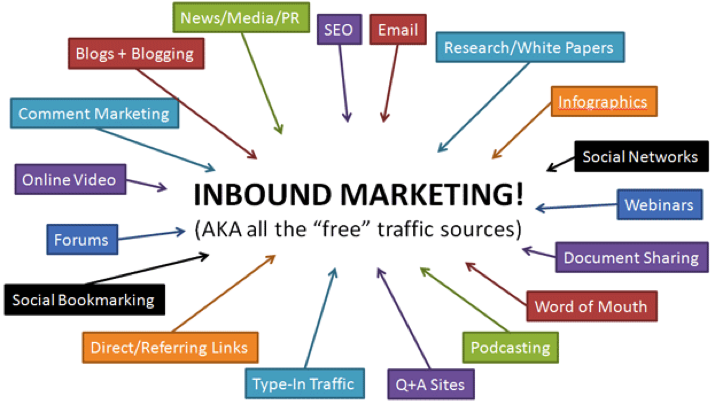 It's important to note that an inbound marketing strategy generally covers content management. However, content management is not just what's on your website. It also includes all of the "free" traffic sources shown above.
The Process
Any successful strategy follows this process:

Attract traffic
Convert traffic to leads
Convert leads to sales
Convert customers into repeat higher margin customers
Analyze
Attract Traffic
Search engine optimization, email campaigns and social media marketing all work together at the first stage to attract visitors to your website.
Show potential visitors your expertise by optimizing website content, engaging with social media users, creating landing pages and developing promotional content.
Convert Traffic To Leads
Effective calls-to-action, unique value propositions and banners promoting deals on certain products are effective strategies to convert website visitors into leads.
In addition, A/B testing helps optimize calls-to-action, landing page conversion and more. Be sure to A/B test so you can find the best strategy that works for your brand and ultimately turn leads into sales.
Convert Leads To Sales
It takes the effort of both a marketing and sales team to convert leads into sales. Take into consideration demographic information, social media presence, shopping behavior and more to optimize the delivery of your marketing strategies.
Customizing the delivery with specific times and channels of communication will increase the chance of visitors buying something from your site.
Higher Margin Customers
The fourth level stipulates that companies are able to determine which types of content - and at what times - yield the best results.
What are the best results? That depends on your website's goals. High margins and repeat customers are the two most popular.
Analysis
Most marketers know that best practices for marketing are constantly changing. That's why it's important to keep up with industry trends.
Knowing what type of content your customers want, what delivery method they prefer, and when they want it is critical for maintaining optimal click-through and conversion rates.
Staying continuously active on social media and maintaining high online visibility through quality content helps to gain and retain customers.
The Sales Funnel
Inbound marketing has developed and evolved since its initial declaration in the mid-90s. To better understand how it works in relation to increasing sales, it's important to understand the sales funnel.
Check out the infographic below for a visual representation of the sales funnel.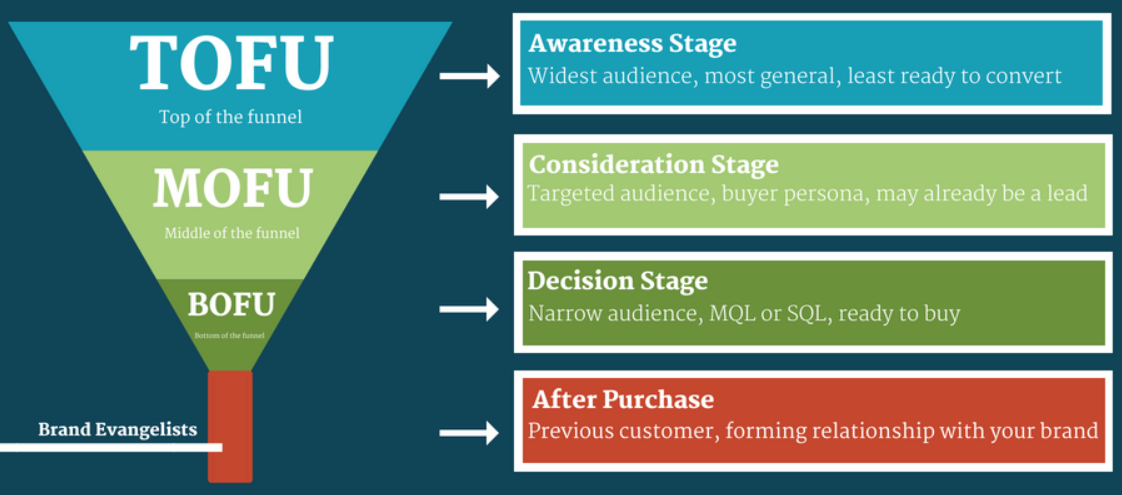 1. Top of the Funnel (TOFU)
In this stage, unaware buyers are looking to gain knowledge about a particular service or product they're interested in. This is the stage where quality, high-level content brings in traffic to your website.
Share informative content - like eBooks, guides, "how-to" content and emails - in this stage. Remember, shoppers in this stage are eager to learn about the product or service they're interested in,
2. Middle of the Funnel (MOFU)
This stage consists of the shoppers that are interested in purchasing a solution to their problem but still need to be persuaded to purchase from a specific site.
Because these shoppers are evaluating all of their options and searching for the best solution in this stage, we recommend sharing content that shows how past customers have benefited and how prospective customers will benefit from your product or service. Whitepapers, case studies and webinars are all great content.
3. Bottom of the Funnel (BOFU)
This stage consists of the buyers who know what they want and are ready to make a decision on the products or services they want to buy.
To help guide customers into choosing your brand, it's critical to share valuable content in this stage. Assessments, consultations and on-site demos are great content for this stage of the funnel.
Following these stages and recognizing where each customer is in the buyer's journey will help you to better market towards each customer's specific needs.
Conclusion
Inbound marketing is an effective and measurable resource for your website's growth. It is extremely cost-effective and gives companies the ability to reach their targeted audience through quality and personalized avenues.
It's our goal to help clients attract, engage, and retain customers. If you need help optimizing your inbound marketing strategy or have any questions, contact us through the form below.
Our team will be happy to help optimize your internal website, social media, landing pages or email communications. Talk to you soon!
Related Content
You Also May Like
eCommerce Marketing
HubSpot vs Marketo: Comparing Platforms So, you've landed here because you're...