Email and SMS Marketing
Maximizing eCommerce Sales in Athletic Apparel & Sports: A Deep Dive
Apr 14, 2021 • 8 Min Read
Sportswear companies have been more resilient during the pandemic than the rest of the apparel industry, according to a global report from McKinsey & Company. As businesses continue to recover from shutdowns in 2020, it's more important now than ever to understand the rising industry trends as well as the essential functionality that eCommerce brands in this industry need to succeed online. Continue reading to uncover some valuable insights into the athletic apparel and sports industry that we're sure will help you increase eCommerce sales and grow your conversion rate.
eCommerce Trends In The Athletic Apparel & Sports Industry
Customizing Products & Personalizing Experiences
From professional sports team gear to customized and engraved athleticwear and more, there are a ton of ways to personalize a customer's experience with your brand. Utilize customer demographics, such as geographic location, gender and age, to offer product recommendations unique to each contact in your database. Leveraging this data helps companies offer products that the intended audience is more likely to purchase.
Let's pretend data on a specific customer shows that they're from the Baltimore region and identify as a male. In this case, a brand may send a product recommendation that includes products like a Men's Baltimore Ravens Jersey or a Men's Quarter-Zip Fleece Jacket. Likewise, if another customer's data shows that they're from the Baltimore area and are over the age of 21, a brand may decide to target them with a Ravens Beer Glass or Ravens Shot Glass.
Though customized products are not unique to the athletic apparel and sports industry, it's important for eCommerce merchants to note when building an engaging marketing strategy. It can be tough to compete with big box retailers, like Dick's Sporting Goods and Modell's, and offering customized products through your eCommerce store is one way to leverage existing customer data to differentiate your brand from the competition.
Also, personalizing users' experiences with your brand throughout the customer lifecycle is key to increasing customer loyalty and driving repeat purchases. Brands should engage with their prospective customers prior to purchase, of course, but let's not forget about post-purchase as well. Use a tool like Klaviyo SMS to send customers (that provide consent) personalized messages straight to their cell phones. Send them a welcome text once they provide a little personal information or send a reminder message when they abandon an item in their shopping cart. After a customer makes a purchase, send them a text message with an order confirmation, shipping update or whatever else your business feels is necessary for your customers to know. Create segmented campaigns to target specific contacts in your database with certain deals or discounts off of items they've previously expressed interest in.
Multi-Channel Selling
Nowadays, social media is more prevalent than ever. With ads constantly bombarding us each day and our friends sharing their favorite brands and products online, it's easy for consumers to jump on the bandwagon and make a quick purchase decision through a social media app. This provides a huge opportunity for eCommerce merchants to reach a wider audience and convert more prospects into customers by selling on other platforms in addition to an eCommerce site.
We recommend leveraging Instagram eCommerce to show off your products, tag products in posts and create an easy on-platform shopping and checkout experience. Instagram shopping lets merchants integrate their product catalog with their Instagram profile, making it easy for businesses to display all inventory as they please. Facebook and Pinterest are great platforms, too, to enhance your eCommerce advertising strategy. All of these platforms create frictionless shopping experiences and allow merchants to reach an array of consumers that they may not have otherwise reached.
Influencer Marketing
Influencer marketing occurs when "influencers", or those with a significant presence and following on social media platforms, partner with brands to create content and share their honest opinions of a brand's products or services to their audience. We've seen many businesses in the athletic apparel and sports industry, like Under Armour and Lululemon, use influencer marketing to reach new audiences and drive online traffic and sales.
Influencers are paid, a majority of the time, to post a piece of content and express a certain opinion about a brand or product. Though this helps brands increase reach by getting in front of a whole new audience that they may not have reached otherwise, it's crucial that brands work with influencers that are relevant to their industry. For example, Under Armour partners with professional athletes while Lululemon partners with well-known surfers and yoga instructors that align properly with their brand image. Both of these companies work with influencers who have an audience similar to their target market.
Mobile-Friendliness
The prevalence of cell phones in today's world has many consumers constantly checking their devices. This represents a huge opportunity for eCommerce brands to cater their website designs to accommodate those who shop on mobile (yes, this also includes iPads and tablets!)
Did you know that 40% of shoppers will exit a website if the page that they land on takes more than 3 seconds to load? That's a huge percentage of potential customers lost just because of a slow site speed! Avoid this mistake by making sure your website provides a great user experience across all devices. This means ensuring a quick site speed, fast loading time, simple navigation, easy-to-use search bar, the ability to save a shopping cart and a one-page checkout.
Website Necessities To Sell More Products
Product Photography
Regardless of the industry, it's critical for all eCommerce retailers to take high-quality photos of their products before uploading them on product detail pages and social media to sell. Whether you're selling activewear, sports equipment, fitness watches, sneakers or any other consumer good that promotes physical health or mental wellbeing, make sure you invest in a professional camera or a professional photographer.
Capture clean product photos and videos to show various angles of a single product and instill consumer trust in your product and brand. Show all the details, even the minute details, so customers know what to expect when the item arrives. Use videos to display a certain lifestyle that you want the item to depict or to show how to do something, such as constructing a piece of equipment. Don't forget to capitalize on your investment in the professional photos by using them throughout your website, social media and emails.
Size Guides
When selling athletic apparel online, it's really important to include size guides on product detail pages to inform shoppers about how a certain piece of clothing fits. Does it typically run big or small? Let them know. Be transparent upfront when it comes to sizing so that customers are less likely to make a return due to not fitting properly.
Inventory Rules
No matter whether a business sells DTC or B2B, their website should always portray accurate inventory availability. If something is out of stock and a company fails to let their visitors know on the site, a customer will order a product, unknowingly, and then later receive a notification that it's out of stock. Avoid this miscommunication with your visitors and customers by being transparent from the beginning. If a product is sold out, mark it as such. If there are only a few items left of a pair of workout pants in a men's large, let your customers know. Allow customers to choose whether they want to sign up for back-in-stock notifications, so they're the first to know.
User-Generated Content
Take advantage of all user-generated content (UGC) that's related to your brand. Ratings, reviews and social posts are common examples of UGC. This third-party credibility establishes legitimacy among businesses and trust among audiences. People like to see and hear what their peers have to say about something before they spend their own money on it, so post some of your customers' positive reviews on social media, and always re-post or engage with content that customers voluntarily post about your company. This helps to create a brand community and makes existing customers feel like the brand they love cares about them in return.
Platform Features To Sell More Online
Social Media & eCommerce Integrations
Earlier, we mentioned that social media provides an opportunity for brands to increase reach and drive more traffic. To be successful in today's digitally-driven world, it's important that your eCommerce platform integrates with the social media platforms you intend to sell on. When evaluating platforms, we recommend researching whether your preferred platform integrates with big names like Facebook, Instagram, Amazon and even eBay.
Technical Support
We cannot stress enough how helpful a team of eCommerce experts is when it comes to answering any questions that emerge before, during and after a website launch. Whether your company's inquiries relate to building and designing the website, leveraging technical optimization in the back-end or growing your business and increasing sales through the platform, relying on an experienced team will make your website launch and maintenance experience much less complicated.
Reporting & Analytics
We strongly encourage investing in a platform with built-in eCommerce analytics because it allows merchants to review website and campaign performance over a suggested period of time. Having this reporting feature built-in offers insights into granular customer data that can later be used to drive marketing initiatives. Just think of all the different marketing routes you could take once you know a customer's average order value, total number of orders, last order date and more!
Various Payment Options
Consumer preferences at checkout vary immensely, and there are a great number of payment options out there. That's why it's essential to choose a platform that integrates with a variety of payment providers. Run your business on an eCommerce platform that integrates seamlessly with top payment solutions, including but not limited to PayPal, Apple Pay, Amazon Pay, Google Play, Stripe and Square.
Platform Recommendations
BigCommerce
Many businesses in the athletic apparel and sports industry use BigCommerce to host their websites. Here at Groove Commerce, we really love this SaaS platform for its ease of development, responsiveness and payment and inventory management. It's great for teams that have little to no development experience because it's super easy to manage and maintain once the site is live.
Investing in BigCommerce means that you have the tools necessary to sell your sporting goods and athletic apparel on multiple channels such as Facebook, Instagram, Amazon, Pinterest and more. Plus, the platform offers responsive and mobile-optimized themes that enable websites to load faster, providing a better shopping experience for those on mobile devices. It even offers more than 55 pre-integrated payment solutions that help create a seamless checkout experience for customers.
Shopify
In addition to BigCommerce, Shopify is the other SaaS platform that we believe is great for hosting websites in the athletic apparel & sports industry. Gymshark, Fitbit, Fabletics and Nobull are some well-known businesses that leverage Shopify to run their websites.
Sell throughout multiple channels easily with Shopify's integrations with platforms such as Facebook, Twitter and Instagram. Cater to mobile shoppers with Shopify's responsive themes that adapt to various screen sizes and optimize pages for an easy-to-use mobile experience. Plus, advanced inventory features and unified reporting within the point of sale system is great for both keeping stock of sporting goods/apparel and growing your brick-and-mortar and eCommerce business.
When comparing BigCommerce vs Shopify, we like to note that Shopify's product variant and limitations when it comes to customization often creates challenges for many mid-market and Enterprise businesses. For this reason, we encourage businesses of these sizes to leverage BigCommerce Enterprise since it's built for mid-market and Enterprise companies. Smaller businesses, on the other hand, should evaluate both SaaS platforms in detail before making a decision to determine which best fits their eCommerce needs.
Client Case Studies
Cutter & Buck
Cutter & Buck manufactures upscale clothing, like sportswear, outerwear, fangear and more, for golf and various other sports. Groove Commerce began our partnership with this elite sportswear brand back in 2015, and we're excited to be working with them still to this day. After dealing with technical debt and additional costs on their original Magento store, the Cutter & Buck team turned to Groove Commerce to build, design and launch their new website using BigCommerce Enterprise.
We combined custom design with integration development, migrated their Salesforce email to HubSpot, created a custom application and implemented our HubSpot BigCommerce Integration to capture abandoned carts. The results? Cutter & Buck saw a 37% increase in conversion rate, 31% increase in average session duration and 26% decrease in bounce rate.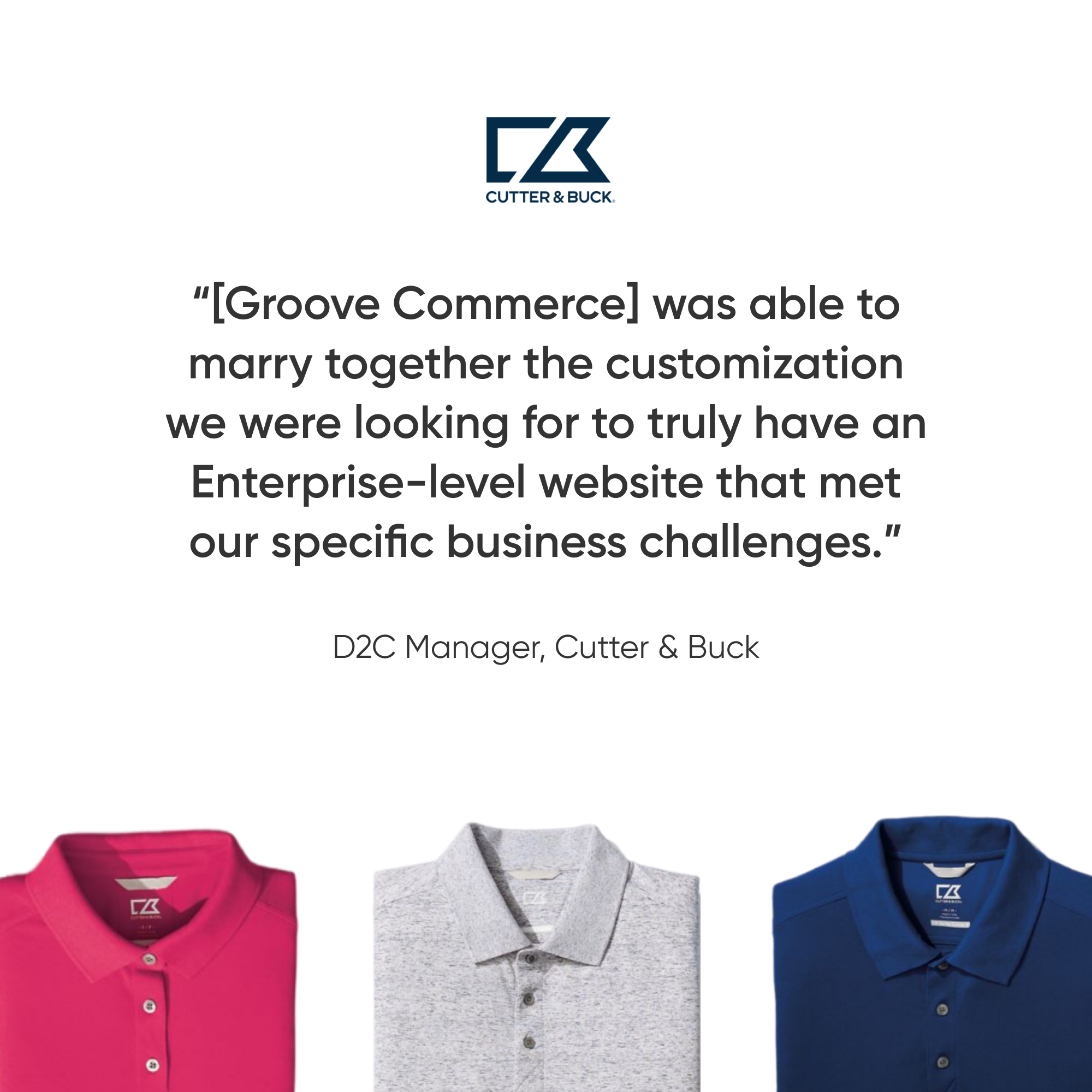 Curtain Call
Curtain Call operates in a B2B setting and sells dance costumes and performance wear for recitals, classes and competitions. The Curtain Call team enlisted the help of Groove Commerce to migrate their Magento store to BigCommerce, enhance the overall website design and create a solution that enables them to provide a better experience for their website visitors.
Our team leveraged the IBM iSeries Integration so that Curtain Call's customers can now see the accurate stock amount for a particular SKU as well as expected delivery dates on product detail pages. We also optimized their eCommerce store for mobile devices to increase page load times, and we created a flexible BigCommerce design so that their team could make updates to their website on their own post-launch.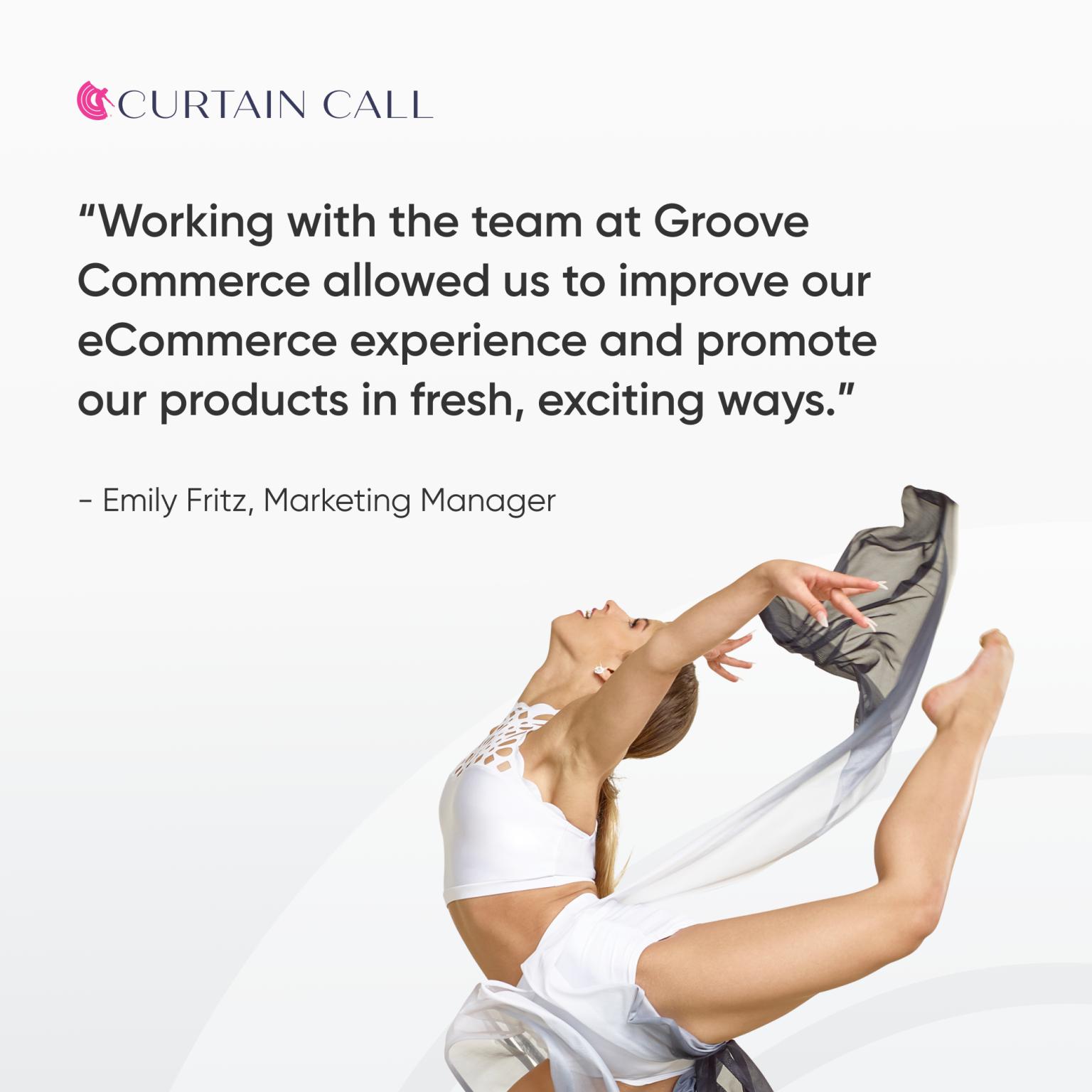 Conclusion
We hope that this guide helps you better understand the trends in the athletic apparel and sports industry as well as necessary website functionality for selling more online. If you would like to learn more about how the Groove Commerce team creates custom website experiences and converts traffic into customers via email marketing, seo and paid media advertising, we'd love to hear from you. Get in touch with our team today to learn more about how we can help you reach your unique eCommerce goals.
About Groove Commerce
Groove Commerce is a full-service eCommerce agency with over 13 years of experience helping mid-market retailers design, build and grow their eCommerce websites. As a Diamond HubSpot Partner Agency and an Elite BigCommerce Partner Agency, Groove Commerce follows an inbound methodology and delivers bespoke, white-glove service to convert visitors into repeat customers.
Related Content
You Also May Like
Blog
What Do I Need To Know About Etail West 2024? Are you in the eCommerce industry? If...