Groove Commerce

Learn how to improve the appearance, delivery, and experience of our proposals while simultaneously making the process more efficient using technology tools and a revamped process.
Poor Proposal. His appearance is overlooked, he's ignored until the end of the day, and he gets cut and pasted until he doesn't even recognize himself…
"Pay attention to me! I'm the last thing they see before making a commitment," he cries. Yet, for years, his cries went ignored…just like his Arial font.
Here at Groove, we decided to listen to Proposal's cries for attention. We realized that our antiquated proposal process of recycling Microsoft Word documents, cutting and pasting images, sending large PDFs, and requiring ink signatures was stealing time from important activity – prospecting, marketing, and selling our services.
We asked ourselves,
HOW COULD WE IMPROVE THE LOOK, DELIVERY, AND EXPERIENCE OF OUR PROPOSALS WHILE SIMULTANEOUSLY MAKING THE PROCESS MORE EFFICIENT?
Enter The Proposal Project. We made the decision to dedicate the TIME upfront and invest in the TECHNOLOGY that would enable us to streamline our process and delivery, beautify the presentation, and improve the client experience with our proposals.
Setting Up the System on the Back End
Step 1. Select the Right Technology
The first step in overhauling our proposal process was selecting the right technology. Always on the hunt for new technology, our Founder and CEO, Ethan Giffin, first heard about a proposal software tool called Proposify when it was mentioned in an interview. He immediately thought it was a cool product that would satisfy our technology needs for The Proposal Project.
"As a creative agency, we like to be able to have a higher level of design & look to our proposals," Ethan notes. "As a big user of the HubSpot CRM, we asked for an integration with Proposify and HubSpot. Once that was created, we went all in for our agency."
Step 2. Develop Content Library & Format Templates
With the right technology in place, we had to move all of our Word document templates from the shared drive into the content library in Proposify.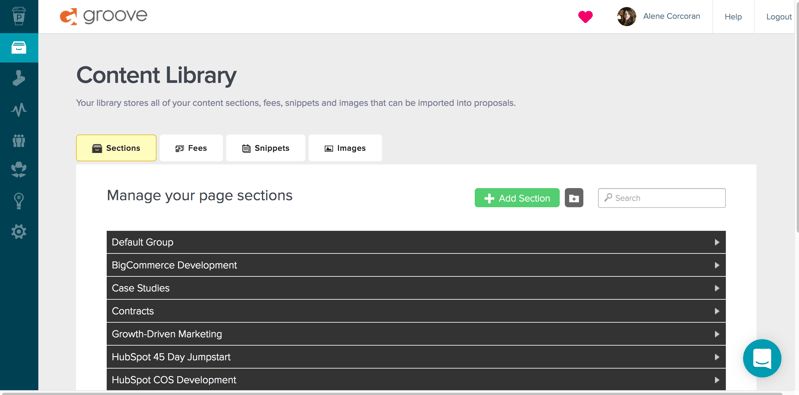 One of the biggest challenges in creating the content library was in building a system that was consistent with what we were trying to do later on. Drew Blais, Multimedia Coordinator, was tasked with the project.
"It was important that the entire organization understood the labels and titles that were being used in the content library," Drew recalls. "We needed to structure it so that anyone in the organization could easily pull the correct template."
Applying a fresh look to our proposals was also a key objective of this project. Because Proposify has the ability to style and format within the software, we didn't need to pre-format the documents and could make changes and updates to the formatting in real time. This styling ability was crucial to moving the project forward, as we did not need to wait for revisions and approvals on formatting before getting started with the template and library setup in Proposify.
Step 3. Setup Integrations
As mentioned, one of goals for The Proposal Project was to streamline the entire process of creating and delivering proposals using the HubSpot CRM.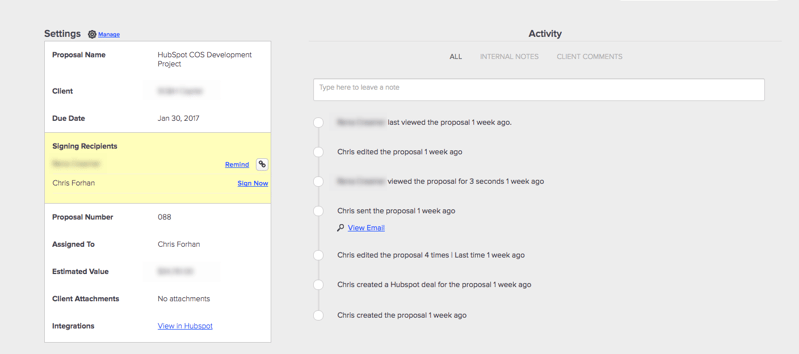 Some highlights of the Proposify/HubSpot integration,:
A new Deal (Opportunity) is created in HubSpot when a proposal is created in Proposify...

Be careful to ensure that this does not create a duplicated Deal if you've already created a Deal for that client.


...Or, a new proposal is created in Proposify when an Opportunity is created in HubSpot.

Proposify will pull all of the information out of the CRM, so you must be diligent in entering client and deal information correctly in the CRM.

When a proposal is signed, Proposify will automatically move that Deal in HubSpot to Closed/Won.
You can follow the entire process through Proposify OR HubSpot.
We also integrated Proposify with Zapier for the collection of sensitive data and Quickbooks for accounting.
Step 4. Train Staff on the New Process
This was perhaps the easiest part of the project. We took an integrative approach to this and brought Sales into the process from the beginning so that by the time the proposals were ready to go, the users were comfortable with the technology.
"Taking advantage of user roles was critical," explains Drew. "In the beginning, [Sales] was asking me to update each page every time they needed to change a photo. With one quick fix in user settings, they are now able to update individual photos without compromising the formatting of the document."
Realizing the Benefits on the Front End
Proposal is feeling happier. He's gotten a new look and a LOT of attention.
Even happier than Proposal is Sales. Just one month after the completion of The Proposal Project, our team is beaming. Here are some of the benefits you can also realize by revamping your process:
Take Back 1-6 Hours per Proposal – and Sleep More
The time savings speaks for itself. For a simple, out of the box proposal, the time for completion has shrunk from 2 hours to 20 minutes. A more complex and customized proposal that used to take a week to get into the hands of the prospect now takes 24-48 hours.
That's between 1-6 hours per proposal that is put back into other sales activity – prospecting, pitching, and nurturing. Or, if you're like many Sales folks who end up putting together proposals at 1 a.m. the night before delivery, that's hours of sleep gained.
Improve Turnaround Time 5x – And Close Faster
Ever had an error in your proposal? Or a prospect requesting a change? Before our process was in place, we would have to go into the Word document, make all the updates to every instance in the document, save as a PDF, and re-send to the prospect.
Using Proposify, our proposals are live documents. When a client requests a change or an error is found, it's as easy as going into the proposal and making the update in real time. Boom.
Our proposals also enable Echosign, which improves the experience for the user and increases their likelihood of signing in a timely fashion.
Ensure Accuracy & Consistency - So You Don't Lose the Deal
In a famous Nike fail story, Stephen Curry ended his endorsement with the most recognized basketball brand in the world because their pitch deck (which was recycled from a previous pitch) contained Kevin Durant's name in place of Curry. Epic recycled content fail to the tune of about $14 billion.
When using Proposify, the room for these types of errors is greatly diminished. Because the program inserts client information from HubSpot into fields, there's no manual entry of names, numbers, and contact information. The proposal is prepopulated automatically, giving you peace of mind that your proposal is clean when it goes out.
Chris Forhan, Senior Business Development at Groove, is crazy-stupid-excited about the new proposal process using Proposify and HubSpot, and he said it best:
"Over the course of my career, I've spent countless hours – most of them in the middle of the night – working on proposals," he reflects. "Our new process using Proposify and HubSpot has changed my life!"
If you're thinking about giving your proposals a facelift, we have a special event for you: the CEO of Proposify, Kyle Racki, will be here at Groove on February 23, to give a talk on creating proposals that sell.
Space is limited for this super relevant event. Be sure to register before February 20.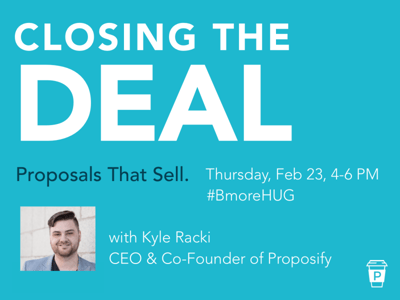 Get in Touch
Subscribe for industry insights and resources.