Groove Commerce

Design 1, 2, 3: A Valentine Paid Link = Chain Pharmacy Fail
Of all the things that February represents in America: Black History Month, American History Month, Heart Month, Snack Food Month, Children's Dental Health Month, International Friendship Month; February is widely known for being the month of loooooove, by which I mean artificial hearts and gift exchanges. Yup, Valentine's Day. The most romantic eCommerce day of them all!

I figure with all the valentine paraphernalia out there – cupid icons, heart images, thousands of shades of red, whirlwinds of flourishes, and lipstick stains, I figure there's plenty of room for eCommerce websites to create design horrors. That's why this month's Design 1, 2, 3 is dedicated to a pharmacy's Valentine gift guide landing/web page.
Their page (along with my 1, 2, 3 markup) is below: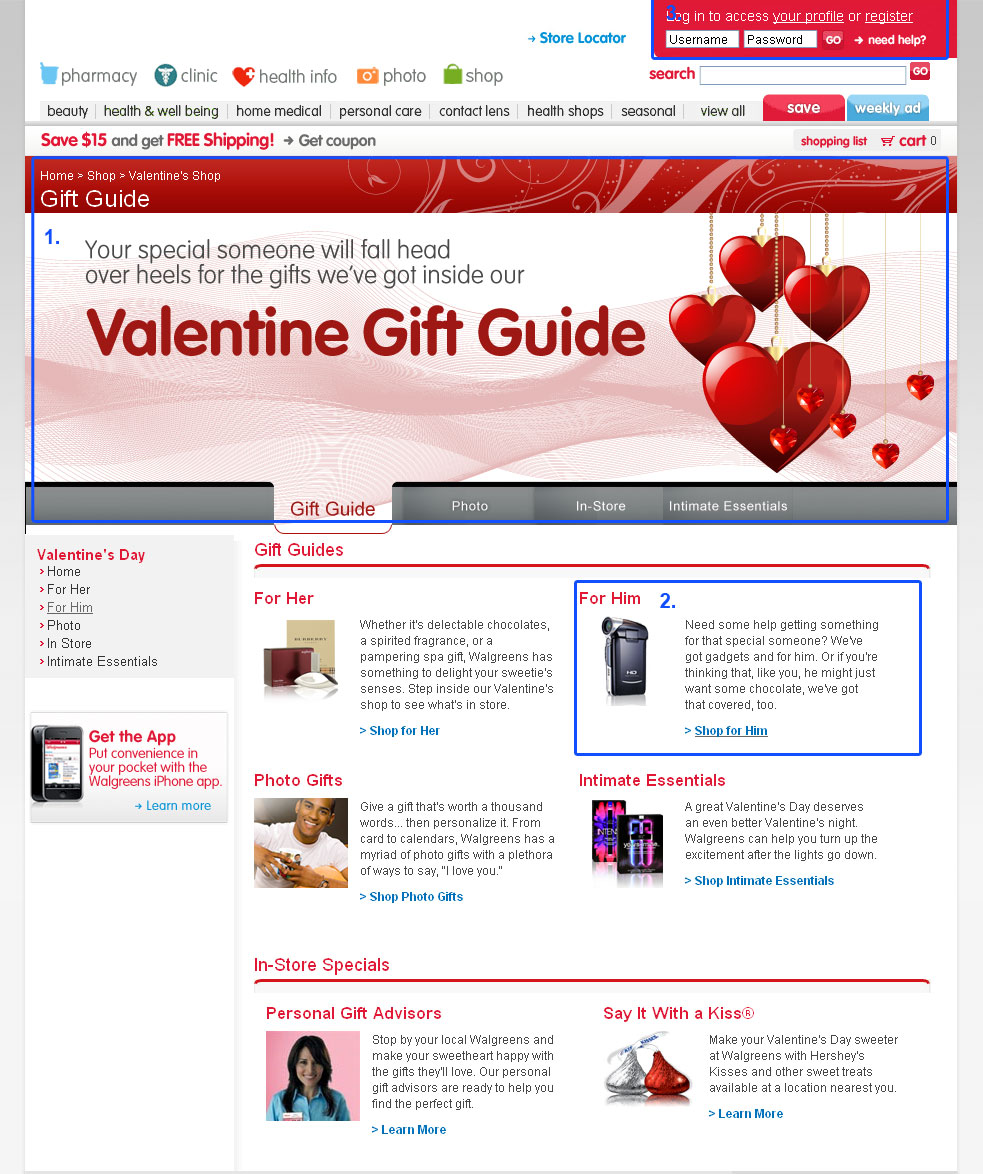 1. Waste of Space
Roughly 350 pixels are used for the Gift guide call out, including top bread crumb, main banner and tabs. By now, you might know that it's a pet peeve of mine to have larger banners with no calls to action and that aren't clickable. I have two suggestions. One, remove the tabs (photo, in store, intimate elements) and place those on the main banner to drive traffic to them. Especially, considering that the tabs are a bit redundant with text links also in the side bar and in the content area below. Or two, resize the whole section (breadcrumb, banner) to be about 150 pixels high; thus, moving up the content and driving traffic through those buckets. It's strange that a web page could be both too simple and overkill at the same time.
2. User Expectation
Visually, there's nothing wrong with this content or layout. (I'm looking at my blue square around the "For Him" section.) My problem actually lies with how I got to this Gift Guide web page. I did a Google search for valentine's day gifts for him. And this pharmacy was a sponsored link. I clicked it and arrived on this page. Granted it is Valentine's Day oriented, but why not link it right to the For Him page? It would have saved me a few seconds of thinking and a click. And it would have taken me to a page with a direct headline that corresponded with my search: Gift Guide for Him. Additionally, and most importantly, it would have led me directly to viewing products, not navigation filters. If you're going to run keyword campaigns, make sure they're directed to the correct page.
3. Clutter
This is nitpicky, but hey this series is all about suggestions for improvement. And if improvement means fixing some ridiculous thing in the corner, then hey, goal met. This isn't completely irrelevant, at least not in my head. Anyway… The magenta-esque call out in the right upper hand corner includes a link to access my profile, to register, to get help and entry fields and a submit button to log-in right on the spot. Somewhere, somehow I think this could all be condensed. Again, it's overkill right now. I like the instant log-in option, by why not remove the your profile link? Apparently the help isn't even specific to the log-in/profile account information. It's a help link for the entire website; maybe it should be placed some where outside of the profile call out.
I'd also suggest, just for the valentine edition pages, which are going to be overloaded with shades of red, why not make the call out box blue? It's still in the same location and the contrast will help visitors to easily find it.
Here's my quick re-visioning: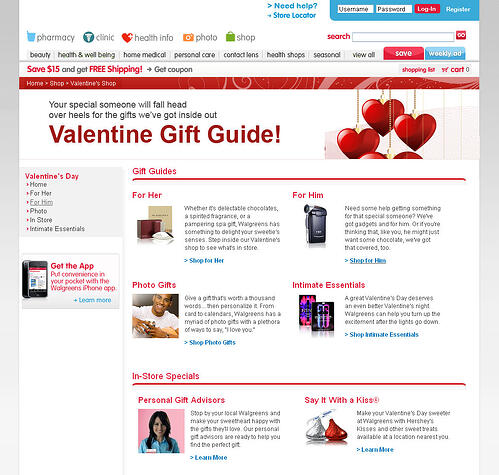 To sum up this month: I think the most important marked they missed was not having a paid link direct traffic to the specific page with those keywords on it. (I've been reminded by my SEO/PPC colleague that it's possible the company did testing and the gift guide page proved higher conversions than the gift guide for him page, and that's why the link is directed as it is. But after he looked at the two pages, he conceded that while possible, highly unlikely and that this is just a (possibly costly) goof by the part of the company.)
Mentioned in this post:
Valentine's Day :: Walgreens
For Him | Valentine's Day :: Walgreens
Get in Touch
Subscribe for industry insights and resources.