Groove Commerce

Design 1, 2, 3: Better Form To Increase Magazine Subscriptions
Recently, larger-than-life magazine house Condé Nast has nixed several publications and laid off staffers. Their Vogue September 2009 issue's ad content was down 50% from last year. That equates to a lot of money lost. It's a continual trend that print publications ad pages and subscriptions are tanking.
And now I'm faced with a moral dilemma: Do I renew my subscription to an industry-standards magazine or let it fall to the wayside? If I let it fall to the wayside, I'm not supporting my industry or the magazine which is a fantastic resource for all things design. I've decided not to renew my subscription—although, I do plan to get a year's subscription every three to five years, if it's still around, crossing my fingers—but I think I found another way to help.
Recently, I was on their website, and found the new-subscription page (below, minus the header).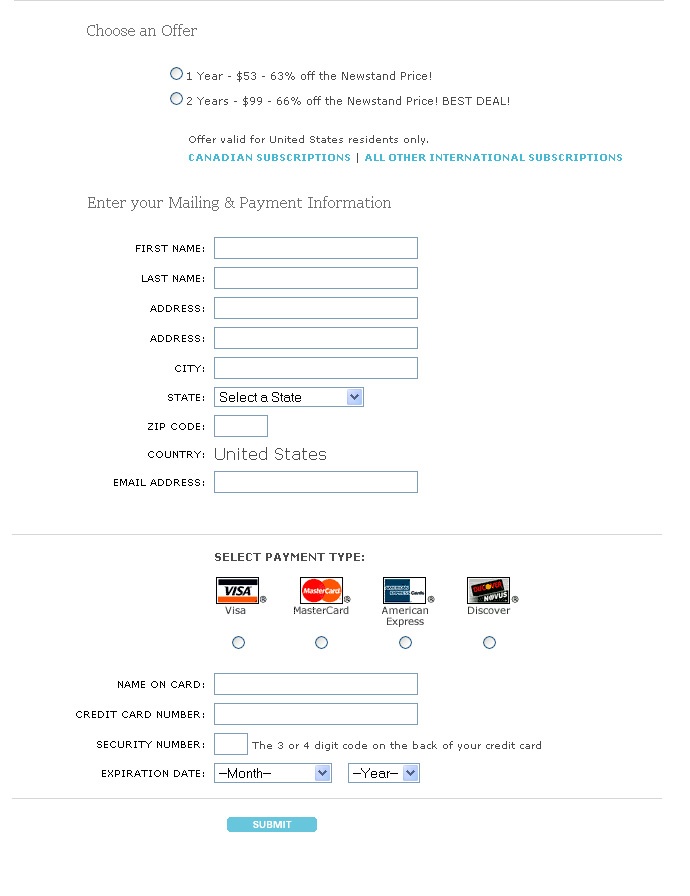 And I thought, hey, maybe I can't give them my money annually, but I can definitely give them the 1, 2, 3 treatment. (Because this is the first edition of Design 1, 2, 3 I've even suggested a fourth tip! Wowzers.) Some ways to improve the subscription page: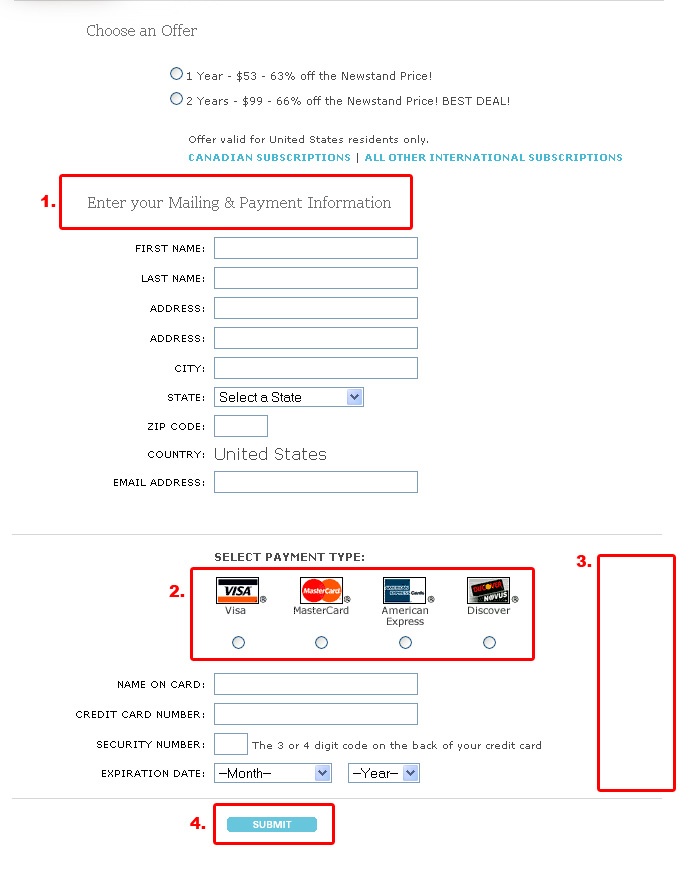 1. User Confusion: The label "Enter Your Mailing & Payment Information" assumes that the mailing and payment addresses are the same. This is unusual in eCommerce, there's almost always a mailing address section and billing address section. Maybe they had their reasons for combining them (I'd love to know them, if they do.) But for those users who want/need to enter two separate addresses, the form should at least include that handy checkbox – Is your billing address the same as your shipping address or whatever wording. Give users the choice to enter additional information if necessary.
2. Distraction: The images of each card and radio buttons are overly prominent. There are many ways to integrate selecting the card type into the form without making it so visually important, such as: some scripts can detect what card it is when the user enters the number, use a dropdown, or just show the images or names not both.
3. Assurances: Nowhere on the page are there security assurances. That's a big no-no when asking the user to enter personal and financial information, and it's certainly hurting their conversions. I placed the error box on the right because that's where there was room. Assurances could easily be placed to the left, in the footer or in the header, basically anywhere, as long as they're present.
4. Call to Action: The current call to action button is quite small and is only calling attention because of its color. Increased prominence would probably raise conversions, particularly if other things are added to the page—such as assurances or more fields for billing address etc. I realize there's a simple aesthetic happening, but the bottom line for print publications in this economic climate is to increase those subscriptions.
There are actually several other things I could recommend, but I wanted to highlight the major stuff. Plus, I can't go giving away all the secrets; I've got a job to keep!
Mentioned in this post:
Conde's Cuts come to Vogue :: Media Memo
New Subscription Page :: Communication Arts

Design 1, 2, 3 is a monthly review to improve a design element in at least three easy steps. Want something given the 1, 2, 3 treatment? Mention it in the comments.
Subscribe for industry insights and resources.