Groove Commerce

Design 1, 2, 3: Discount Perfume eTailer – It's in the Details
Overall, the discount perfume website that I've chosen for this month's Design 1, 2, 3 isn't actually too bad. I don't love the aesthetic of the site, but it's nice for what it is: pastel hues and simple text links all fairly well organized to create a visual hierarchy. The security assurances and phone number are prominent. Here's what the top 500 pixels of the homepage looks like: (The company logo has been purposely removed for this post.)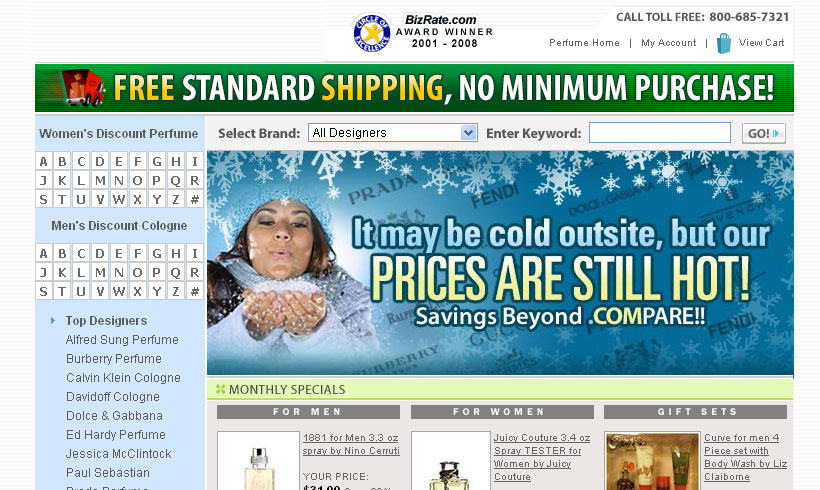 Would you have guessed this site was one of Internet Retailer's Hot Top 100 Sites of 2009? It's true, but maybe a bit surprising. And here's the top 500 pixels, with a little 1, 2, 3 finesse: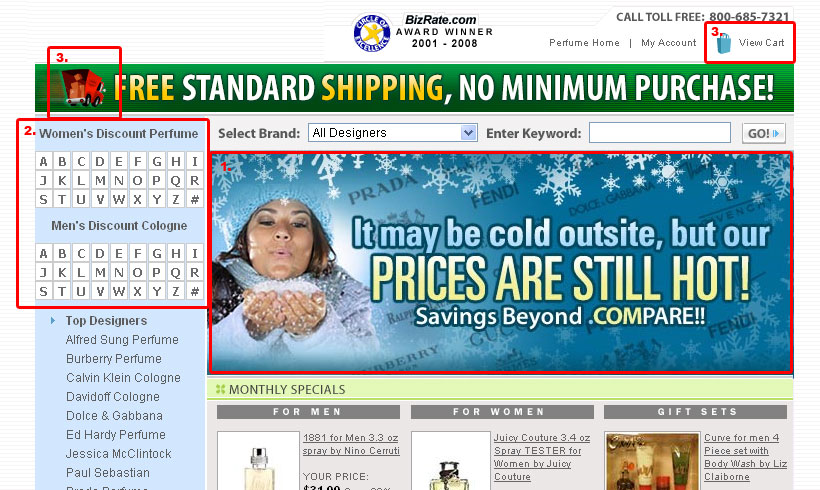 1. User Confusion. I'm part of that school of thought that says if you have a big banner on your homepage, it better be click-able. Sadly, this one was not. I bet a fair amount of users clicked on this banner to be taken directly to the hottest priced items. It's counter intuitive for that banner not to be a link. Of course, it should be a link. Of course!
2. Clutter. On the side navigation, they've broken down the perfume designers by gender and letter. You wouldn't even know it, but there are actual navigation categories to this website (such as Top Designers, Kid's, Skin Care, Gift Sets, etc.), which are pushed down on the page. My main concern with this alphabetical breakdown is that above the primary banner there is a drop down to shop by brand/designer. Now, if I wanted to find that hot Gucci perfume, it takes two clicks to get to specific Gucci products no matter which way you go—the letter 'G' or the drop down. If that's the case, why include both paths of navigation? If you know the first letter of the designer, then you know enough to find the designer via the drop down. I say, remove the alphabetical breakdown in the side navigation and bring up those other categories.
3. Consistency. Why does the "View Cart" button at the top show a shopping bag? Why not label the link "View Bag" or conversely, why not have an image of a cart? Similarly, the free shipping icon—the red truck—looks more like a moving truck. I know trucks are universal signs of shipping, but maybe something a bit more elegant (feminine?) and less cartoony. Or try just showing a package, anything that'll fit the site's design scheme better. These two details are nitpicky, but if you want to be the best at what you do, you have to be perfect or at least visually consistent. And that means combing through the details.
Overall, I think this website is doing more things well than badly, props to them. But why not try to make it even better? (Oh and one final piece of advice to this discount perfume seller: please, please, please, get a new logo.)
Mentioned in this post:
Homepage :: Scentiments
Hot 100 Retail Web Sites : Internet Retailer
Design 1, 2, 3 is a monthly review to improve a design element in at least three easy steps. Want something given the 1, 2, 3 treatment? Mention it in the comments.
Subscribe for industry insights and resources.