Groove Commerce

Design 1, 2, 3: What is (and Should be) Trending in eCommerce
For someone working in eCommerce, I have pretty high expectations when it comes to my shopping experience. (Turns out, so do regular shoppers.) So, when I have a positive experience or notice something good happening on multiple sites, I feel it's my duty to tell you about it, so you can implement it or repurpose it for your eCommerce shop. This month's Design 1, 2, 3 focuses on some trends I've been seeing recently. While the sites discussed are all women's fashion eCommerce sites, it doesn't mean their lessons aren't applicable to your online business.
1. Interact with More than a Button
First, getting product reviews was all the rage. Every product needed stars beside it otherwise customers just weren't able to compare items easily. (Not to mention the added SEO benefit for the eTailor.) Next came the push for customer to Like or Tweet about a product. Customers didn't have to rely on strangers opinions, they could listen to their friends. Who better to spread the good word of your products than the satisfied customers themselves.
So what's next? Involve your customers even more, in even more unique ways.
A vintage clothing eTailor offers customers the chance to 'Be The Buyer.' Community members (customers with accounts) can preview potential new dresses and decide to 'Pick It' or 'Skip It' and then they can leave comments if they want. Enough picks, and the dress goes into production.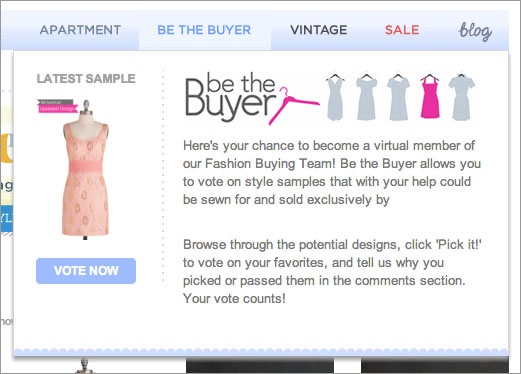 This eTailer is giving their main demographic - their loyal consumers - the chance to be heard. They don't bother selling items customers don't want, and in part because of the comments that are left, they can make alterations on the dress to better suit their customers' wants, as was the case in the image above. [Text reads: "We took your input on this previously skipped piece to heart, update it's design to suit your tastes."] Customers love feeling heard and having that feeling validated.
Similarly, if you sell running apparel why not have a training section that talks about how to run, or put together a schedule of area running clubs. If you sell bikes, why not have an app for users to log their rides and then upload them onto the site, tying each product to proven rides, it's the next best thing to a real test ride.
It's no longer enough to sell a product online. It's no longer enough to have that product Liked or Tweeted or reviewed. Always give your most loyal customers a new way to interact with your products.
2. Customize Your Products
When I found this site, I couldn't believe it existed. The premise? They sell a variety of dress styles that a customer can then purchase. When purchasing, a customer provides their personal measurements, and the dress is then made to size. The amazing part? This customization is done at absolutely no extra cost.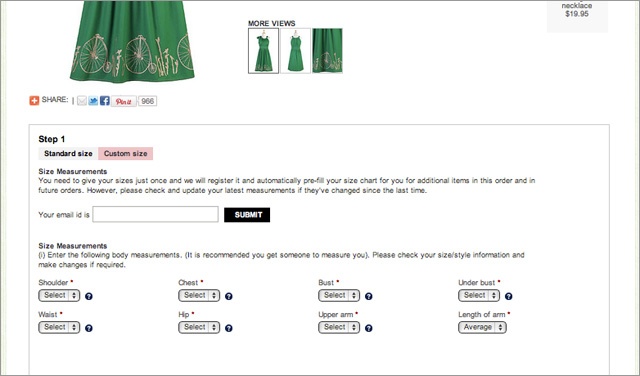 If you've ever purchased anything online from Apple, you know they let you customize nearly every piece of a computer's machinery before buying. Granted, they're not so gracious to let you make those upgrades for free, but that's probably asking too much. Customization isn't new, but it's definitely under-utilized.
If you sell gourmet chocolates, let your customers mix and match a box. If you sell diamond engagement rings, let your customers choose the pieces just like they would in-store.
Most customers don't enjoy buying 'off the rack.' They only do it because they have to. Provide a more custom shopping experience and you'll stand out more with your customers.
3. The eCommerce Magic Word? Free Simple
I recently joined a monthly shoe club (please don't judge me.) Normally, I'm not one for monthly clubs or forced shopping experiences, however, this eTailer had a special proposition: Free Shipping to me, and if I didn't like the shoes, Free Shipping back to them. No hidden fees or taxes or anything. They provided the return shipping bag and label too. Shoes in, shoes out, it was that simple.
Soon after I joined, they decided to lift their membership fee. Lucky me! Better than not having to pay the fee (which I just paid for by buying the shoes), it reduced my confusion about having to skip a month by the 5th day or receiving a credit for later use, etc.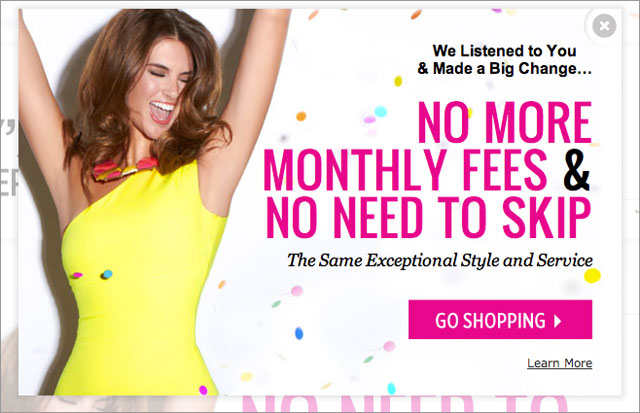 It's not so much that this eTailer is making everything free, it's that they're making everything simple. They even go so far as to sell every item on the site at the exact same price. No tricky math or unexpected sticker shock. Simple is always going to win.
The shortest road between your products and your customers is most likely the simplest. However you choose to make it easy for your customers, it shows you're not just telling them you have great customer service, you're actually living up to it.
Tell Me What You Think
What new things have you seen recently? What about your own site? Have your own thoughts to add, leave them in the comments! Thanks for checking in on this month's Design 1, 2, 3. If you learned something new or were just pleasantly amused, pass it along. See you next month.
Mentioned in this Post
Be the Buyer :: ModCloth
Homepage :: eShakti
Homepage :: Shoedazzle
Get in Touch
Subscribe for industry insights and resources.