Groove Commerce

Design 1, 2, 3: Back to School Shopping Online - Which eTailers Make the Grade?
5 MIN READ | eCommerce
Design 1, 2, 3: Back to School Shopping Online - Which eTailers Make the Grade?
Ethan Giffin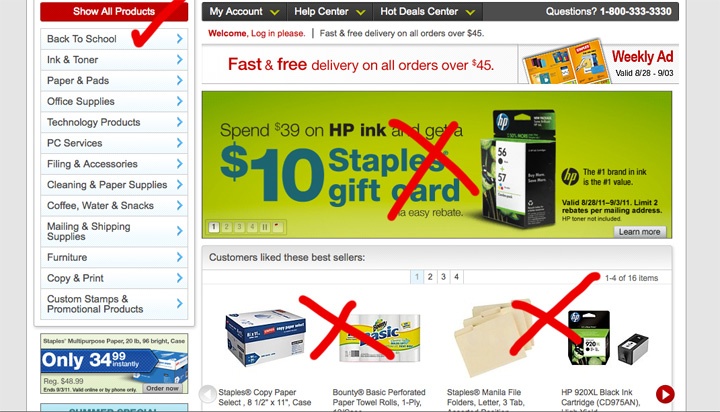 It's almost the first week in September which means two things. Sadly, the sun is setting earlier, and happily, parents are packing their kids up, putting them on a bus and hoping they'll learn how to make a better tomorrow. Ah, school. But what first day of class would be complete without pens, pencils and notebooks. This month's design 1, 2, 3, takes a look at some of the top school supply eTailers to figure out who's getting an 'A' and who needs to come by after class for some extra attention with teacher.
How this psuedo-experiment worked--I did a Google search for school supplies and clicked on some well known retailers: Staples, Office Depot, Target and Walmart. These are some big names in eCommerce, I figure they'd have their back to school ducks all in a row.

Let's take a look at where I landed after my search (showing above-the-fold).
Staples: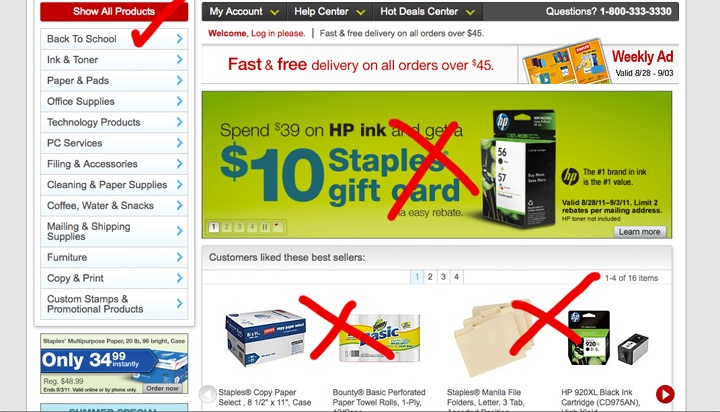 Staples mistakenly takes me to their general homepage instead of a targeted school supplies landing or category page [-15]. It's not until Banner #3 that we see a message for Back to School products.
Office Depot: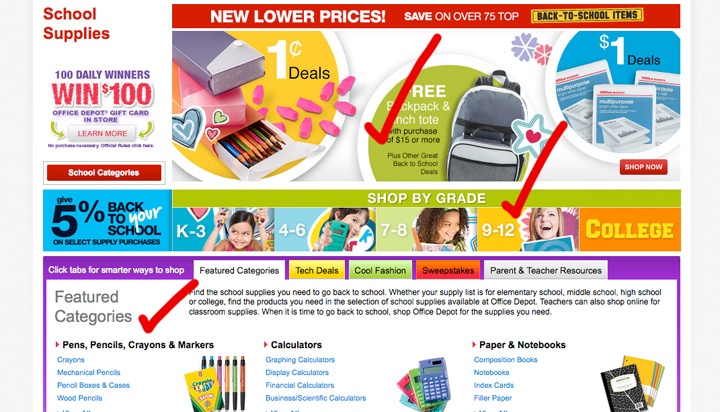 Their targeted landing page has it all, even a convenient way to shop by grade! However, the rainbow of colors and all-over-the-place design make it a little hard to focus [-3].
Target: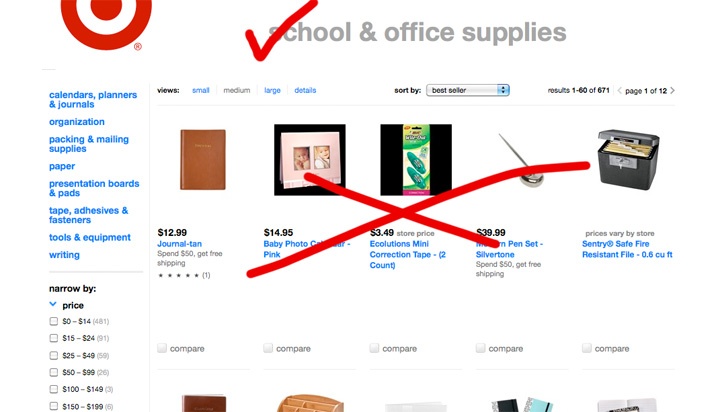 Target makes a valiant effort by showing the shopper a search results-esque page. Unfortunately, it incorporates both school and office supplies, and as a result misses the mark on the school supply audience. A visitor has to scroll down the page before getting to the essential back to school products like pens and pencils [-8].
Walmart: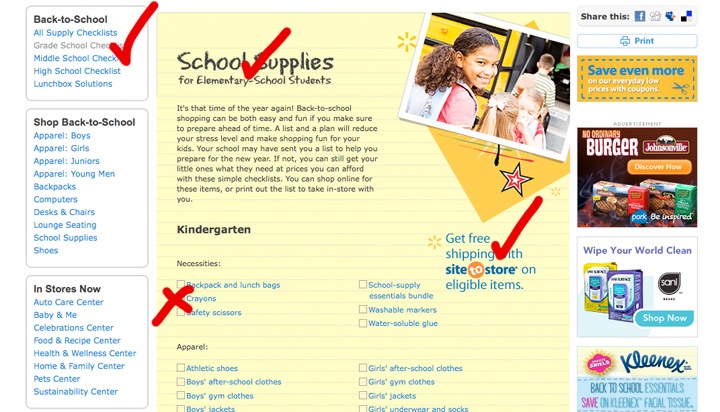 With their well-designed, easy-to-use landing page, Walmart gets it right. They appeal first to the Elementary School crowd, which is a good guess on a web search for school supplies, but easily lets a visitor move to Middle School or High School in the left sidebar navigation. They also reassure users that they can pick up items in-store. My only nit-picky concern? Those checklist boxes look like tick boxes, but they aren't actually click-able, [-1] for making me feel foolish.
The Product Page
Let's get down to business. We need pencils, every kid needs pencils. I found similar products across all four sites - BIC Mechanical Shimmer Pencils in either a 24 or 26 pack. Let's see which site persuades me to make my purchase.
Staples: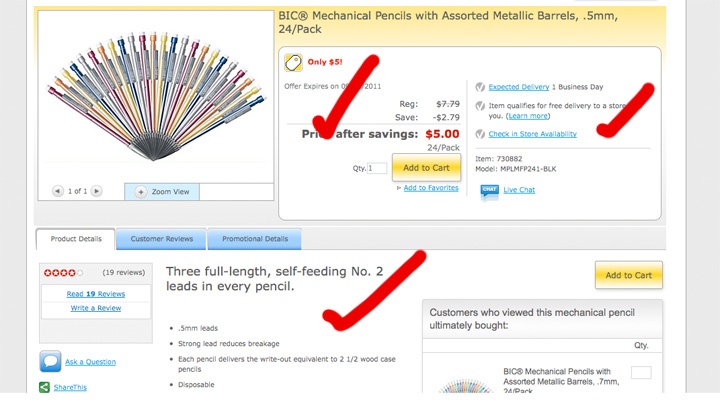 They highlight their price savings. They give me lots of product description and customer reviews. They also let me know when I can expect to ship or offers in-store availability. The Add to Cart button is clear and obvious. Overall, a great product page. However, I had a lot of trouble getting to this page and had to make extra clicks to navigate through the category/subcategory pages. And for that, [-8] because if a user can't find a product, they certainly can't buy it. But since they do have the best price, and that matters, I'll give them [+5].
Office Depot: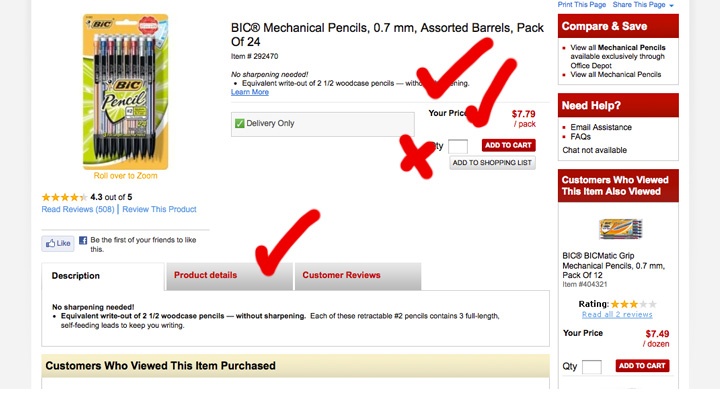 Another strong product page. The price, shipping information, product description are all displayed. There's a nice product image. The page also includes upsells and reviews. I would have liked the QTY field to have already been filled with 1, and for the Add to Cart button to be more prominent [-3].
Target: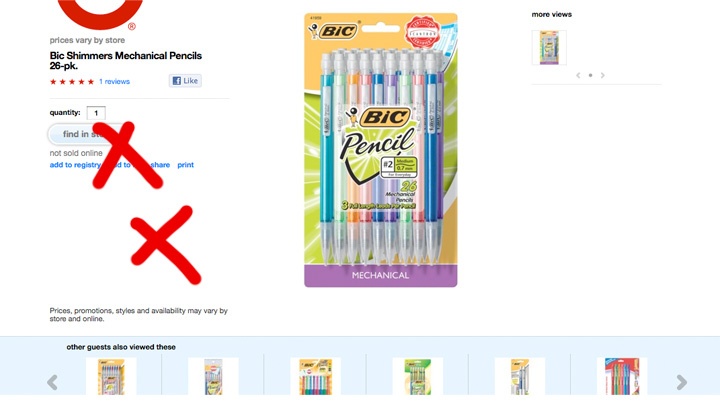 This product seems to be a low-priority for Target. First, they don't even sell it online [-1], but they do let the visitor try to find it in-store. But this page also lacks any product description. Perhaps they think product details aren't necessary, but their competitors smartly disagree. [-5].
Walmart: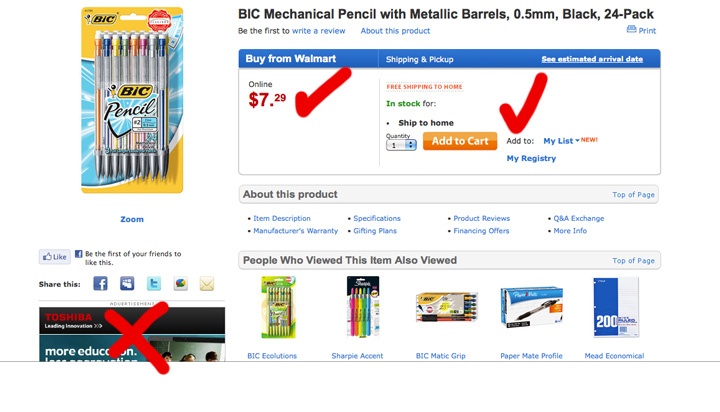 Walmart clearly displays the price and has a strong call to action. They offer shipping details but don't go so far as to estimate when it will ship/arrive. Further down the page, they have product details, upsells, customer reviews and more. All great information for the customer and the search engines. Although, I don't like the manufacturer's ad for other products [-5].
The Checkout:
Now that we have our products added in our carts, let's go pay and get these supplies back home to the kids.
Staples:
They allowed me to guest checkout in a simple 3-page checkout. The design felt outdated (purple header bars do not match their branding) but was still usable. They removed most of their shopping navigation, but not all [-5]. The site's blown-out footer was also unnecessary and distracting at this point [-1].
Office Depot:
They required me to enter a zipcode before letting me go to the shopping cart to show shipping charges, well-meaning but a nuisance. [-2]. Overall, they had a well-designed, easy-to-use 4-page checkout with SSL certificate and customer service links clearly displayed.
Target:
They let me checkout as a guest, removed all shopping navigation and had a well-designed, 3-page checkout. However, they did not display SSL certificate, not even on the page where users had to to enter their credit card information [-15].
Walmart:
Walmart has a guest checkout button, but when you click on it, a pop-up appears.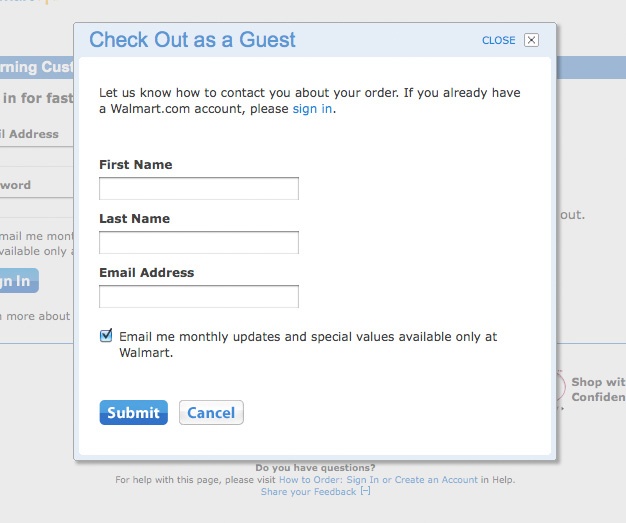 This faux-guest checkout stopped me in my tracks. And I did not continue on to make this purchase [-50]. This information could have been collected further into the checkout, when I'm less likely to abandon the order since I've already entered some information. At this point though, I am not committed to the purchase.
Making the Grade
How did our eTailers do? (Scores out of 100.)
Staples: 76 = C
Office Depot: 91 = A-
Target: 71 = C-
Walmart: 44 = F
Overall, Office Depot is ready for the back to school shoppers. Walmart had a strong start, but lost me at the checkout. Staples and Target are passing, but have room for improvement if they want to be at the head of the class.
Thanks for checking in on this month's Design 1, 2, 3. If you learned something new or were just pleasantly amused, pass it along. And if you have a suggestion for a Design 1, 2, 3 -- either a site or a subject, leave it in the comments! See you next month.
Mentioned in this post:
Staples :: Office Depot :: Target :: Walmart
Subscribe for industry insights and resources.