Case Study
How Mobile Payments Are Taking Over eCommerce
Jun 15, 2022 • 3 Min Read
The new way of purchasing goods and services is through Mobile Payments whether you are shopping online or in-store. As millions of users start to use mobile payments each year, it is projected that 4.8 billion people will be completing transactions through mobile payments by 2025. The United States has seen the largest growth from 29% of users using mobile payments in 2019 to 43% in 2021.
What Are Mobile Payments?
A Mobile payment is a way for customers to complete transactions in-store or from your eCommerce website through smartphones, smart watches, or tablets. They allow the customer to conveniently purchase products and services through encryption technology. Encryption technology allows sellers to accept these payments that are connected through a 3rd-party app linking the customer's bank account, credit card, or debit card.
Types of Mobile Payments & How They Work
NFC Mobile Payments
Browser-Based Mobile Payments
In-App Mobile Payments
Peer-to-Peer Mobile Payments
NFC Mobile Payments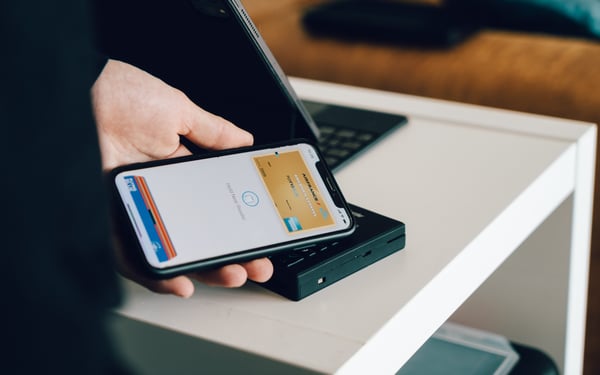 NFC (near field communication) Mobile Payments are the way mobile devices and the NFC-enabled point-of-sale systems work together to process transactions. Each device passed encrypted information to each other to complete a purchase within seconds. Apple Pay, Samsung Pay, and Google Pay are all types of mobile payments that are compatible with NFC technology.
Browser-Based Mobile Payments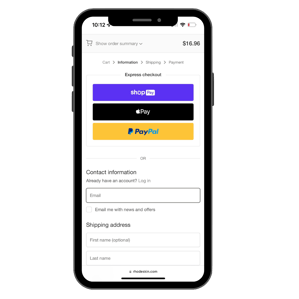 Similar to desktop-based ecommerce payments, Browser-based mobile payments are made through the customer using CNP (card-not-present) that can be added to your eCommerce mobile checkout page. The way to complete a transaction is by entering their debit card, credit card, gift card, and sometimes ACH banking information using a smartphone or tablet. Some eCommerce sites also have the ability for customers to use systems like Apple Pay, Samsung Pay, Paypal, Shop Pay, Amazon Pay, and Google Pay that automatically save your payment and shipping information for a faster checkout process.
In-App Mobile Payments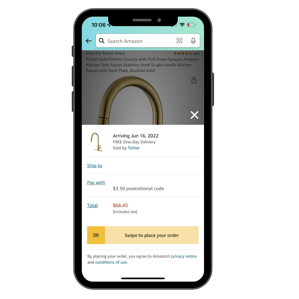 In-app mobile payments are similar to mobile browser payments, only these types of transactions take place in the store's mobile app. The main difference with this type of payment is that you are able to enter your payment information once, and the app will recognize and save it for future use. The app that everyone is familiar with that has this feature is Amazon. Amazon is able to securely save multiple payment and shipping addresses under your personal account for a seamless checkout process, and allows customers to simply swipe to purchase their products.
Peer-to-Peer Mobile Payments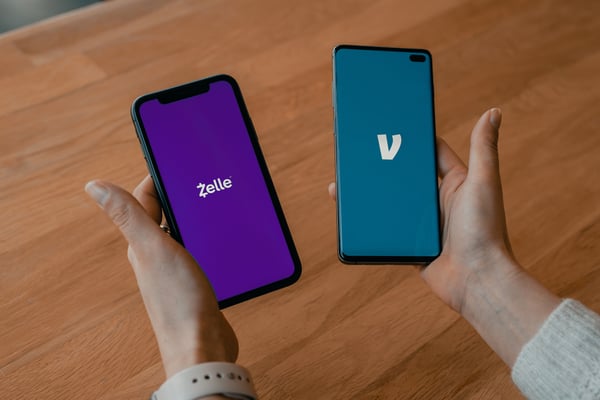 Peer-to-Peer payments, also known as P2P transactions, is when 2 users transfer money to each other through a mobile app. An example of this would be Venmo, Paypal, Zelle, Cash App, Google Pay, and Apple Pay Cash. Users simply enter their bank account, debit card, or credit card information through the application and can instantly transfer funds. Recently, some retail stores such as Forever 21, Lululemon, Hollister, 5 Below, etc. allow customers to use Venmo as a direct form of payment by scanning your Venmo QR code. Small businesses may also use this system for ease and to avoid the cost of an NFC payment system.
What Are the Benefits of Mobile Payments?
Convenience
The online transaction experience adds convenience to shopping alone, but with the addition of mobile payments, it has added efficiency to this process. Not everyone wants or has time to wait to purchase items until they get home to their computer, so being able to complete transactions through your smartphone or tablet allows the user to purchase products and services anywhere. When it comes to in-store convenience, there is simply no need to carry your wallet anymore. As long as you have an NFC payment system set up like Apple Pay and Google Pay on your smart device, you will be able to complete a transaction in the palm of your hand. There is also a significant amount of convenience when it comes to peer-to-peer mobile transactions for an instance like splitting the bill at a restaurant. Instead of trying to split the bill in 10 different ways, one person can charge their credit or debit card, and the others can use a peer-to-peer mobile payment to cover their portion of the bill.
Speed
The benefit that anyone likes to hear is how fast something works, and luckily all of these mobile payment types are completed through a touch of a button. With the use of mobile payments, you are able to complete a purchase in seconds. The function of NFC, In-App, Peer-to-Peer, and Browser-Based Mobile Payments, allows customers to complete transactions through automatic systems that store information to save time.
Security
Most worry about how safe these types of payments are, as there is always a raise of concern when it comes to the internet and personal information. Although, the positive of using mobile payments is it adds a layer of security that your debit or credit card itself does not. Systems like Apple Pay and Google Pay secure your bank details by replacing them with a token which is a series of randomly generated numbers. Peer-to-Peer systems also have their own individual security features such as using bank-level encryption to keep your data safe. They also add PIN number features to add an extra layer of security.
Conclusion
For more information on how you can add features like mobile payments to enhance your eCommerce mobile site, use the form below to contact Groove Commerce to explore our website services.
Related Content
You Also May Like
Blog
What Do I Need To Know About Etail West 2024? Are you in the eCommerce industry? If...