eCommerce Design
BigCommerce Review: Breaking Down The SaaS Platform
Jan 04, 2021 • 9 Min Read
What Is BigCommerce?
BigCommerce is a software-as-a-service (SaaS) eCommerce platform used by more than 60,000 stores and over 2,000 mid-market businesses. Leading brands that utilize the platform include Ben & Jerry's, Toyota and Avery Dennison, among many others.
As a SaaS eCommerce platform, BigCommerce is known for hosting your live storefront, maintaining servers, running upgrades and responding to issues. With BigCommerce, eCommerce merchants with little to no development knowledge can successfully manage an online store. Take note of this huge advantage if you're evaluating SaaS vs. on-premise platforms like Magento.
In this guide, we're diving deep into everything you need to know about BigCommerce before investing your hard-earned money (and valuable time) into a platform that's new to your business. Here's what we cover throughout this BigCommerce Review:
BigCommerce Features & Functionality
BigCommerce Apps & Integrations
In-Depth BigCommerce Review: Advantages & Disadvantages
Client Success Stories Using BigCommerce
BigCommerce Features & Functionality
B2B & D2C eCommerce
BigCommerce is a trusted and reliable platform among companies that sell both business to business (B2B) and direct to consumer (D2C). For instance, BigCommerce helps B2B businesses strengthen the online shopping experience through native features and partner functionality like advanced search and punchout, quote management, bulk pricing down to the SKU level, purchase orders and credit authorization. BigCommerce even gives B2B merchants a competitive edge with tools like ERP and PIM integrations, customer groups and B2B payment solutions.
On the other hand, BigCommerce benefits D2C businesses with its robust, differentiated platform. The open-platform flexibility and extensibility helps eCommerce businesses triumph over complexity and focus on growth.
Templates & Customization
Did you know that 48% of people cited a website's design as the number one factor in deciding the credibility of a business? Needless to say, a website's design is critical to a customer's brand perception and directly impacts the overall user experience. Luckily, BigCommerce makes it easy for companies to build beautiful websites with responsive designs.
BigCommerce Stencil theme platform has made it easy for our developers to build beautiful BigCommerce websites that incorporate the latest best practices, technology, design standards, conversion and SEO. Here's why:
The modern front-end development framework allows developers to make changes as they please.
Command line interface can be used for local testing, so a site does not need to go live to test changes.
Cornerstone keeps Stencil up-to-date with the latest features and functionality to ensure quick page speed on mobile.
Included for free with BigCommerce are 12 site themes to help merchants set their stores up quickly and efficiently. For an additional price, merchants can access 133 premium site themes. No matter the theme used, BigCommerce always allows brands to test their website before launching it live. We encourage you to check out this guide to eCommerce themes if you need help choosing the right design for your online store.
Cloud-Based Hosting
Using the wrong hosting platform can be detrimental to your business's operations and slow down growth. With BigCommerce, companies don't need to focus on monitoring their website's security. BigCommerce is PCI compliant with zero hosting costs and has a 99.99% average uptime to protect servers. Plus, the platform allows for faster page load times with tools like Google Cloud Platform and Google AMP.
Full-Feature CMS
Earlier we mentioned that people with little to no development experience can easily manage their BigCommerce website, and for that you can thank the platform's full-feature CMS. Seamlessly create and manage products and pages, and then publish and view changes in real time to keep your store up-to-date. It's even easier with BigCommerce Page Builder, which enables you to create and edit site pages with a drag-and-drop visual editing tool. No coding required!
Also, manage sales from beginning to end regardless of channel, since BigCommerce centralizes inventory and order management. Take your store a step further by connecting it to PayPal, Stripe and other leading gateways.
Robust API
Build technical solutions and integrate third-party applications with BigCommerce's API. Integrate POS, shipping, distribution and inventory management solutions with the Orders API. Manage customers' carts and checkout and access product information or edit customers' orders with the Storefront API. Streamline content management with the Widgets API, so teammates with no development experience can also control web content without having to edit theme files. With the BigCommerce API, the possibilities really are limitless.
Mobile & SEO Optimization
Optimizing your eCommerce store for mobile enhances the user experience and helps drive conversions. Choose any of the responsive, mobile-optimized themes to create a conversion-driven experience. BigCommerce automatically optimizes images for mobile and helps websites using the platform load faster. Plus, BigCommerce was the first eCommerce platform to natively integrate Accelerated Mobile Pages (AMP) to improve search visibility and page speed.
In addition, BigCommerce offers numerous out of the box features to improve any eCommerce SEO strategy and increase a store's organic search rankings. From optimized and unique URLs to microdata, a content delivery network, and 301 redirects and URL rewrites, BigCommerce has the built-in features needed to outrank the competition.
Omni-Channel Selling
No matter whether a business sells via an eCommerce store, physical brick-and-mortar store or through social media, BigCommerce has the tools to help businesses anywhere sell everywhere. The platform integrates with a variety of tools - including Facebook, Instagram, Pinterest, Amazon and more - and serves as the "hub" for all channels to help eCommerce merchants manage inventory in one place.
In October 2020, BigCommerce announced the availability of Channel Manager, a modernized platform feature that makes it easier for merchants to manage their comprehensive omnichannel presence and streamline their back-end operations. This new feature enables businesses to:
Centralize channel management
Expand online presence
Streamline omnichannel listing and selling
Improve the storefront experience through technology integrations
Launch PWA storefronts
Payment & Inventory Management
When you invest in BigCommerce as your eCommerce platform, you don't need to worry about how your customers will pay. The variety of payment providers supported by BigCommerce allows eCommerce merchants to offer flexible payment options. With over 55 pre-integrated payment solutions, BigCommerce makes it easy for their customers' customers to purchase online. From Apple Pay and Amazon Pay to Chase, PayPal and many more, customers can choose how they want to pay. This flexibility and extensibility ultimately increases customer trust, and in turn, conversions. BigCommerce doesn't charge any additional transaction fees for using the gateway of your choice..
Further, streamline inventory management and save time by leveraging the platform's inventory management system. From one location, merchants can sync all inventory across multiple channels, track inventory and make updates, receive automatic notifications of stock changes and fulfill and track orders.
Security Assurance
We can assure you that there's no need to worry about unauthorized security attacks with BigCommerce. The Level 1 PCI compliant platform has several layers of Enterprise-level security - like firewalls, file integrity scanners and intrusion detection - to protect BigCommerce websites from unwanted security breaches.
BigCommerce Apps & Integrations
BigCommerce integrates with a variety of third-party applications and integrations. These integrations often augment eCommerce stores, but they aren't required for a BigCommerce website to function properly. Here's a quick list of a few trusted BigCommerce apps that we often recommend to enhance our clients' BigCommerce stores:
Below, we're sharing a few BigCommerce integrations developed by our team that have helped clients provide their customers with a positive website experience.
BigCommerce & HubSpot Integration
The BigCommerce & HubSpot Integration by Groove Commerce allows BigCommerce merchants to automatically sync all customer and order data from their BigCommerce website into HubSpot. By capturing valuable customer insights, such as first and last order data, average order value, lifetime revenue and much more, this integration makes it easy for merchants to reduce cart abandonment and personalize the customer experience. In fact, one of our clients used the integration to segment and create emails, and they saw a 928% increase in revenue.
Last year, we made new updates to the BigCommerce & HubSpot Integration, including updates for both marketers and developers. Check out the video below to hear Groove Commerce CEO, Ethan Giffin, share how the new updates can help eCommerce businesses like yours thrive.
BigCommerce Givex Integration
If you have an online restaurant or sell food online, you could seriously benefit from the BigCommerce Givex Integration. BigCommerce supports native electronic gift cards, but for merchants with both an online and offline presence, you'll find the Givex integration useful. The Givex Integration for BigCommerce lets merchants accept gift cards as payment as well as sell both digital and physical gift cards online. Check out how we used this integration to achieve gift card functionality for one of the top crab cake destinations in Maryland.
BigCommerce AS400 Integration
If your company uses the AS400 ERP system, sells B2B and faces challenges with tracking inventory correctly and processing orders, then the BigCommerce AS400 Integration may be a great fit for you. This integration connects a company's BigCommerce store and AS400 ERP to allow all inventory and availability to update automatically - letting customers see exactly how much is in stock before placing an order.
Also, many B2B businesses face obstacles when allowing orders to be placed through both sales teams and directly online. This integration, however, requires all orders to be placed through BigCommerce - creating a central point of transaction and resulting in less transaction errors.
In-Depth BigCommerce Review
Advantages Of The BigCommerce Platform
Low Cost
As a SaaS eCommerce platform, BigCommerce minimizes technical debt and server costs. In fact, SaaS platforms in general cost ~75% less than on-premise platforms.
Easy To Use
Those with little development skills can maintain a BigCommerce website post-launch. The CMS creates an intuitive back-end experience, and if you want to use advanced features, it only takes a couple of clicks.
Out-Of-The-Box Features
BigCommerce supports over 70 types of discounts out of the box, and the platform allows for cross-selling and up-selling to increase average order value. Also, BigCommerce uses a cart page, so customers can easily estimate the price of sales tax plus shipping. The cart page is also unique because it allows shoppers to update product options directly, so they can change a product's size, color, quantity, etc. before checking out and without having to go back to the product page.
Flexible & Customizable
Use any of the themes in BigCommerce Stencil to increase page load times, experience mobile responsiveness and ensure your website updates automatically. If you're still using Blueprint, we encourage you to read through these 5 reasons to make the switch to Stencil.
Custom App Development
It doesn't take a lot of time or effort for BigCommerce developers to build custom apps, such as single-click apps, connector apps, unlisted marketplace apps and personal apps. Plus, BigCommerce vets apps in their store to make sure they're secure and stable.
Security
Like we mentioned earlier, BigCommerce is Level 1 PCI compliant. It's also ISO/IEC 27001 certified - the highest standard to secure customer data.
Quick Go-To Market Time
Launch your BigCommerce website in under four or five months. Use the designated services and onboarding to launch your website sooner (yet accurately.) A dedicated launch manager will work with you to customize a plan based on your business's goals, so take advantage of this. They'll even point you to an Elite BigCommerce Partner Agency if you need custom design or development assistance.
Disadvantages Of The BigCommerce Platform
Annual Sales Threshold
BigCommerce tracks online sales per year to determine subscription plans. When you reach a specific annual sales threshold, you'll need to upgrade to a premium plan. Check out these BigCommerce pricing plans to get a better idea of how much the platform will cost your company.
Blogging
The majority of our BigCommerce clients host their blogs elsewhere, like on HubSpot or WordPress.
If you have a significant amount of content that's valuable to your business, BigCommerce for WordPress might be a better option. However, it tends to require a little bit more development, so make sure you scope any project before you jump.
BigCommerce Success: Client Spotlight
From Magento 1 To BigCommerce
When Strobels Supply found out that Magento 1 was ending support last year, they turned to Groove Commerce for help migrating their entire store to BigCommerce. Since the company sells products in bulk and has tons of products in their catalog, we made sure that we migrated data in bulk. It was a simple process migrating from Magento 1 to BigCommerce, and here's a quick look into what their BigCommerce website looks like now.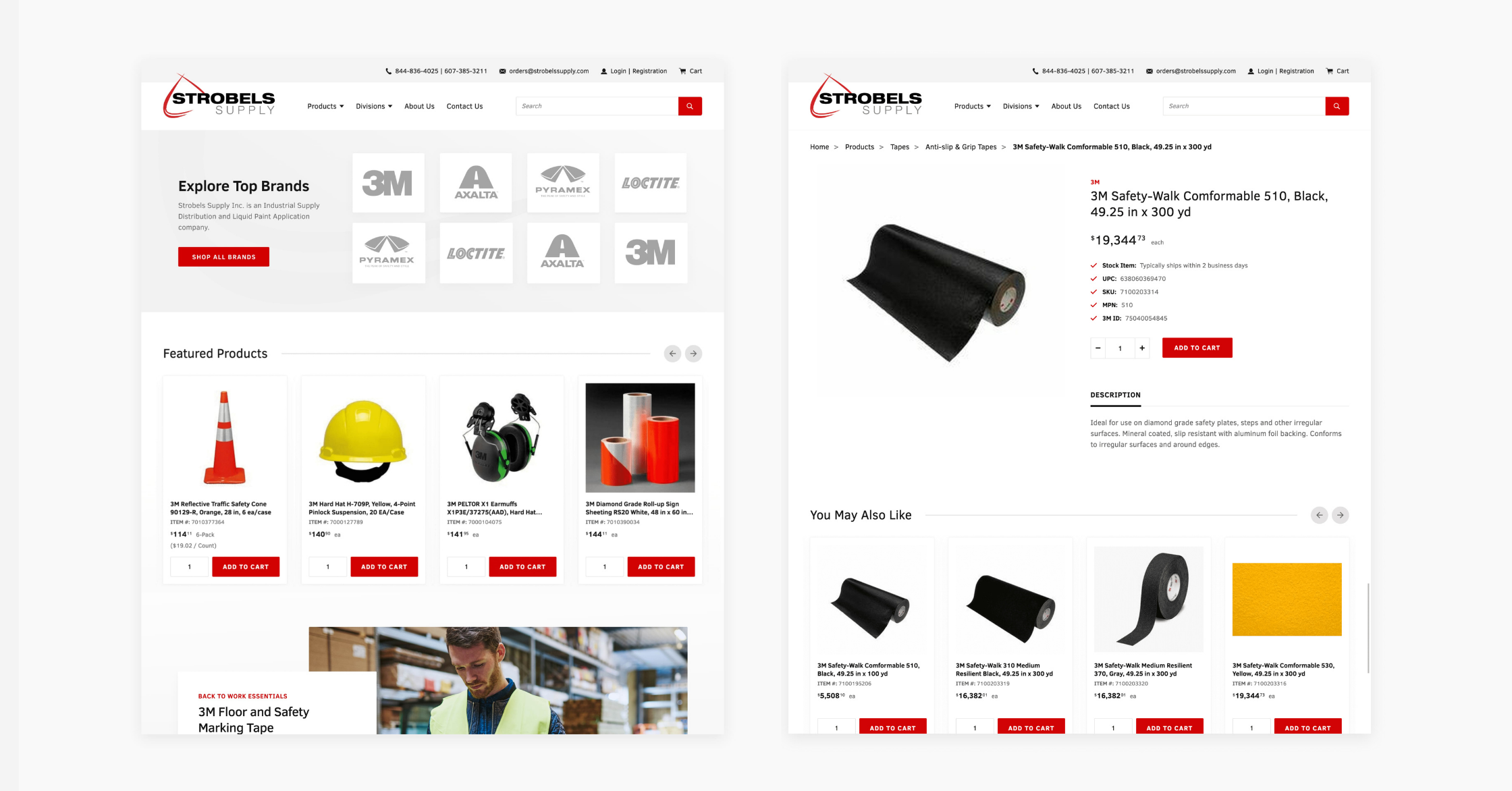 Building A Custom Product Configurator
We've found that many businesses in the building & houseware industry face the same challenge when it comes to eCommerce: they need complex product configurations to sell successfully online. White Shanty needed a way for customers to customize their barn doors directly on their site, so Groove Commerce built them a custom product configurator using BigCommerce Stencil. After launching the site, this client saw a 74% increase in eCommerce conversion rate, 205% increase in transactions and a 410% increase in revenue.
Custom Shipping Calendar App
G&M Restaurant, home to Maryland's best crab cakes, failed to accurately present shipping costs and delivery dates on their Magento 1 store. When they reached out to our team, we migrated their store to BigCommerce and created a custom detailed shipping calendar application. The app lets G&M's customers order ahead of time, estimate the exact costs of shipping and choose the exact day that they want their perishable items delivered. You can read more about how we leveraged BigCommerce to create this custom app here.
Conclusion
We hope this BigCommerce Review has provided you with a better understanding of the SaaS platform and all that it has to offer. Whether you're moving your brick-and-mortar store online or want to migrate eCommerce platforms, BigCommerce is a great place to start. Though our clients typically fall in the mid-market to Enterprise range, BigCommerce supports small businesses, too. If you're looking for custom BigCommerce development help, don't be afraid to reach out.
Schedule a 15- or 30-minute call with a member of our team, so we can learn more about your business and eCommerce needs. We're happy to help guide you in the right direction, hopefully, grow your business using BigCommerce.
About Groove Commerce
Groove Commerce is a full-service eCommerce agency with 14 years of experience helping mid-marketing retailers design, build and grow their eCommerce websites. As an Elite BigCommerce Partner Agency and Diamond HubSpot Partner Agency, Groove Commerce follows an inbound methodology and delivers bespoke, white-glove service to convert visitors into repeat customers.
About BigCommerce
BigCommerce (Nasdaq: BIGC) is a leading software-as-a-service (SaaS) eCommerce platform that empowers merchants of all sizes to build, innovate and grow their businesses online. As a leading open SaaS solution, BigCommerce provides merchants sophisticated enterprise-grade functionality, customization and performance with simplicity and ease-of-use. Tens of thousands of B2B and B2C companies across 150 countries and numerous industries use BigCommerce to create beautiful, engaging online stores, including Ben & Jerry's, Molton Brown, S.C. Johnson, Skullcandy, Sony, Vodafone and Woolrich. Headquartered in Austin, BigCommerce has offices in San Francisco, Sydney and London.
Related Content
You Also May Like
Blog
In the realm of digital content creation, video has emerged as a dominant force,...

E-BOOK
BigCommerce Review: A Breakdown Of The SaaS eCommerce Platform