Groove Commerce
This company considered a website migration when Magento 1 ended support. So, Groove Commerce migrated their eCommerce store from Magento 1 to BigCommerce.
If you're considering a website migration, there are a ton of reasons to replatform. Switching to a new eCommerce platform positions businesses for growth by better aligning the platform with company goals. In this blog, we're sharing a sneak peek into how Groove Commerce helped one client transition from Magento 1 to BigCommerce.
Website Migration: Strobels Supply & BigCommerce
Strobels Supply began as a family business in the 1940s that specialized in industrial distribution in the railcar industry. About a decade ago, the company began to expand on their distribution parameters via an eCommerce website. Later, they started producing products and went on to represent Axalta (formerly DuPont) paints for years.
Under new management and ownership, Strobels developed a worldwide presence and has expanded their team fivefold. They now service railcar companies across the United States and in Canada and have expanded on that to serve every facet of the industry - such as airports, telecommunications and oil and gas.
The Problem
The company hosted their eCommerce store on Magento 1, but Magento ended support for Magento 1 in June 2020. The Strobels Supply team saw this as an opportunity for website migration and decided to evaluate both Magento 2 and BigCommerce as a next step. That's when the Groove Commerce team stepped in to help.
Our team explained the features and benefits of BigCommerce vs Magento 2 to help them better understand which platform is best fit for their eCommerce needs. We described how BigCommerce reduces technical debt and removes server costs, requires minimal technical knowledge post-launch and offers built-in features and functionality to run their entire eCommerce store on.
Magento, on the other hand, costs up to 75% more than BigCommerce − burdening businesses with technical debt and ongoing maintenance fees. When companies need to make quick updates to their Magento site post-launch, it can be difficult without a developer's help. Also, Magento lacks the unique built-in features that BigCommerce offers.
So, Strobels Supply acted upon this website migration opportunity and took the proactive approach − they decided to transition from Magento 1 to BigCommerce.
The Solution
We migrated the Strobels Supply online store from Magento to BigCommerce to help them create a scalable and intuitive shopping experience. We essentially let the BigCommerce platform run on its own − since the client's website is not highly complex − although, we understood some of the things that needed to be checked off.
Since Strobels Supply sells products in bulk and has a ton of products in their catalog, importing in bulk was an important component to this website migration. The search functionality was robust enough so that they could import their entire product catalog. Our team also made sure that products could be updated easily and efficiently in the back-end of BigCommerce if they needed updating.
Here's what the Strobels Supply site now looks like on BigCommerce!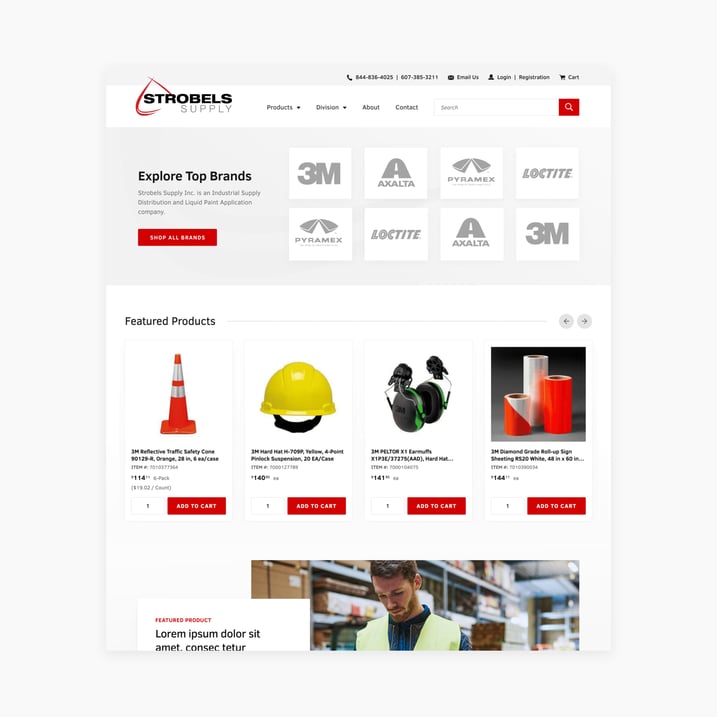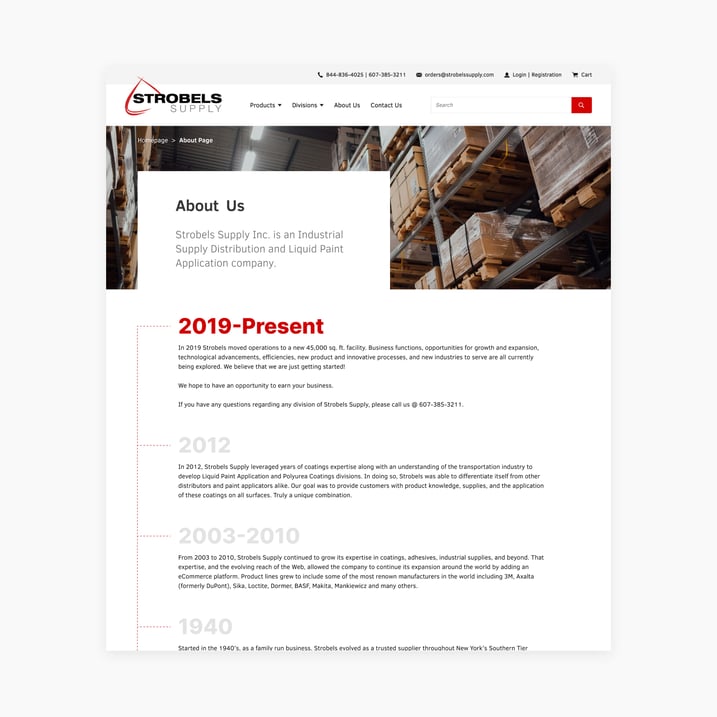 Conclusion
We launched their website on January 19, 2021 and are looking forward to seeing how their website performs over time. If you're looking forward to a website migration and don't know which platform is best for your business's unique needs, don't hesitate to contact our team using the form below. We'll help you evaluate all alternatives to determine the best solution.
In the meantime, check out some of our other clients' BigCommerce success stories:
Get in Touch
Subscribe for industry insights and resources.