HubSpot
Using HubSpot Topic Clusters To Improve SEO
May 19, 2020 • 4 Min Read
With constant algorithm updates and conflicting advice from SEOs, creating a content strategy can leave brands with more questions than answers. It's important to understand that the future of eCommerce search engine optimization is driven by the way humans search, and not by search engines.
The shift from formal keywords to conversational search inquiries is revolutionizing how search engines index content. As a result, brands must adapt and evolve their content strategies to continue driving organic traffic.
At Groove, our marketing team has been closely following a content methodology developed by HubSpot called topic clustering. This concept involves organizing website content in a way that helps search engines understand relationships and hierarchy for blogs and longer form pieces.
What Are HubSpot Topic Clusters?
Topic clusters help brands take a deep dive into very specific topics they want to rank for. This idea ultimately manifests on a website as pillar and subtopic pages. These pages create a website infrastructure that helps search engines and users understand how content on your site relates.
Think of the pillar page as the tenant of your content strategy for a given topic. This long-form content covers a variety of subtopics and houses a wealth of information related to a main topic.
As a result, you write subtopic blogs focusing on longer-tail related terms that link back to your main pillar page. According to HubSpot, successful pillar content can increase organic traffic for both the pillar page and linked subtopic blogs.
Two Types of Pillar Pages
There are two main types of pillar pages. The first is a "10x content pillar page," where all the content is written by you. A 10x pillar page is set up similar to an eBook with chapters and rich original content.
The second type is a "resource pillar page," which is a mix of your own content and outbound links. A resource pillar page aggregates resources together for your prospects and adds credibility to your content.
There isn't a right and wrong decision between these two types of pillar pages. The decision ultimately comes down to what you want to accomplish and your resource availability to create original content.
How To Set Up A Pillar Page
Choosing a Topic
We encourage you to think beyond individual keywords and instead focus on the overall idea you'd like to discuss. Choose a topic that you want to rank for and keep it broad enough so that you can brainstorm topics for blogs that are based off more specific keywords related to your broad topic.
Additionally, it's important to evaluate your current search equity and choose topics where you have a higher probability to rank. To start this process, we recommend taking a look at search results for your desired topic and see who's ranking in the space.
If you aren't already displaying on the first page of search results for your desired term, getting there with your pillar page will be more difficult (but not impossible). Start with low-hanging fruit and work your way up to broader topics once you've increased your organic search presence.
Creating the Page
After choosing your topic, we recommend identifying your desired keywords. As with blogging, you should choose keywords with high traffic and low competition to increase your chances of ranking. We also recommend including one of these keywords in your working titles.
Pillar pages are a fairly abstract concept, so we're sharing an example to help point you in the right direction. Check out HubSpot's Instagram Marketing pillar page below: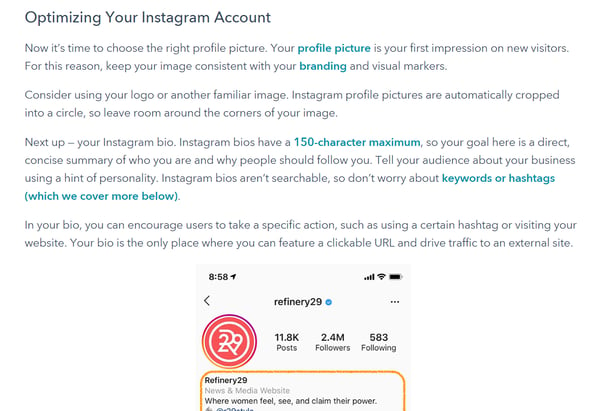 This page demonstrates the chapter-based approach that we recommend for original content. Users and search engines can easily identify the main topic and, through hyperlinks, access more specific blog posts within the main pillar.
Include These 4 Elements
To successfully leverage HubSpot topic clusters and reap all the benefits, be sure to always include these four elements in your pillar pages:
Clear topic
Table of contents
Rich, chapter-based content
Subheadings that include a specific topic-related keyword
If you navigate to HubSpot's Instagram Marketing pillar page, you'll see how they've identified a clear topic at the beginning of the page. They utilized a table of contents in the form of a timeline, and shared chapter-based content with descriptive subheadings.
Pillar Page Best Practices
Finally, we've outlined several best practices for pillar pages to help you get started with HubSpot topic clusters. Follow these tips to best optimize your pillar pages and improve SEO.
1. Make Navigation Available at the Top
Provide navigation at the top of the page to make it easy for users to find exactly what they're looking for. In the HubSpot example from above, the navigation "timeline" allows site visitors to click the most applicable section that they want to visit to have all of their Instagram marketing questions answered.
Further, sticky navigation can be a simple way to help users and search engines digest and explore your content. For example, menu bars are typically at the top of the page. Sticky navigation is when this menu bar is always displayed at the top, even as the user scrolls down the page.
2. Define the Key Topic on the Page
Define the key topic somewhere on the pillar page to help users understand exactly what your web page is about. These definitions even help pages rank with "featured snippets" on Google. Although it's a very simple approach, it has a significant impact.
3. Include Topic in URL & H1
Think of your URL as the GPS for search engines to find your site. Including the keyword from your key topic helps Google understand how your pages relate, and more importantly, what your page discusses.
This tried-and-true SEO best practice helps search engines understand page hierarchy. Including your topic in the H1 tag helps visitors understand the subject of your pillar page and how subtopic content will relate.
The combination of relevant keywords in the H1 and the appearance of suitable information at the top of the page help to improve your eCommerce SEO.
4. Relate H2s to the Key Topic
Remember, topic clusters are all about how content relates. We recommend designing your page structure and H2s around subtopics of your key topic. This demonstrates the connected nature of your content and helps search engines understand how subtopics direct to your more-prominent key topic.
5. Hyperlink to Internal and External Sources
Internal and external sources help establish credibility and increase your chances of ranking. We recommend a thoughtful approach to hyperlinking. Link to content that is not only valuable to the reader but also relevant to the context of your page.
However, don't use too many hyperlinks on the same page. Some readers will consider your site spam if this is the case. It's okay to use multiple as long as it is a reasonable number. Trust your own judgement, and consider the page's length and context.
When in doubt, make sure the internal and external sources relate to your key topic and provide value.
Conclusion
The logic behind HubSpot topic clusters is based on years of SEO experience. If you're curious about applying this methodology to your site, we recommend starting small. After all, creating pillar pages can be a time-intensive endeavor. Once you create a pillar page and link your subtopics, you can begin organizing your existing blogs to create an overall topic cluster strategy.
If you want to learn more about how to create topic clusters or leverage HubSpot for your content strategy, we're happy to help! Just fill out the form below and one of our certified eCommerce experts will be in touch.
Related Content
You Also May Like
HubSpot
If you have made it to this web page, you are likely looking at how you can begin...