Case Study
eCommerce PPC Tips: 8 Ways To Increase Your Ad Conversion
Jun 11, 2020 • 3 Min Read
Getting caught up in the complexities of paid ads can be frustrating and time consuming. That's why our team is here to help. From Google Shopping ads to social media advertising, Groove is here to help you increase ROI and improve overall conversion with these ppc tips.
eCommerce PPC: 8 Tips
If you want to improve your paid media conversion rate, follow these 8 eCommerce PPC tips convert searchers into customers:
Know your demand curve

Show ads at the right time
Select long-tail keywords
Build a negative keyword list
Use extensions
Adjust geolocation settings
Target mobile devices
A/B test
1. Know Your Demand Curve
Look at Analytics, AdWords and Bing Ads in previous years to understand how your target personas change in behavior throughout the year. Account for day-of-week and other seasonal changes that may be different year after year.
To best predict when you'll see demand change next, look into factors such as the day a holiday falls on each year, seasonal changes, etc. Understand how the curve changes with each factor to best predict when you'll see demand change this time around.
2. Show Ads At The Right Time
The key element of inbound marketing involves showing your ads to the right people at the right time. Conduct some research to determine when your audience is the most active on your advertising platforms.
Then, set the best ad schedule in accordance with your audience. If you're just getting started with paid search, we recommend setting your schedule to 24/7. After analyzing the reports and finding the timeframes of highest audience activity, cut your ad schedule back to save money.
3. Select Long-Tail Keywords
Ideal keywords are high volume and low competition. It may take some time and planning to find the best keywords, so conduct some research on what keywords your competitors are ranking for.
Avoid broad-tail keywords like "dress" or "electronics" as these are high-level words that return millions of results, so getting your page to rank will be very difficult. These keywords are typically searched by consumers in the awareness stage of the buyer's journey (when they don't intent to make a purchase decision.)
Instead, use long-tail keywords like "Women's little black dress" or "Acer Chromebook 14" to increase your chance of ranking on SERPs. In general, long-tail keywords are easier to rank for due to the lower search traffic and competition. These keywords are typically searched by consumers in the consideration/decision stages of the buyer's journey (when they intend to make a purchase decision.)
To better understand search queries and popular keywords for your site, refer to some of our favorite eCommerce SEO tools for keyword research and more.
4. Build A Negative Keyword List
Negative keywords are keywords that you don't want your site ranking for. By building this list, you're telling search engines to not display your ad for those keywords.
We recommend performing a Google search of your favorable keywords and identifying any keywords that show up in relation to your favorable keyword. If they're unrelated to your brand or don't entice consumers to convert, add them to your negative keyword list.
5. Use Extensions
Ad extensions help consumers learn more detailed information about your business on the SERP. Your phone number, address, hours of availability, links to landing pages and more are common examples of extensions.
It's important to note that adding an extension does not guarantee it will display within your ad. The extension must offer meaningful value, and your ad rank must fulfill a certain standard in order for the search engine to display your extensions.
In the screenshot below, see how we use links to our landing pages in our paid ads to help searchers find exactly what they're looking for and learn more about Groove as an agency.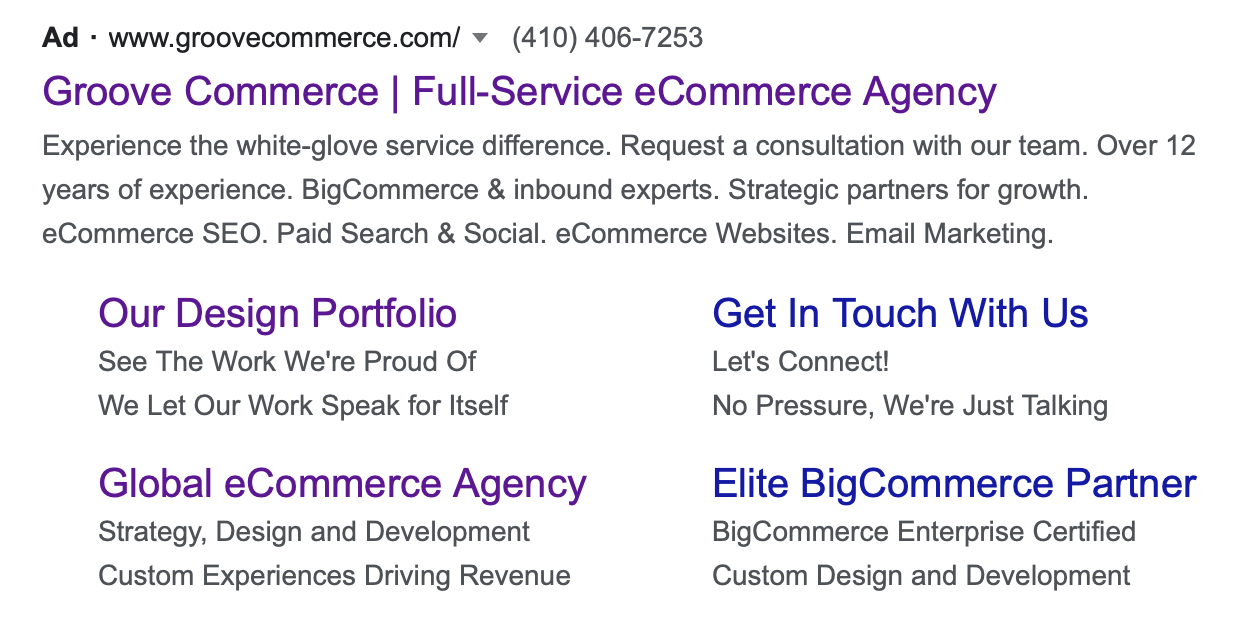 6. Adjust Geolocation Settings
Want to target an audience in a specific location? Adjust your geolocation settings so that your ad shows only in that area. Google AdWords uses the consumer's IP address or GPS location to determine whether the individual meets the criteria and is shown your ad.
We recommend brick-and-mortar stores to adjust the geolocation settings for their ads for audiences in their area. It doesn't hurt to expand your audience, but start out with the relevant audience that shops in the nearby area.
When it comes to eCommerce stores that sell solely online, expand your market potential by adjusting the geolocation settings to larger radius. You never know who may be interested in your products or services!
7. Target Mobile Devices
As we see an increase in mobile eCommerce trends, make sure to leverage Google's mobile-targeting capabilities. If you have an ad that may cater better to mobile users than desktop users, strategically create ads for mobile only.
Now more than ever, consumers use mobile devices to shop. It's critical that your ads and overall website are designed with the mobile user in mind, so be sure that all directed landing pages follow mobile eCommerce best practices.
8. A/B Test
If there's one thing you take away from this list of eCommerce PPC tips, it's that we highly encourage you to A/B test numerous variables because there's always something that can be tested within your ads or site.
Here at Groove, we test and optimize variables one at a time to help drive our client's strategic business decisions. For a more in-depth look at ideas and tips for A/B testing, read our related blog.
Conclusion
We hope these eCommerce PPC tips help you optimize your ad campaigns and increase revenue! For more information on how paid media can help your business grow, check out how we increased this client's ad revenue by over 45%.
Want to improve your eCommerce PPC strategy? Connect with our team through the link below to learn how Groove's PPC approach can help you maximize your ROI.
Related Content
You Also May Like
Blog
What Do I Need To Know About Etail West 2024? Are you in the eCommerce industry? If...