Groove Commerce
We helped this client migrate eCommerce platforms and build a BigCommerce website design to improve customer experience and increase eCommerce conversion rate.
When the KegWorks team became frustrated with the costs and poor functionality of Magento 1, they turned to Groove Commerce for help migrating eCommerce platforms. Their migration decision has helped position KegWorks for growth, and the recently launched BigCommerce website design has improved the overall user experience.
Launching KegWorks' BigCommerce Website Design
KegWorks is more than just a B2B and D2C eCommerce website − they're more like your favorite drinking buddy who has the coolest home bar on the block. From keg tapping equipment to drink ware, bar accessories and flavored ingredients, KegWorks has everything cocktail connoisseurs and bar owners alike need to craft the best alcoholic (and non-alcoholic!) beverage.
The Challenge With Magento 1
Technical Overhead
The KegWorks website was originally hosted on Magento 1, which presented a great amount of technical overhead. To make sure their site was running properly, KegWorks had to do much of the manual work themselves, like maintain their own servers. And, they dealt with ongoing hosting and maintenance fees that weren't worth the price.
So, the company evaluated other SaaS eCommerce platforms to help alleviate some of that technical debt, increase site speed and enhance their technology stack. They evaluated BigCommerce vs Magento and quickly realized that BigCommerce was the missing puzzle piece they needed to meet their eCommerce goals.
KegWorks Before
Below is what KegWorks' Magento 1 website looked like prior to enlisting Groove's help. From a navigation perspective, there were too many categories and subcategories to browse through, so their goal was to organize the navigation and condense the categories.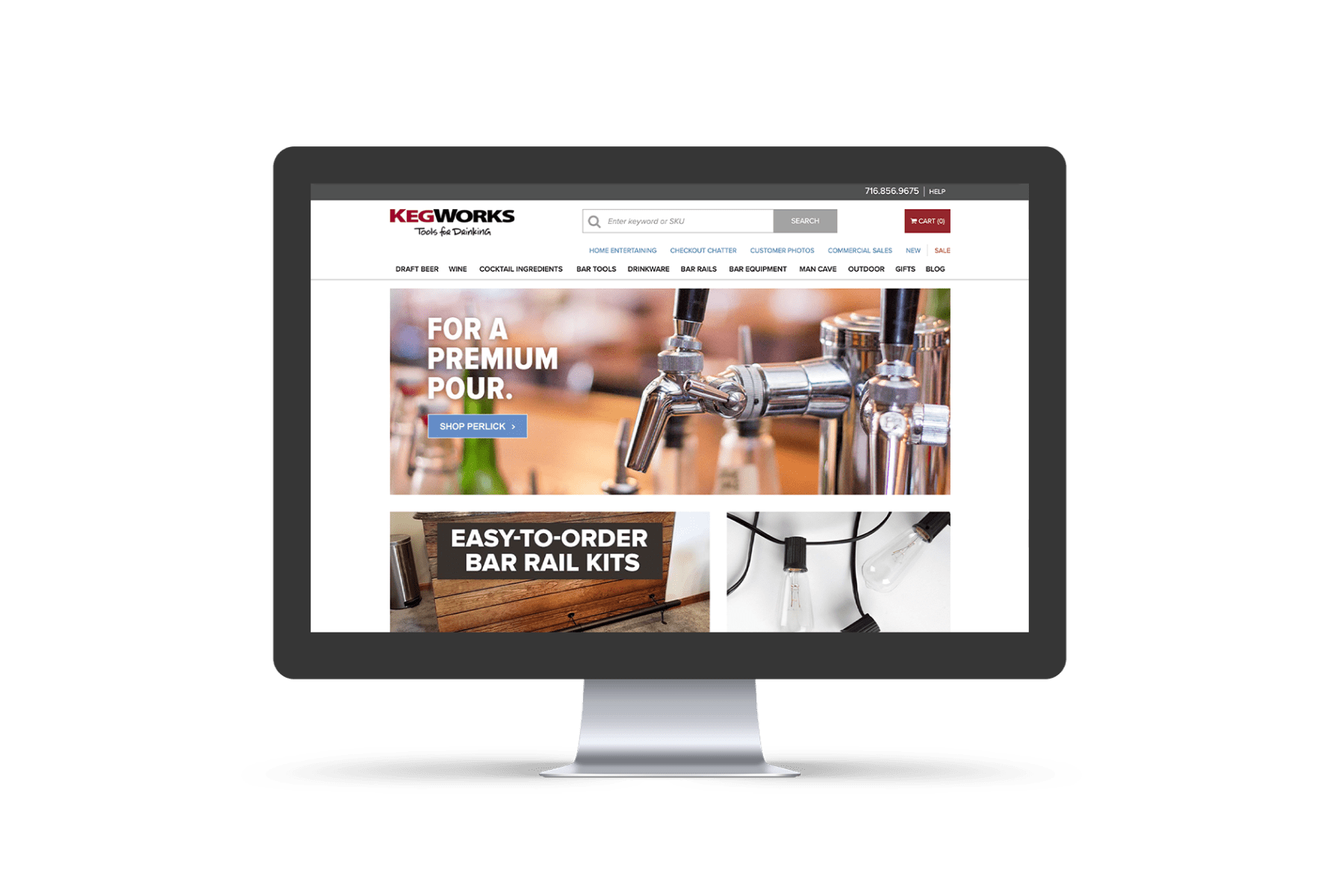 KegWorks After
Here's what the site looks like now. We enhanced their BigCommerce website design to improve the overall on-site experience. Navigation is now seamless, and the dozens of categories and subcategories are organized neatly and efficiently.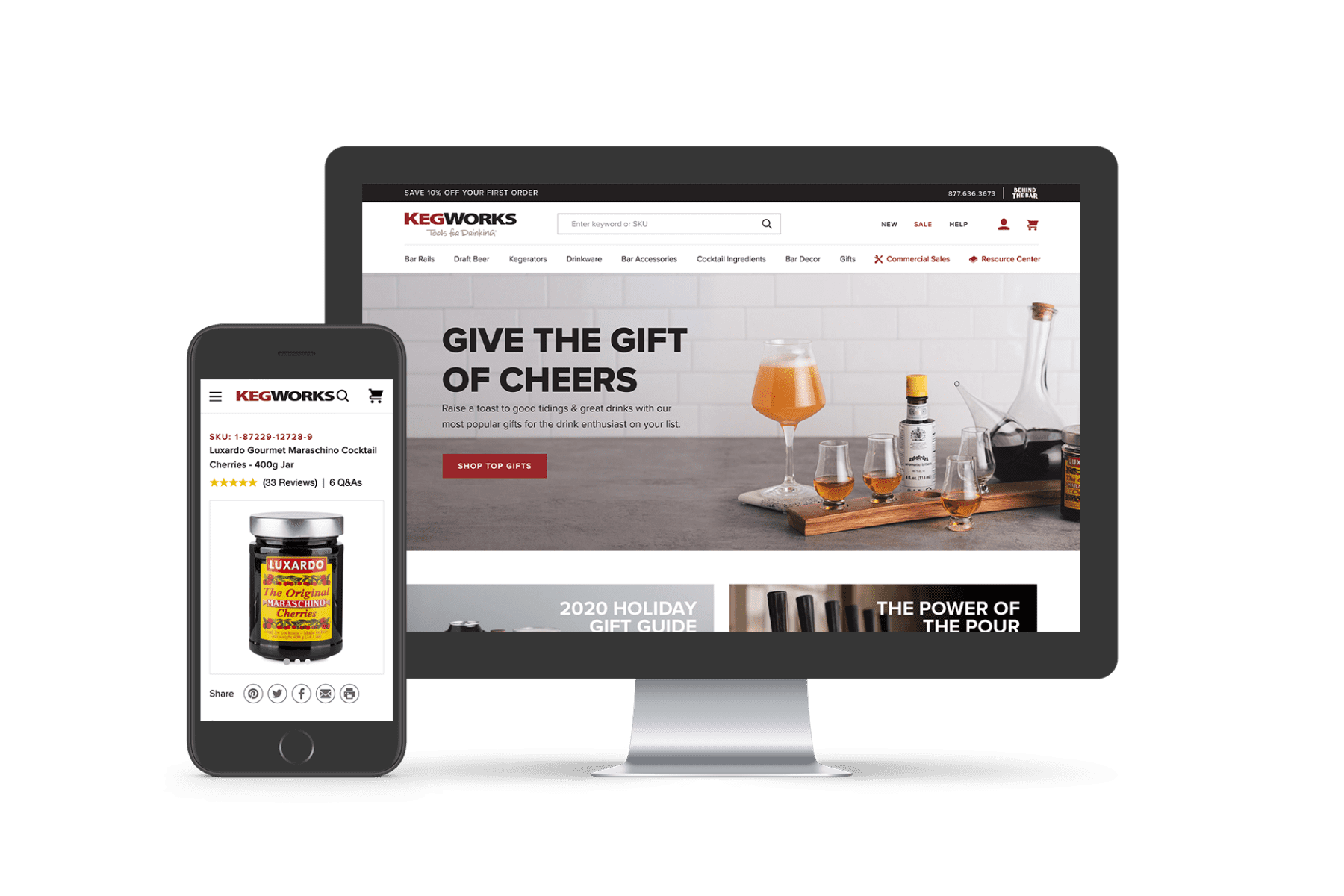 The Solution
Migrate To A SaaS Platform
KegWorks was straightforward in that they knew they wanted to move to a SaaS-based platform. Using our team's expertise, we guided them, took them through an extensive BigCommerce review and showed them the value in choosing a platform that was best for their eCommerce needs.
Build An Organized BigCommerce Website Design
With the help of our team, KegWorks' site is now organized and easy to navigate. Whether you're a contractor looking for bar rails or a beer connoisseur looking to purchase home-brew kegging equipment, KegWorks' latest BigCommerce site is designed with your needs in mind.
We also collaborated with Reflektion, an AI-driven personalization platform, and BigCommerce to offer on-site search functionality. Not only does this help those who visit the KegWorks site find what they're looking for, it also helps KegWorks convert high-intent customers.
Integrate BigCommerce & HubSpot
In addition to leveraging a BigCommerce website design, we took advantage of HubSpot's functionality and analytical capabilities. For one thing, we used the HubSpot BigCommerce Integration that our developers created to help KegWorks capture abandoned carts and follow-up with customers after they've made a purchase.
We also helped the company leverage HubSpot's advanced dashboard and reporting tools, so they can streamline their own marketing efforts and further cater to their customers' needs based on past purchasing behavior, interests and more.
Prepare For Future Growth
KegWorks has what we like to call a sub-brand, called "Behind The Bar," which falls under the KegWorks umbrella and offers high-end equipment that is meant to be used literally behind the bar. From a glass soda siphon to an hourglass cocktail muddler, Behind The Bar sells fine bar tools that cater to professional bartenders and cocktail hobbyists alike.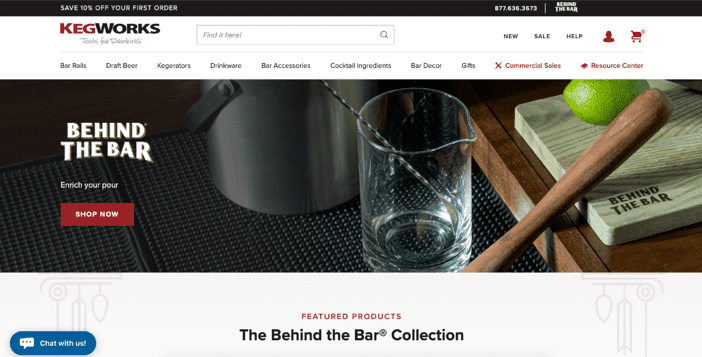 Transitioning to BigCommerce has allowed KegWorks the ability to grow their brand − a perk that doesn't come with Magento. BigCommerce has also helped KegWorks overcome the challenge of growing their eCommerce store with other features and functionality, and it gives them the peace of mind that their other sub-brands can be hosted on the same site.
Conclusion
We're expecting KegWorks to see some serious results with this updated BigCommerce website design. In the first 30 days after launching their site, compared to year-over-year, they've seen transactions increase by over 35% and eCommerce conversion rate increase by over 48%.
If you're looking to increase website performance with BigCommerce or migrate to a new eCommerce platform, our team is here to help. Just fill out the form below with any questions or concerns, and a member of our team will be in touch soon. We look forward to helping you build, design and grow your online store!
Get in Touch
Subscribe for industry insights and resources.