Groove Commerce
See how we helped this client build a BigCommerce website, combine 4 sites into 1 and enhance the web design to provide a seamless eCommerce experience.
When it comes to the website design process, some eCommerce businesses struggle with optimizing for the user experience. This was the case for one of our clients, so we migrated their multiple eCommerce stores on to BigCommerce to significantly improve the customer experience and streamline the process of creating a BigCommerce custom product.
BigCommerce Website Migration: Barron Designs
Barron Designs is an interior design company that sells handcrafted, innovative and affordable home decor. With the largest selection of styles and textures in the industry, Barron Designs sells both directly to consumer and business-to-business.
The Problem
Here's what the Barron Designs website looked like prior to working with Groove: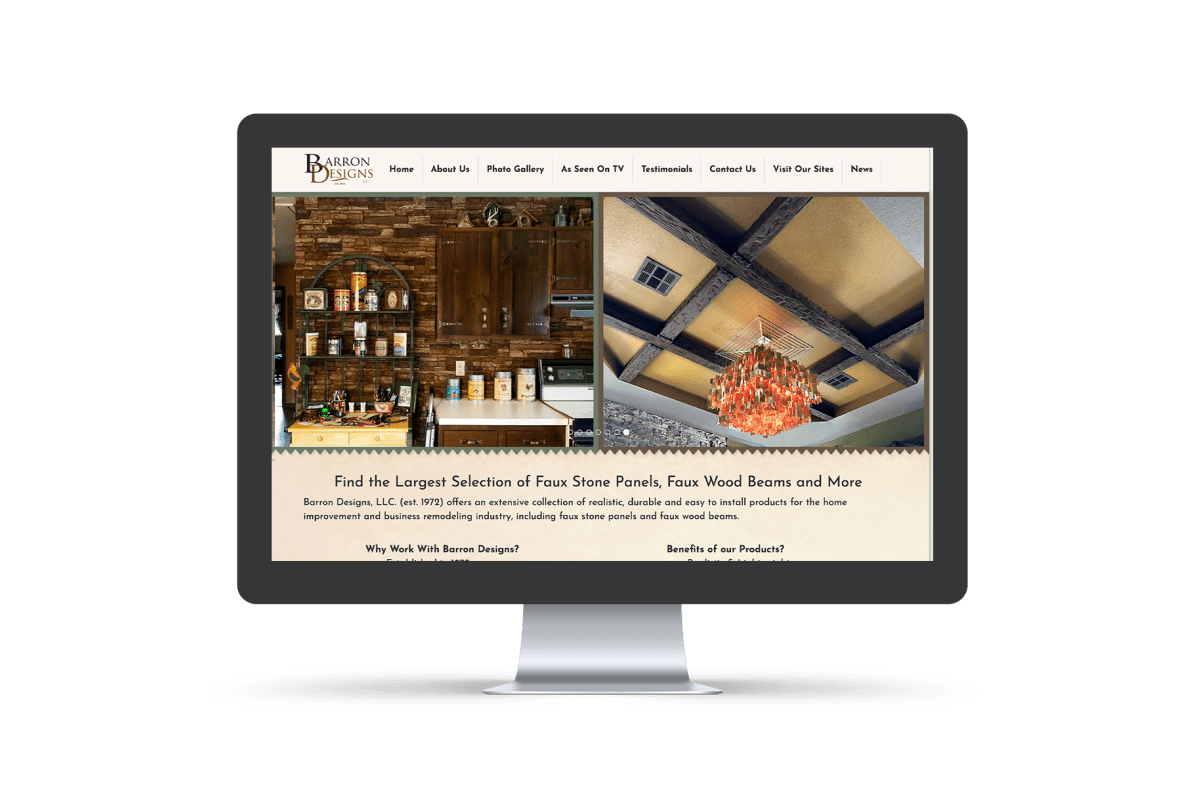 Before working with our team, the company did not have a BigCommerce website. Rather, they had four websites dedicated to each product category. They had a website for faux columns, a website for faux beams, a website for faux panels and a website for rustic accents.
Bad User Experience & Back-End Functionality
All of these websites were created using a custom platform, which made it extremely difficult for their team to manage. A simple change to the site required a developer with a strong understanding of website development and design.
Since all of the websites were hard to navigate, the company aimed to upgrade their website design to provide a better user experience. The custom platform that the sites were built on made the back-end difficult to manage and update, which presented them with challenges when it came to integrations and migrations.
Plus, they wanted the ability to cross-sell related products. So, our team stepped in to help the company rebrand and combine the four websites into one.
The Solution
Here's what the Barron Designs website looks like now: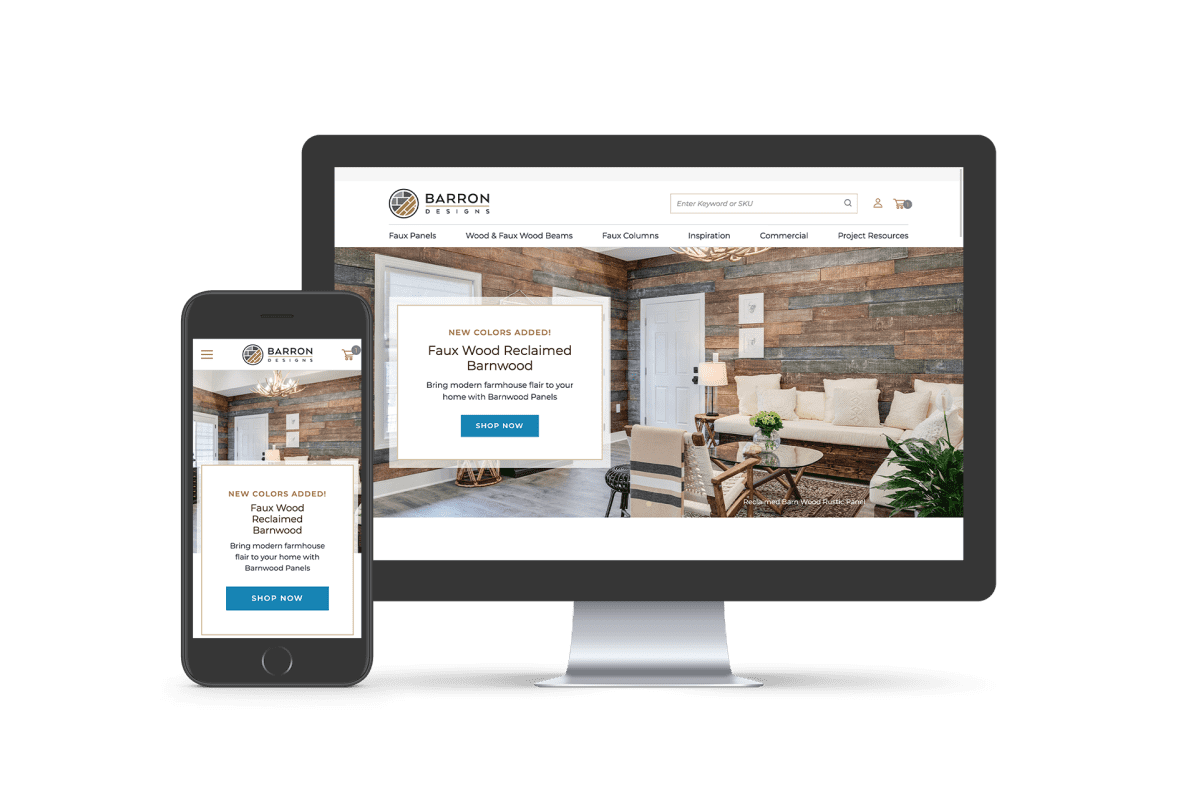 Combine 4 Websites Into 1
We migrated the store to BigCommerce, using only exports from the previous stores. The easy-to-use and organized back-end experience allows Barron Designs to create a BigCommerce custom product when customers place their order.
Now, they sell all of the inventory from their previous four websites within one BigCommerce website. This aids in the company's cross-selling strategy, since customers can now see all product options in one place.
Create A Custom BigCommerce Product
When it comes to ordering products, the faux beams are super complex. For example, customers have a multitude of sizes to choose from. The width and height can be customized by half inches and the length can be customized by inches. And of course, the products are offered in a variety of colors.
Rather than displaying the 1 million+ products in the back-end, we leveraged the BigCommerce back-end functionality to create the custom item when someone orders it.
In other words, a brand new product is being created in the back end of the BigCommerce website when a person adds a custom product to their shopping cart. That product does not exist in BigCommerce until a customer creates it.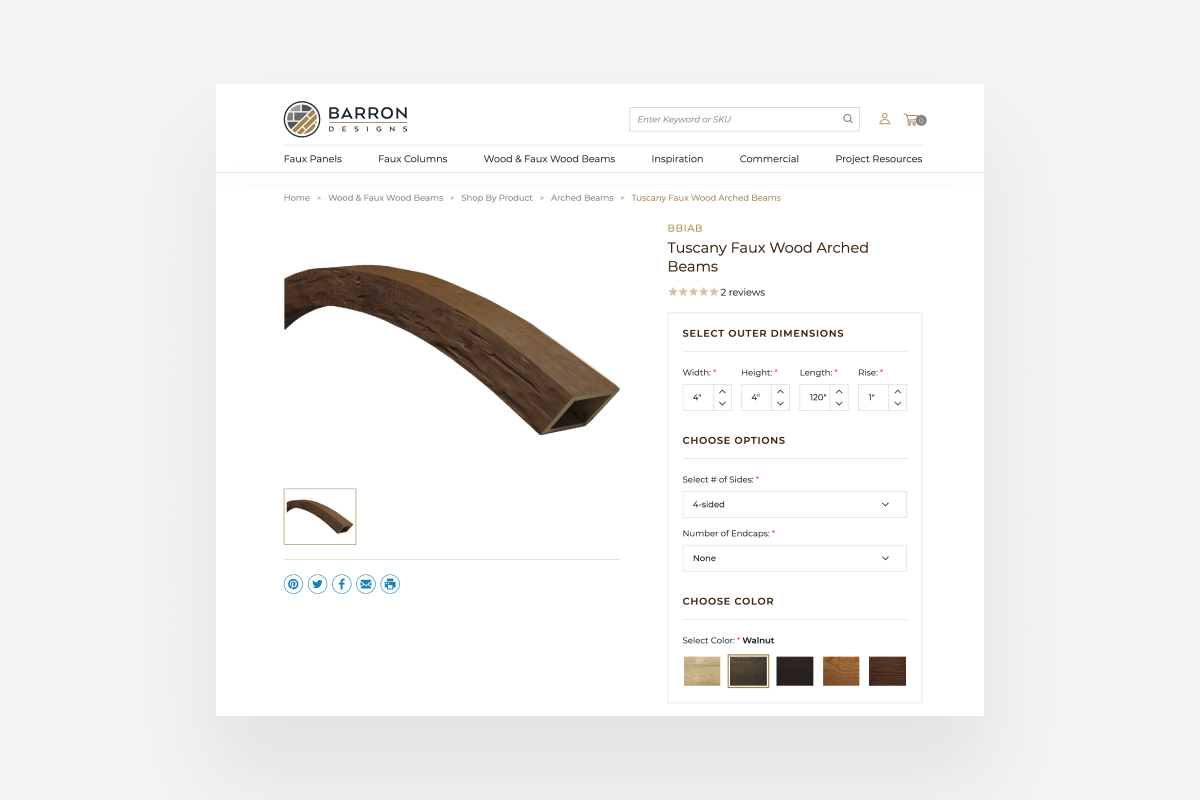 If someone else was to order the same exact custom product that a previous customer had ordered, then the product would pull from the back-end in BigCommerce since it was already created before. This functionality allows Barron Designs to create products on the fly, which is a huge upgrade from their previous four online stores.
The Results
The BigCommerce website for Barron Designs launched on October 13, 2020. In the first month since the new site went live, Barron Designs has seen almost 12,000 new users, and visitors view 2.5 pages per session on average. We're excited to see how the company grows in the future!
Conclusion
This website has just recently launched, and we're expecting Barron Designs to flourish in terms of revenue and website traffic. Their BigCommerce website now provides a seamless customer experience due to its optimized design.
Have any questions or want to learn more about how Groove Commerce can help design and develop your BigCommerce website? Fill out the form below with any questions or concerns, and a member of our team will be in touch with you shortly.
Get in Touch
Subscribe for industry insights and resources.