HubSpot
Fashion eCommerce: How The Apparel Market Can Dominate Online Sales
Feb 17, 2021 • 11 Min Read
How To Grow Your Fashion eCommerce Business
Fashion is the largest B2C eCommerce market segment, with a global value of $664.5 billion in 2020 alone. It's projected to reach $1003.5 billion by the end of 2025. As an industry that's constantly evolving, businesses in the apparel market must optimize the online shopping experience to meet customers' needs.
In this guide, we're sharing website design necessities, marketing strategies and eCommerce platform recommendations to help you sell more apparel online.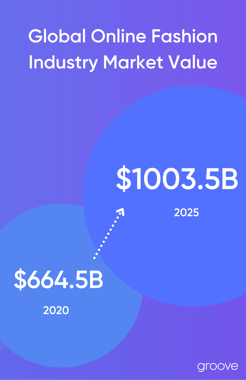 Design Necessities For A Conversion-Driven Apparel Site
There are many eCommerce design factors to consider when building an apparel and fashion eCommerce website. Successful brands are great at visually communicating with their customers on every web page. The better a brand is at communicating their personality through visuals, the more likely their audience is to resonate with them. Plus, telling a captivating brand story on a dedicated "about us" page helps consumers learn more about a brand's purpose and creates a way for businesses to set customer expectations.
Regardless of the web page being developed, we encourage all eCommerce brands in the apparel market to follow website design best practices to improve the user experience. Keep on reading to discover a few of our tried-and-true website design tips to help you create a high-converting fashion eCommerce website.
Easy Website Navigation
eCommerce websites that feature and sell a variety of products must be easily navigable to provide a positive customer experience and, in turn, drive online sales. Successful apparel sites avoid selling products on the homepage and, rather, use clear calls-to-action (CTAs) - which are vital for guiding website visitors to the pages you want them to land on. Keep the CTA above the fold and the focal point of the homepage, so visitors instinctively click it.
Want to drive traffic to the "on sale" page? Use a bold CTA that shows the discounted offer. Want to increase your subscription list? Create a CTA or pop-up form with a specialized offer that incentivizes people to want to be a part of your brand community. There are a ton of ways for eCommerce brands to leverage CTAs to make navigation simple.
In addition to CTAs, product filters are a great way to streamline the browsing experience. The number one rule to keep in mind when creating product filters is to keep the navigation simple. Consider your brand and products from the customer's point of view when filtering to keep categories clear and concise. Remember, the simpler - the better.
Last, don't forget to optimize your website for mobile eCommerce. Statista reports that over 72% of all eCommerce retail purchases will be made on mobile devices this year. If your site isn't mobile-friendly, expect a high bounce rate and low average session duration.
High-Quality Product Photography
When selling clothing, shoes, accessories etc. online, it's vital to use eye-catching product photography to showcase products in the best way possible. Customers are unable to physically touch products before purchasing online, so the product photography and videography must make up for that lost opportunity.
Here are a few tips for photographing apparel:
Shoot the product from numerous angles
Include close-up shots of the fine details, if any
Shoot from a tripod for photo consistency (when shooting clothes on both mannequins and models)
Use a consistent background
Show the product in use to appeal to a certain lifestyle
Enable hover to zoom for a closer look at the product
See an example below of how Cutter & Buck, manufacturer of upscale golf and sporting clothing, uses great product photography to sell their clothes online.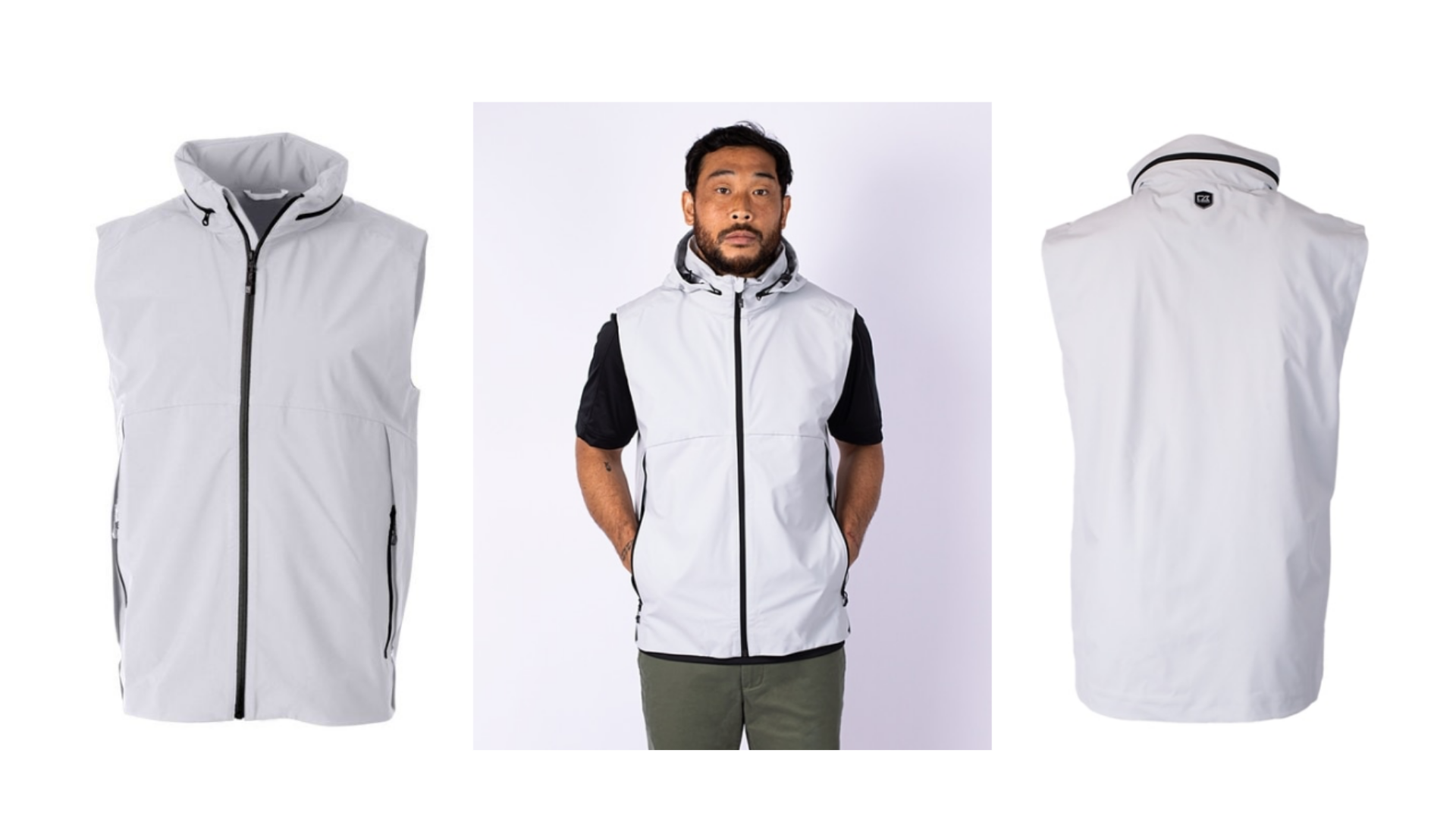 Updated Product Detail Pages
Product pages are one of the most important pages for fashion and apparel retailers because they're where customers can learn more about a product, try it on virtually and add it to their shopping cart. There are a ton of important considerations for building and designing product pages.
Use Size Guides
For one, always include a size guide so that shoppers can see whether a product fits true-to-size. Size guides help to increase customer trust, especially among first-time customers, because sizing varies across brands.
Update Inventory Automatically
Second, automatically update inventory so that shoppers know whether a product is sold out. Offer the option to sign up for back-in-stock notifications, so those interested are the first to know about a recent restock. For one BigCommerce client, our team utilized inventory rules to ensure the products displayed on the website match the availability of inventory in the warehouse. This is a key piece to ensuring that the front-end of a company's website is accurate and that there's enough inventory to ship out to customers.
Also, let customers know when there are only a few left of a particular SKU. This creates a sense of urgency and encourages customers to convert quicker so that they can get their hands on the product before someone else does.
Write Product Descriptions & Show Reviews
Last, include detailed product descriptions on product detail pages so that customers know what fabric and material the garment is made of, how to care for the product in the laundry, where the product was made, etc. In addition to the description, we encourage brands in the apparel market to showcase customer reviews in a collapsible view to make it easy for potential customers to explore what their peers have to say about the product. Raw and honest reviews really help increase customer trust and drive more purchases.
eCommerce Marketing Strategies
Cross-Sell & Up-Sell
Cross-selling and up-selling similar products are great strategies for increasing average order value. Fashion eCommerce brands can try to sell a specific "look" by pairing the main product with other products on their site. For example, a product detail page for a Rolling Stones t-shirt may pair well with a pair of black, ripped skinny jeans and Dr. Martens. Put these products below the fold in a section labeled something along the lines of "You May Also Like," so shoppers can view the complementary products without taking attention away from the main product. Even if shoppers don't purchase additional items, the complementary items may help to confirm the original purchase by showing how to style a piece of clothing. Overall, it's a great way to show different styling options and appeal to different personalities.
Sell On Social Media
You invested in high-quality product photography for your website, so why not capitalize on this and display them throughout social media, too? Use product photos to build an effective social media branding strategy that lets your audience seamlessly make a purchase.
One of our favorite social media platforms for apparel and fashion eCommerce brands is Instagram, since it allows customers to shop an outfit with one click. Businesses just need to tag their products in their photos or videos in the feed and/or in Stories, so their audience can tap on the photo to see the product's name, price, rich description and media. The best part? Instagram offers checkout that allows all United States-based businesses to sell directly to consumers - meaning people can check out and purchase without leaving the platform.
Additionally, Facebook and Pinterest are common platforms for paid media advertising. Both platforms make it easy for companies to place their ads in front of their targeted audience. However, Facebook pushes older posts to the bottom as new posts are created, requiring users to scroll through a page to see older posts. Pinterest, on the other hand, is more static in that Pins stay in the same location. Users can pin their favorite outfits or products and categorize them by "boards" that can be accessed in the same place each time they open the app. Plus, Pinterest acts as a search engine within itself that can really give businesses an advantage over their competitors.
Rank For Long-Tail Keywords To Improve SEO
Standing out from big box retailers is tough, especially when they dominate on search engine results pages. It's so important to create an optimized eCommerce SEO strategy to increase visibility, website traffic and brand awareness.
Start off by conducting keyword research to make a list of words that you'd ideally like to rank for. We recommend researching words with a high search volume and low keyword difficulty. For example, a broad term like "women's dress" will have high search volume and high keyword difficulty, so although there are a ton of monthly searches for that word, it will be extremely difficult to rank organically for it.
Instead, search for long-tail keywords like "women's floral maxi dress" or "women's wedding guest dresses" to find keywords that are more descriptive with a much lower keyword difficulty. After making the list, be sure to categorize the words so that you know what pages to optimize. For example, a wedding dress company may want to optimize their homepage around the keywords "elegant wedding dresses" or "classy wedding dresses" while the product detail pages can be optimized for more detailed keywords such as "bohemian long sleeve wedding dress" or "sweetheart neckline wedding dress with straps."
Finally, companies in the fashion and apparel market can really take advantage of seasonality and keywords surrounding current or upcoming trends and special events. Whether someone is searching for a "women's jumpsuit for Spring" or a "red Christmas sweater dress," it's critical to optimize title tags, meta descriptions and product descriptions to rank organically for the specified keywords.
Use Email Marketing Automation To Engage Your Audience
eCommerce email marketing is one of the best communication channels to engage and convert your audience. First, use a welcome series email to automatically send a welcome message to new subscribers. Avoid using sales verbiage in the first email; rather, show off your brand's personality and make new subscribers feel like they're part of a larger community. This email is to acknowledge that you're happy they've opted in to receive emails, and it's a great way to set customer expectations on how often they'll be hearing from your business.
Use a marketing tool, like HubSpot workflows, to send out abandoned cart reminders, browse abandonment emails and post-purchase follow-up emails. People abandon their shopping carts for a variety of reasons, and sometimes they just need a reminder that they've left something behind. On some occasions (and to target shoppers in the consideration stage of the buyer's journey), browse abandonment emails work best for people who typically view a product multiple times before deciding to purchase it. Though this is often effective for larger purchases such as an expensive Louis Vuitton clutch that requires some consideration, it also works well for less expensive purchases like an article of clothing or a pair of earrings. No matter the item browsed, your audience will appreciate the personalization of your email.
Choosing An eCommerce Platform
There are many factors to consider when evaluating SaaS eCommerce platforms. Before investing your time and money into a platform, we encourage conducting some research into the platforms that may be a good fit for your business. There are a variety of features and functionalities necessary for apparel and fashion eCommerce brands to flourish. Keep these questions in mind when evaluating eCommerce platforms:
Does it integrate with social media and other eCommerce platforms?
Is there reliable tech support?
How secure is the platform?
Does it offer reporting and analytics?
How many payment options are available?
Social Media & eCommerce Integrations
Investing in an eCommerce platform that integrates seamlessly with social media platforms is critical for apparel companies that earn the majority of their revenue from indirect sales. Social commerce is growing quickly; as of last April, 37% of internet users between the ages of 18 to 34 had purchased something via social media, while only 11% of those 55 years and older stated the same.
Regardless of a brand's target audience, social media is constantly evolving, which means eCommerce brands should be, too. Stay on the lookout for an eCommerce platform that integrates with Facebook, Instagram, Amazon, eBay or any other platform that typically performs well and attracts the most sales to your business.
Reliable Technical Support
Whether a question is related to selling on the platform, growing a business, increasing conversion rate, improving the user experience or requesting solutions to taxes, payments, shipping and integrations, there are a ton of questions that may arise before, during and after a website launch. Be sure to choose a platform that has a team of experts available to answer a breadth of questions.
Platform Security
Reliable eCommerce platforms are PCI and ISO compliant; this means they ensure that information entered during checkout, such as credit card information, email addresses and phone numbers, are protected from cyber attacks. Protecting customers' information is key to increasing customer trust, so be sure to secure your eCommerce site against cyber threats.
Reporting & Analytics
We recommend choosing a platform that has built-in eCommerce analytics. This provides the opportunity to analyze performance over time and dive deeper into customer and order data. Find the customers who are spending the most, and create a campaign focused on their shopping habits to drive customer loyalty. See top-selling products or most discounted products to get a glimpse into what's popular (and what's not). Track average order value to see which products influence sales. There is so much that can be done based on the data in eCommerce reports, and they help to further personalize marketing and advertising strategies going forward.
Payment Options
Increase average order value and decrease abandoned cart rate by offering customers flexible payment options. When customers have more ways to pay, businesses are bound to drive more revenue. Rather than accepting just the typical credit card payment, let your customers pay with PayPal, Apple Pay, Square, Stripe and more.
Our Platform Recommendations
BigCommerce
BigCommerce is a top platform for apparel and fashion eCommerce companies. Gildan, Reebok, TYLER'S and American Apparel - among many others - use BigCommerce to accommodate their large catalogs.
In addition to the availability of sales and support teams via phone, live chat and email, we love BigCommerce for its detailed analytics and reporting functionalities. The platform analyzes all of a store's data and comprise 11 reports, including:
Store Overview Report
Real Time Report
Merchandising Report
Marketing Report
Orders Report
Customers Report
Purchase Funnel Report
Abandoned Cart Report
Abandoned Cart Recovery Report
In-Store Search Report
Sales Tax Report
Even better, premium customers have access to eCommerce insights - a great tool that suggests ways to increase conversions and drive customer loyalty.
Lastly, BigCommerce easily integrates with numerous sales channels and applications so that fashion and apparel stores can sell their clothes, shoes, accessories and more from a multitude of channels. The platform is partnered with Facebook, Google, PayPal, Square and Instagram, so BigCommerce customers will be in the know about latest releases (such as Instagram Checkout).
Shopify
Though we often recommend BigCommerce to our clients, Shopify is another great SaaS platform to run a fashion and apparel eCommerce business on. Gymshark, Good American, Pura Vida Bracelets and Rebecca Minkoff - among many others - use Shopify to run their online stores.
Similar to BigCommerce, Shopify also integrates with social media platforms like Facebook, Instagram and Twitter to automatically post and run custom shopping experiences. And, Shopify offers 24/7 technical support via phone, email and live chat.
Lastly, Shopify's POS system unifies in-store sales with the Shopify system. This way, all of a store's data is in one place. This is a huge plus for apparel stores with both a brick-and-mortar and eCommerce presence.
Client Case Studies
Sara Campbell
Sara Campbell is a popular women's apparel brand based in Boston, with retail stores across the U.S. The company was once a brick-and-mortar only store and didn't have an eCommerce website. The Sara Campbell team never intended to create a website, but when the COVID-19 pandemic hit and affected the company's business operations, their team knew they needed to make a quick decision. That's when the Groove Commerce team stepped in to create a pop-up shop in just 10 days.
"The Groove and BigCommerce partnership has been amazing and has kept us afloat - we've already surpassed our two-month sales goals. It was the saving grace we needed."
- Sara Campbell
Though Sara Campbell was once completely averse to eCommerce, we've now built a complete eCommerce website for the fashion brand. We're excited to see how they grow this year!
Cutter & Buck
Groove Commerce began a partnership with Cutter & Buck back in 2015. We first helped them maintain and enhance their Magento store at the time. When they struggled with the additional fees, we fulfilled their request of evaluating alternative platforms. That's when we transitioned their eCommerce store from Magento to BigCommerce Enterprise. We migrated their Salesforce email to HubSpot and implemented our HubSpot BigCommerce Integration so they could capture more abandoned carts.
Let's fast forward to 2018 when Cutter & Buck wanted to increase engagement from family and friends as well as build a scalable solution to distribute discount codes at events. The Groove Commerce team built the solution to solve these challenges: a custom Heroku application that shares data between BigCommerce and HubSpot.
"I think that the key to any client-agency relationship is the people. I've been really fortunate at Groove [Commerce] to have an Account Director especially who is very responsive and very in-tune with our businesses. She is quick to bring all of the subject matter experts that we need, when we need them. They have also formed personalized relationships with us."
- Cutter & Buck
Perform Group
Perform Group is the parent company of Curtain Call, a B2B dance wear and recital costume retailer. When they needed a better platform to run their website on, we migrated the store from Magento to BigCommerce to decrease page load times and enhance their website design. We also created a custom integration that makes BigCommerce the central point of sale. To learn more about how we streamlined B2B operations for this client, check out this 4-minute read.
"Working with the team at Groove Commerce allowed us to improve our eCommerce experience and promote our products in fresh, exciting ways. We were able to add new features to our store, which allows us to deliver better service to our online audience."
- Perform Group LLC
Conclusion
We hope this guide has provided you with everything you need to optimize your fashion website and sell more merchandise online. If you have any questions or are interested in learning more about how Groove Commerce can help build, design and grow your eCommerce store, don't hesitate to contact our team. We'll be happy to answer any questions and help get your business moving in the right direction.
About Groove Commerce
Groove Commerce is a full-service eCommerce agency with over 13 years of experience helping mid-market retailers design, build and grow their eCommerce websites. As a Diamond HubSpot Partner Agency and an Elite BigCommerce Partner Agency, Groove Commerce follows an inbound methodology and delivers bespoke, white-glove service to convert visitors into repeat customers.
Related Content
You Also May Like
Blog
What Do I Need To Know About Etail West 2024? Are you in the eCommerce industry? If...