Groove Commerce
We migrated the Garrett Wade website to BigCommerce and built the functionality to group products and display inventory & pricing rules on the front-end.
It's not uncommon for eCommerce businesses to face challenges when it comes to backordering, inventory management and pricing rules. That's exactly what one client, Garrett Wade, had trouble with on their Magento website, so they turned to Groove Commerce for help migrating their entire eCommerce store from Magento to BigCommerce.
Garrett Wade's BigCommerce Website
Garrett Wade is a family owned-business that was established in 1975. The company sells directly to consumers through their website, and their products consist of high-quality hand tools for woodworking, gardening and outdoor work.
The Problem
The Garrett Wade team reached out to Groove Commerce to migrate their Magento store to BigCommerce. They faced a few challenges, including grouping products, backordering and inventory and pricing rules.
Since the company sells a wide range of products − with inventory constantly changing − they wanted assurance that their new BigCommerce website would have the ability for customers to backorder.
The company also offers many buying options for their products, so they aimed to provide an easy and exceptional user experience for their customers with a flexible BigCommerce website design.
The Solution
The Groove Commerce team lead the design, development and launch of the Garrett Wade website on the BigCommerce Enterprise platform. We used BigCommerce Stencil's sophisticated features and dynamic functionality to provide an easy-to-use website experience for our client's customers.
We built the entire website using page builder and used drag-and-drop for the majority of the site, so the Garrett Wade team can really be in control of their site after launch. Now, their team can easily make quick updates to the website on their own − without the help of a developer.
Here's a quick look at Garrett Wade's BigCommerce website!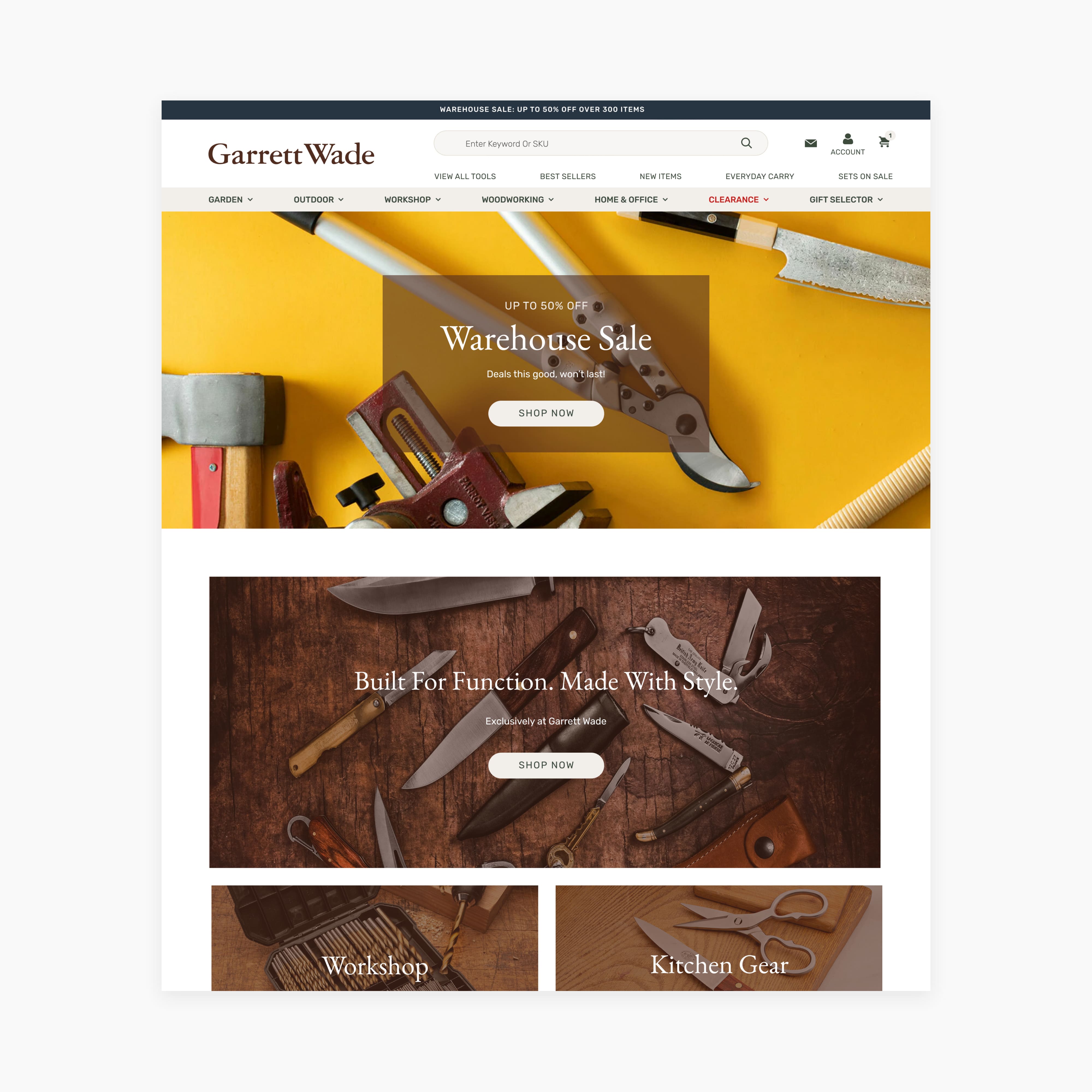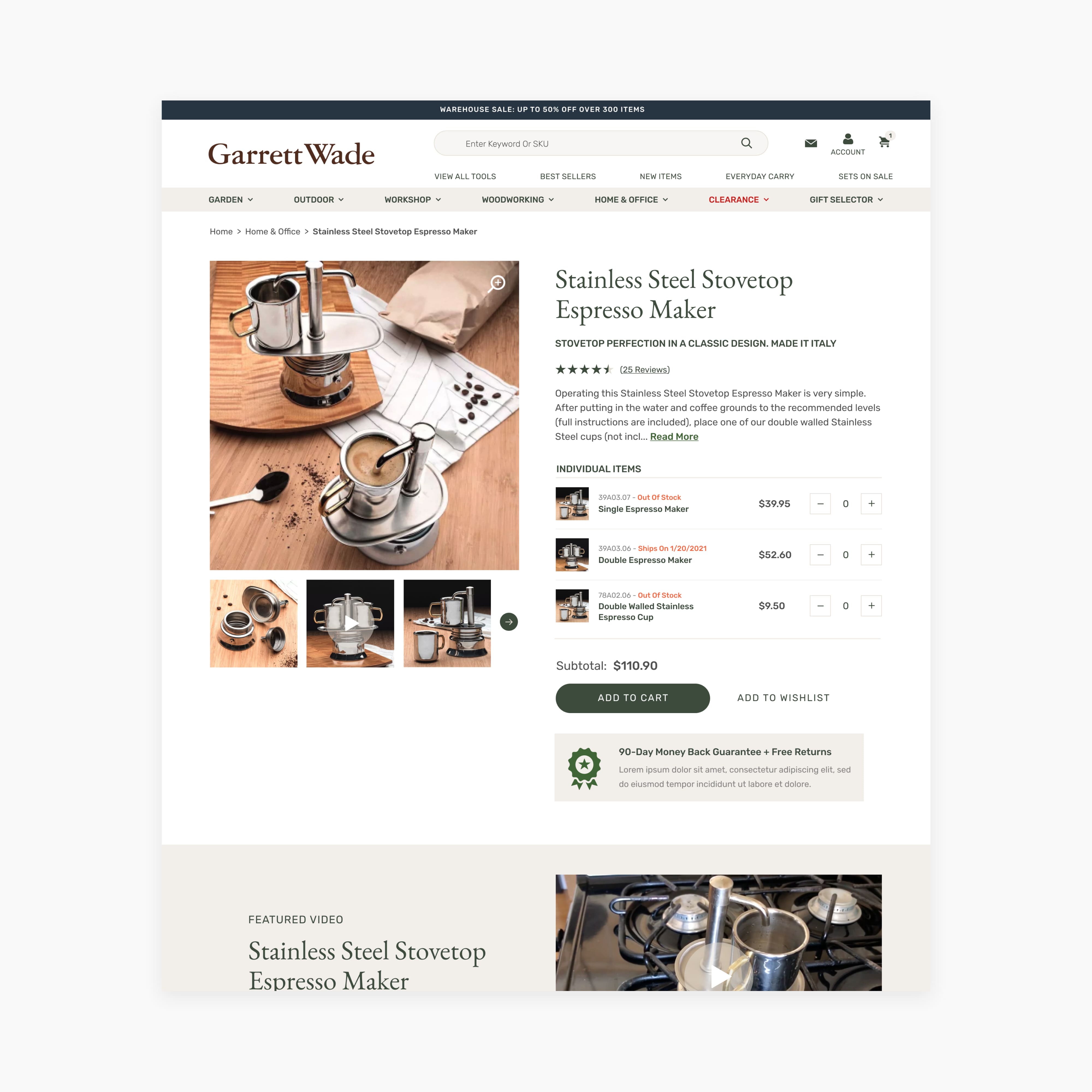 Grouping Products
Check out this product detail page to see how there are options to buy two different kinds of products individually, buy two products together as a single product, and/or add two different types of replacement blades to any of the three product options.
Backordering Products
There were a ton of complex backordering rules that their team needed to sort out to provide their customers with the best website experience. Their wide range of products include some that are limited-time only, so once they're sold out they're sold out forever. Other products are available for re-order but require customers to sign up for an in-stock email.
The changing inventory required a solution that involved updating product detail pages frequently, so Garrett Wade's customers know exactly when an item is available for purchase. That's when we utilized inventory rules to make sure that the products displayed in the front-end match the availability of inventory in their warehouse.
Garrett Wade leveraged a 3PL Integration to determine what products are available in the warehouse and what products have been shipped out to ensure they're displayed properly on the front-end. In short, this is how the 3PL Integration considers product availability:
Is it available for purchase?
If not, will it ever be?
If it ever will be, will it be available in the next 30 days?
If yes, customers can purchase it now.
If no, customers can sign up to be notified to purchase it later.
Eventually, it will switch from a notification to a preorder, and this process repeats as products go in- and out-of-stock. There's a lot of data work to manage the complexities of reading the data and showing it correctly on the front-end.
Our team wrote the logic that reads the integration. In other words, the data is hard to decipher, so we wrote the logic to display complex inventory rules. The complex inventory rules are being fed into BigCommerce from the integration, and we built functionality that has displayed each product properly on the front-end of the Garrett Wade website.
Apps Used
Following the design and development of the new site, our team leveraged technical SEO optimization, including Google Analytics and tracking scripts, robots.txt configuration, schema.org markup and more to increase traffic and drive conversions. Here are some additional applications we used to help hit the ground running:
The Results
Groove Commerce launched Garrett Wade's website on January 21, 2021. In just the first week of their BigCommerce website launch, the company experienced a 23% increase in eCommerce conversion rate as well as a 60% increase in revenue year over year.
From January 2021 to March 2021 in the first two months post-launch, compared to the same timeframe in 2020, Garrett Wade saw the following results:
76.06% increase in revenue
69.96% increase in transactions
27.91% increase in eCommerce conversion rate
3.59% increase in average order value
In July of 2022, Searchspring also completed a case study as to how their search integration has increased revenue for Garrett Wade. We recommend checking out that case study here as well!
Conclusion
Looking for help with designing, developing or growing your eCommerce store? Partnering with an Elite BigCommerce Partner Agency can really help to drive growth for your business. We'd love to learn more about your unique eCommerce needs. Just fill out the form below with any questions, comments or concerns, and a member of our team will be in touch soon!
Get in Touch
Subscribe for industry insights and resources.