Groove Commerce
When a client approached our team with a goal of increasing organic search revenue by 40% YoY, we worked to surpass that goal and grew revenue by over 50%.
Cutter and Buck is an active lifestyle fashion brand, headquartered in Seattle, Washington. The company primarily sells apparel through its eCommerce website, which was established in 2005. Ten years later in 2015, the B2C brand partnered with Groove Commerce to enhance its online presence and overall eCommerce strategy. Since then, we've been working to streamline the process of purchasing online while growing eCommerce revenue.
The Challenge
Upon launching the Cutter and Buck website on BigCommerce back in 2017, the Groove Commerce team completely redesigned the site. Following this launch, the client experienced increases in overall revenue and conversions.
Fast forward to 2021, the client had a stronger focus on creating content that would increase their website traffic through organic search. That's when the Cutter and Buck team approached Groove Commerce with the goal of increasing revenue from organic search by 40% year over year (YoY). Challenge accepted.
The Solution
SEO Best Practices
Our team began implementing SEO best practices in March 2021. We came together to implement multiple solutions. Here are the steps Groove Commerce took to achieve the client's goal:
Modified the client's blog content
Included high-intent keywords and phrases to increase visibility and traffic
Added SEO widgets and content to the site for keyword optimization
Used Canonical Tags to specify master copy if the copy is repeated throughout the website
Added long and short form content that supports persona intent
Content Marketing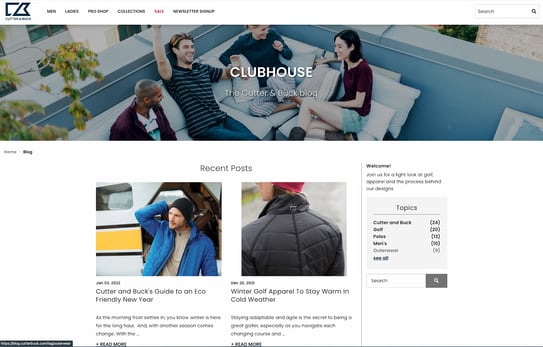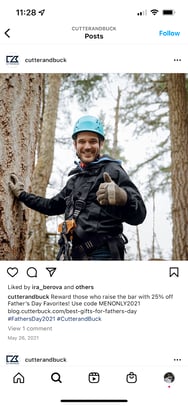 We wanted to have a high focus on content efforts as well as a consistent blog posting schedule. By posting once per week, our goal was to create content that not only talked about the brand's apparel but also the lifestyle that came with it. We created content such as:
The purpose of this tactic was to bring in an audience that could relate to the brand itself while representing Cutter and Buck by wearing their clothing.
In addition, we notified their audience of the new content through social media and email marketing to ensure they were engaging with it. In doing so, we were able to increase their website traffic from 18 total sessions in 2020 to a whopping 595 sessions in 2021.
The Results
As we tracked their progress over the past year, Cutter and Buck experienced some pleasing results:
49.3% increase in total revenue from 2020 to 2021
36.07% increase in new users from organic search
34.57% increase in number of sessions from organic search
Organic Search Revenue Surpassed Their Goal
The most exciting part?! After launching the new Cutter and Buck website in Q4 of 2021, the client experienced a 50.57% increase in total organic search revenue. This is ten percent higher than their goal!
Landing Page Revenue Increased
Additionally, we discovered that revenue from landing pages through organic traffic also significantly increased from Q3 to Q4. Their landing pages encourage customers to take action, and they're a key factor in converting visitors and driving revenue. The client experienced:
44.57% increase in revenue from landing page organic traffic.
More Keywords Ranked
We also took a look at keyword rankings. At the end of February 2021 (before pushing our SEO tactic), Cutter and Buck had 30,000 keywords ranking in the Top 50 Search Results. After the Groove team's SEO implementation, the client ended the year with a total of 60,700 keywords ranking in the Top 50 Search Results.

Share of Voice Score Increased
Finally, we looked at the client's presence on pages 1 to 3 of organic search results. Their Share of Voice score (via BrightEdge) was significantly higher than their direct competitors. Having a high Share of Voice score means that the keywords are working, and the brand has high awareness on search engines.
March 2021 Share of Voice Score:

3,045

December 2021 Share of Voice Score:

17,679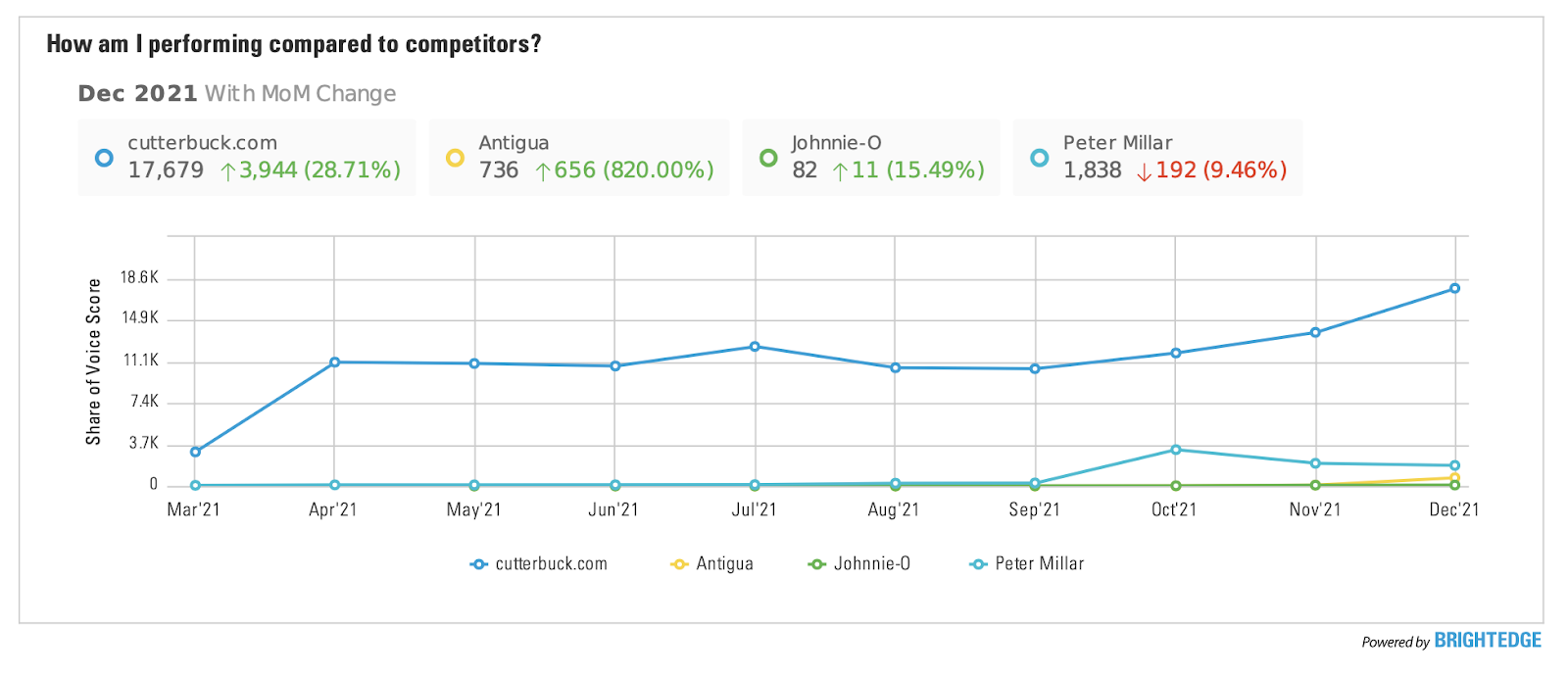 This generates leads which translate to the high increase in revenue we saw over the past year.
Organic Search Results (Updated May, 2022)
As a result of the ongoing SEO services we provide to Cutter & Buck, the corresponding product category pages are now being shown consistently on first page results for search terms surrounding "NFL Apparel" and "MLB Apparel". This top-of-page performance has continued to increase Cutter & Buck's brand awareness and sales at a rate never before seen for this brand.


Conclusion
If you're interested in learning more about how Groove Commerce partners with mid-market and Enterprise eCommerce merchants to expand organic search presence through an optimized eCommerce SEO strategy, reach out to us through the form below or check out our case studies.
Get in Touch
Subscribe for industry insights and resources.