Groove Commerce
Learn how Groove Commerce's Klaviyo campaigns with a prominent Athleisure brand increased open rates by 85% and revenue 28%.
The Challenge:
Prior to working with Groove Commerce, this Athleisure client was in the midst of internal transitions when their full-time email resource left the company. This client was looking for partner who could not only replace this now-gone resource, but provide the value of a complete email marketing team. The client specifically required a partner who could manage email design, strategy and marketing execution on Klaviyo.

For this client specifically, their owned channels, namely email and SEO, are the driving channels behind their online revenue. After analyzing the marketing channels available to this brand, we reached the conclusion that in order to maximize results, this client needed to increase the total number of emails sent to its audience.
The Solution:
After initial conversions with the client, all agreed that they needed support in two major areas relating to email marketing: email marketing strategy and implementation support.
First, the client wanted to leverage our 15+ years of eCommerce experience in crafting an email marketing strategy that would help their brand thrive using Klaviyo. This included sending frequency, cadence, list segmentation and more.
Second, this merchant needed assistance in creating the templates, graphics, subject lines and copy that all contribute to attention-grabbing emails. This client required flexibility in their email creation process. For some emails, the client would send over a briefs with notes regarding what the promotion should be about, the discounts being offered, and a mood board that guides our designers during their process. In other cases, our agency had complete control over the design process, leaving the results squarely up to us. This flexibility ultimately helped the client meet their specific internal goals while allowing our team to contribute our expertise and high-quality output.
Our Tactics:
The team at Groove Commerce was determined to form a strong, healthy and metrics-driven partnership with the brand by having consistent and open communication on upcoming projects. After evaluating the brand's current performance in comparison to its desired performance, our email marketing team created a detailed action plan. Groove Commerce's action plan included sending 30 newly designed emails, including resends, totaling 75-90 emails per month.
Example campaign emails Groove Commerce designed for this Athleisure client shown below: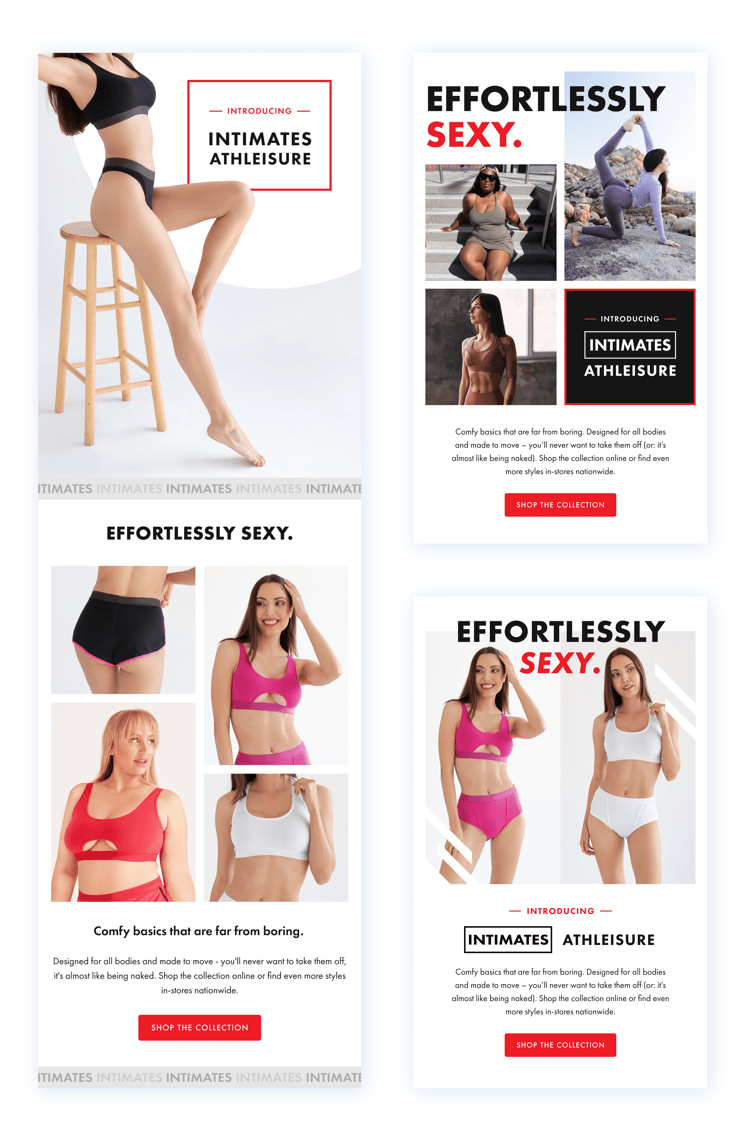 We focused on new and exciting marketing tactics that would coincide with the increase in email production. Examples of these new tactics include targeting "lost" customers and/or customers who are "at risk of not purchasing again" by incentivizing them to purchase. Additionally, we segmented reward campaigns to build customer loyalty and reduce total abandoned carts with abandoned cart mitigation tools.
In fact, our team was able to generate such a high level of success that this client increased the size of their email engagement to continue maximizing email marketing revenue.
The Results:
By increasing the number of emails this client sent each month and custom writing and designing their creative, we produced a:
26% increase in Open Rate YoY
34% increase in Revenue YoY
12% decrease in Unsubscribe Rate YoY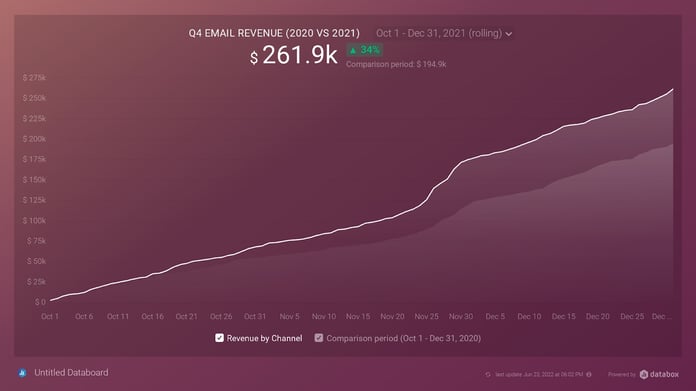 We also generated a significant increase in revenue and open rate YoY in May of 2022 when we implemented the plan to increase monthly email sends from 54 to 75. This plan consisted of 25 new designs and 2 resends for each campaign. After completing this approach, we were able to produce a:
28% increase in Revenue YoY
85% increase in Open Rate YoY
55% decrease in Unsubscribe Rate YoY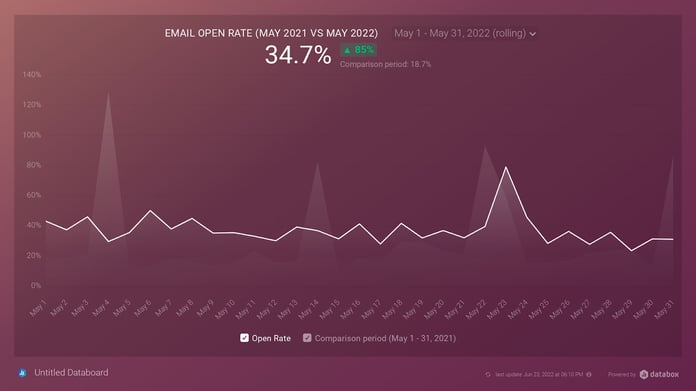 Groove Commerce is a Klaviyo Master Platinum Partner capable of complete Klaviyo Campaign management, automation, design and more. If you would like more information on how to improve your email marketing strategy, reach out to the team at Groove Commerce using the form below.
Get in Touch
Subscribe for industry insights and resources.