Moore Brothers Wine
Primary Service: Design & Development
Primary Technologies:
The Background
Overhauling This Wine Retailer's eCommerce Operations With BigCommerce
Moore Brothers Wine is a boutique wine retailer with a fiercely loyal customer base. Unlike big-box store competitors, Moore Brothers offers a curated selection of small-batch wines, sourced from wineries across the world. The company's old-world approach extends beyond what they sell to the way they sell it—through in-person, sommelier-style tastings and allowing customers to place single items on hold until they build a full case.

With three locations in Delaware, New York, and New Jersey, each housing a distinct inventory, Moore Brothers provides a distinct shopping experience rooted in authenticity and personal touch.
The Challenge: A Wine Retailer in Need of Digital Transformation
Outdated eCommerce Platform
Moore Brothers Wine found itself grappling with an outdated and custom-built eCommerce platform. To make matters worse, the original site builder was largely unavailable to assist with website updates, leaving the company with a design that was not only visually outdated but also technologically inefficient.

Knowing that no developer would be willing to learn and modify this legacy build, the Moore Brothers Wine team began searching for a partner that had the expertise and knowledge to build a new site from the ground up, exactly how they envisioned.
Multiple Physical Stores & Inventories
Since this retailer had three physical locations in NY, NJ, and DE, customers are required to choose which store they are shopping at the onset of a session. Due to legislation around shipping alcohol across state lines, making sure that only that store's inventory was visible posed a significant challenge.
This unique setup was not something that BigCommerce, even with its Multi-Storefront (MSF) capabilities, could handle natively. With each physical location also having its own Chase merchant ID to process transactions, no eCommerce platform could fulfill Moore Brother Wine's needs out of the box.
Since each brick-and-mortar store maintained its own inventories, independent of each other, a methodology would need to be invented to keep track of product availability across the three locations. Furthermore, this information would need to be integrated in near real-time with the Point of Sale (POS) system to process the transaction correctly.
Unique Website Features
Wine enthusiasts everywhere know that some wines are perfect for a special occasion, while others are just the right pairing for their neighbor's homemade Havarti cheese. To help Moore Brothers Wine customers remember their thoughts on their purchases, the Wine Journal was a core feature of their previous site.

The Wine Journal acted as private notes that users could write about the wines they drank. This was helpful as they could then reference these notes in the future if they were looking for the same bottle, something similar, or a recommendation. Although similar to reviews from the outside, the specific requirements of this merchant meant that the native BigCommerce functionality wouldn't work.

In a similar fashion, the default BigCommerce option for gift certificates didn't meet their needs. The Moore Brothers Wine team wanted customers to be able to purchase gift cards online or in-store and spend them both online or in-store. This set our team searching for an out-of-the-box alternative.
Shipping Rules
Referencing the three locations again, our client needed a new shipping solution to integrate into BigCommerce's checkout process. This solution would need to be able to be pre-programmed with the desired shipping rules based on which store the customer selected, where the customer lives, and weight/size limitations.
The Solution: A Comprehensive Digital Transformation
Making The Switch To BigCommerce
To overcome these challenges, our team at Groove Commerce executed a comprehensive digital transformation. We broke ground on a complete overhaul of their website using Page Builder widgets, designed to reflect the brand's ethos through its colors and imagery.
Customizing BigCommerce Enterprise
To handle the unique checkout process, we partnered with Soliant to ensure seamless integration with Filemaker, the merchant's POS system. After a lengthy Chase Bank approval process, each transaction can be processed through the corresponding merchant account. Many individual customizations had to be made to accommodate this requirement, and our team ensured they were executed flawlessly.
Cross-Location Inventory Management
Our team successfully developed a unique method to append the three-digit store codes to product SKUs. This information is then transferred in real-time to Moore Brothers Wine's point of sale (POS) terminal. This allowed products and purchases to be easily tracked on a store-by-store basis.
Bespoke Website Functionality
The Wine Journal functionality required specialized functionality that no apps or integrations offered out of the box. Our team worked hand-in-hand with the team at Stamped.io to customize the platform for Moore Brothers Wine's needs. After transferring all existing customer accounts and Wine Journal entries over, logged-in customers can enter new Wine Journal entries on any product that the merchant offers.

After reviewing the numerous options available on the BigCommerce App Marketplace, our team landed on using 99minds. This app allows customers to purchase gift cards online or in-store, and gift card recipients to spend those cards either online or in-store.
Custom Shipping Scripts
We identified the best integration and customized it for Moore Brother's specific shipping needs. Our team decided to leverage Advanced Shipping Manager for its deep customization capabilities. Now, customers can use our customized BigCommerce checkout without skipping a beat, ensuring that all legal requirements are met along the way.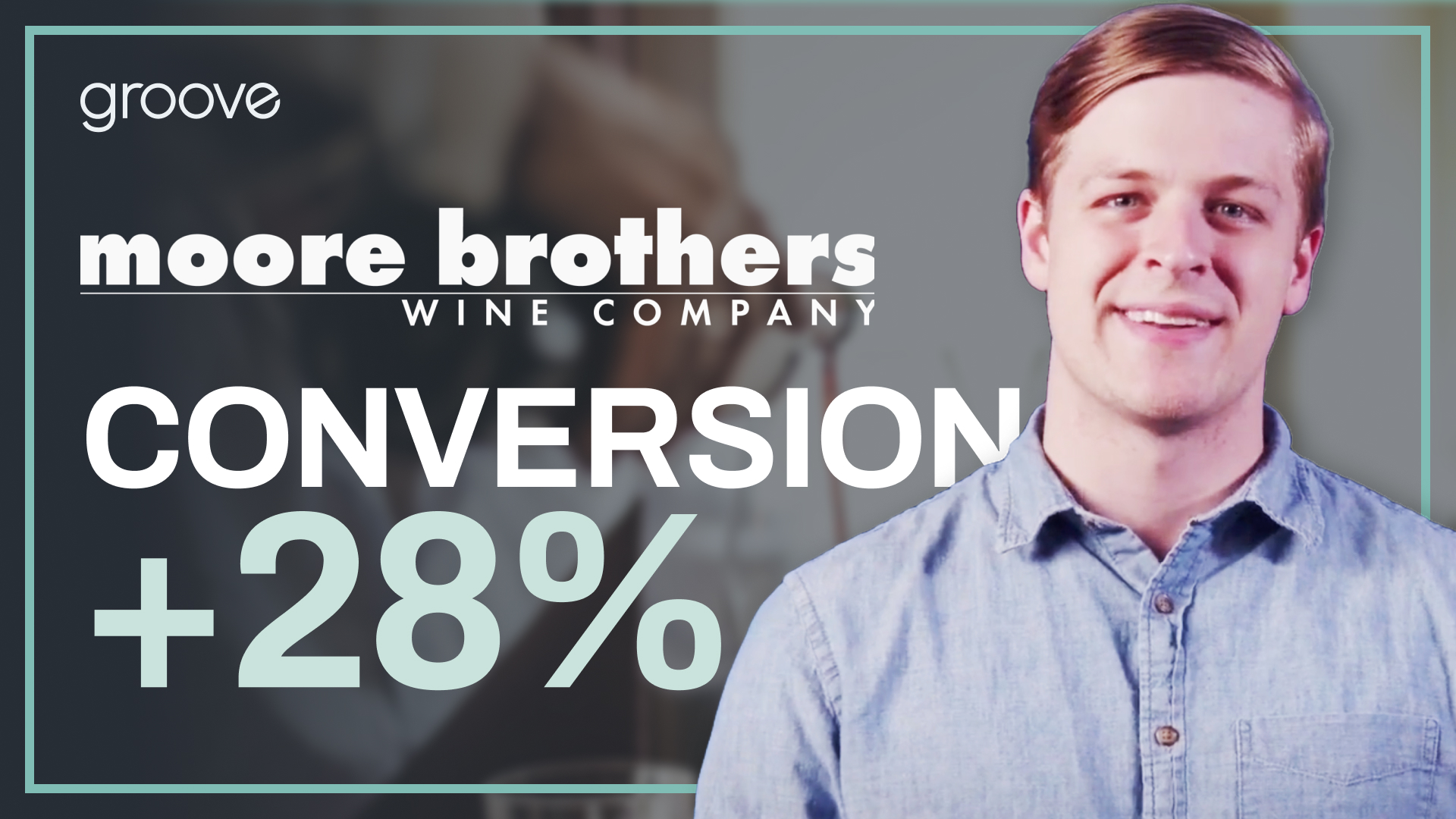 The Results
Our team's solutions paid off handsomely. Moore Brothers Wine experienced a significant increase in their eCommerce performance. Through our concerted efforts, we were able to transform Moore Brothers Wine's outdated eCommerce system into a robust, user-friendly platform, helping them continue their tradition of personal touch and authenticity in a digital world. Our team at Groove Commerce is proud to have been part of this successful digital transformation.

In BigCommerce's own case study, David Moore said:
"They do beautiful design work, but what's more important is they have developers who really understand how the APIs work. We have, for example, a customized payment solution for our site, because we have three different locations. They were able to not only implement that, but implement it seamlessly. Everything just works."
David Moore, Co-Founder, Moore Brothers Wine
+28%
Conversion Rate (CVR)
up next
Explore More Case Studies