Groove Commerce
We brought the all-new US Open Shop site live with less than three months to complete the project.
The US Open is one of four international Grand Slam tennis tournaments that take place in New York every August. Having garnered a massive following in the United States and beyond, this brand has an enormous demand for merchandise and other memorabilia from tournament fans.

With this in mind, the US Open team came to Groove Commerce to redesign and optimize their existing BigCommerce store before the tournament began. With that deadline only three months from the beginning of the project, our team had to act swiftly and effectively in order to launch the all-new site in time.
The Challenge
Elevate the Brand
The US Open team felt that their previous website lacked a connection to the elegance and prestige of the in-person spectacle In its previous iteration, the site struggled with dated site design and generic imagery. This resulted in many missed conversion opportunities and misalignment with the tournament's overall direction.
Having inherited the previous US Open site from an outsourced vendor, our team identified many opportunities to improve. These included ineffective use of screen real estate, dated photography and design direction and poor merchandising placements.
Project Timeline
The US Open Shop website is owned by a 3rd party vendor, which meant that all changes would need to be approved by multiple parties. This created additional timeline challenges in ensuring that all stakeholders had their individual deliverables and interests met. Foremost of these interests was that the US Open's premiere sponsor needed prominent visibility across all site pages.
With the project kicking off in early May, the US Open was rapidly approaching. A large percentage of this retailer's revenue was generated during the critical 2-week period that the games were being played. We would also need to provide continuous ADA compliance support to ensure that all users regardless of their disabilities, would be able to interact with the shop.
Merchandising
There are specific products that are historically big sellers during the US Open. Our team identified that the existing US Open site didn't have an easy way to create or start promotions within certain categories or products. This resulted in fewer sales than otherwise possible with proper merchandising features and capabilities.
Art & Photo Direction
The graphic and photo direction on the current site was mismatched and low quality in many areas. From lifestyle images to action shots and product photography, all aspects of the site cried out for a breath of fresh air. To solve this issue, the US Open team solicited Groove Commerce's Creative Studio to guide the Art and photographic direction for their eCommerce experience and marketing materials.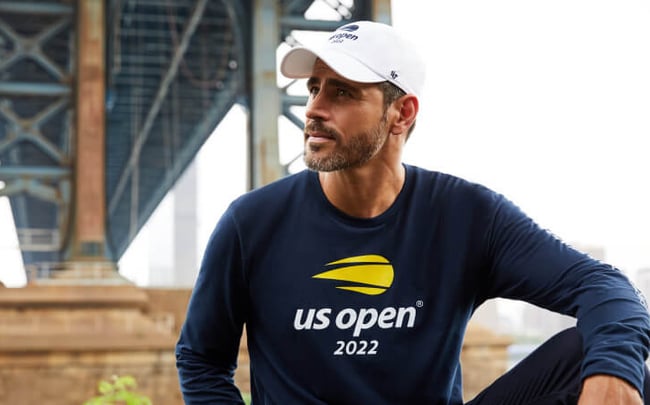 Difficult To Update Content
With an entire site refresh about to be underway, the US Open Shop team wanted to be able to easily and dynamically update content without the need to submit support requests with each change.
Of these static areas, the internal team required the ability to update widgets across the site. These included hero images, product pickers, featured categories and product cards.
Our Approach
The Redesign
After assessing the results from our intake and discovery progress our team made quick work of overhauling the entire site's experience.
On the homepage, we modified the sizing of all site elements to optimize for conversions. Underneath the new hero image area, product categories are displayed as on-brand icons for fast navigation. Displayed beneath this category area is a featured products area which we added to display a "products we like" widget.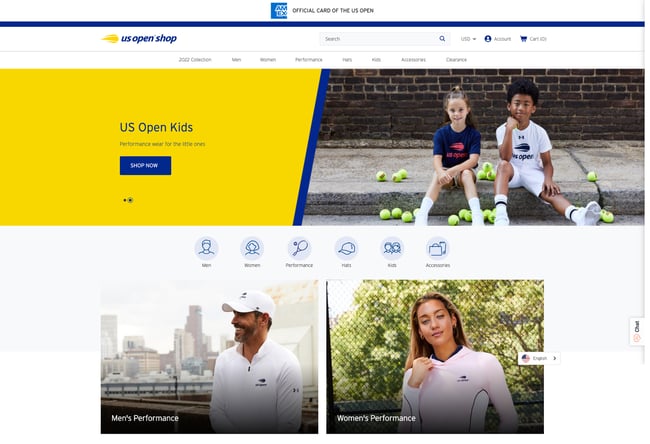 On the product category pages, we added additional filtering options that customers can use to sort products by type, color, relevance, and many other conditions.
We enabled in-stock notifications via email so that customers can purchase the products they love the second that they become available. We implemented an easy-to-understand returns policy which ensures that a great customer experience is provided. Lastly, our team implemented on-click upsells on the product description pages to help lift AOV (average order value).
Photography & Art Direction
Even with the site's content modules redesigned, we ran into the challenge that the site's graphics and photography did not match the high-quality branding that the US Open portrays in other mediums. Our team was able to create an art direction guide which the internal team as US Open Shop took to their preferred photographer. Once the new photo assets were given to our team, we worked diligently to implement them on the homepage, category pages, and product detail pages.
Easy-To-Update Content
One of the single largest tasks we had from the US Open Shop team was the ability to dynamically and easily update content as needed. With this in mind, our team ensured that every area of the site was built using BigCommerce's page builder widgets. These widgets allow for copy, photography, and call-to-action buttons to be updated by anyone with basic knowledge of the eCommerce platform.
ADA Compliance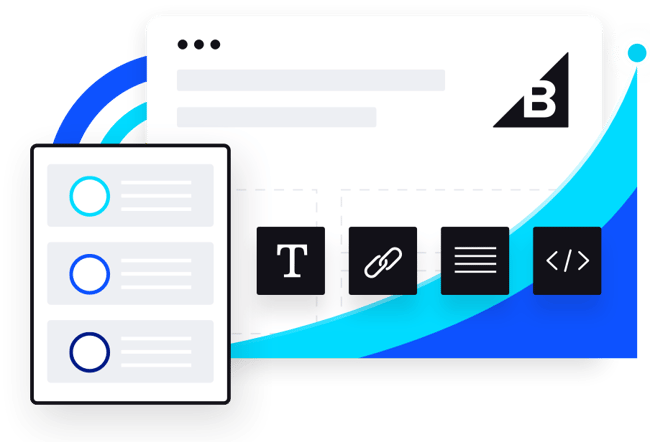 ADA compliance continues to become a rising concern for eCommerce merchants everywhere. With nearly everyone communicating and shopping online, it is important that merchants enable disabled individuals to browse and purchase from their websites. We built the entire US Open Shop with ADA compliance in mind.
Once the site was launched, we worked with an independent 3rd party to review it further. After the results from this assessment were complete, our team provided ADA compliance services to ensure that all areas of the site were compliant with the Americans with Disabilities Act.
Results
This project came with many technical requirements for our team to implement flawlessly. With a strict deadline in place, we are happy to announce that this redesign project went off without even as much as a hiccup.

When comparing the two weeks of the US Open compared to the previous year, we saw the following results:

+15.32% Increase In Traffic
+35.62% Increase in Conversion Rate
+21.54% Increase In Online Orders
+15.02% Increase In Online Revenue
Conclusion
If your internal eCommerce team is facing resourcing challenges that will prevent them from meeting an important deadline, our team is here to assist. Our conversion rate optimization services have proven to bring big results for our clients. Reach out to us using the form below to begin a discussion about how our agency can bring your eCommerce vision to life.


Get in Touch
Subscribe for industry insights and resources.